'Stranger Things' Video Game Coming From Telltale Games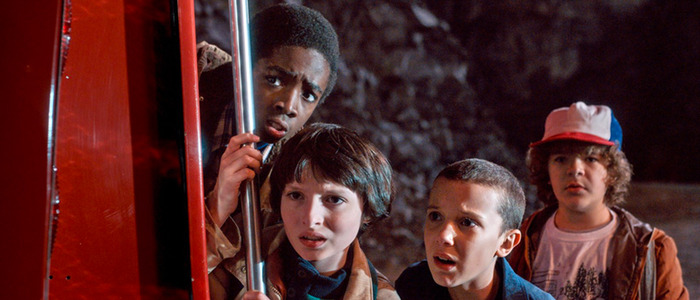 Telltale Games will bring the Upside Down to a game console near you with a Stranger Things video game. Netflix's nostalgia-laced hit has already inspired books, board games and more, and now fans will have a chance to enter an interactive Hawkins, Indiana.
Netflix is teaming up with Telltale Games to adapt Minecraft: Story Mode into a five-part adventure in the fall. As a result of this, Telltale has first crack at a Stranger Things video game that should be available in the not-too-distant future. "We're delighted by the response we're seeing to the idea of Minecraft: Story Mode coming to Netflix in the fall as an interactive adventure," Telltale told Deadline. "And separately, we're thrilled to confirm that Telltale is developing a game based on Stranger Things that we'll publish to consoles and computers at a later date."
Telltale also reached out to Mashable and added: "We can confirm Minecraft: Story Mode is a licensed 5-episode interactive narrative series coming to our service this fall. It's an extension of our other interactive stories we have on our service...the Stranger Things project is launching on the Telltale platform at a later date, not on the Netflix service." In other words, you'll be able to use your remote control to play Minecraft on Netflix, but the Stranger Things game will be available via consoles.
There are no specific details for the Stranger Things game yet. It's worth noting that Telltale has a history of creating narrative adventure games – sporadically released episodic games that function as choose-your-own-adventure experiences. They have a long list of games based on established properties, including  Jurassic Park, Game of Thrones, The Walking Dead, Guardians of the Galaxy, Batman and, surprisingly enough, Law and Order.
With that in mind, we can assume the Stranger Things game will follow a similar model as previous Telltale games. This won't be the first game inspired by the hit Netflix show. Netflix and BonusXP previously developed a free mobile Stranger Things game, released in October 2017. The game was rendered in a retro-pixel style that emulated the gameplay of The Legend of Zelda, because, as BonusXP put it, "Both [Stranger Things and Zelda] are about exploration, and it's kind of a mysterious fit that fit the mood of the show." That game involved the character of Chief Hopper (played on Stranger Things by David Harbour) trying to find the young main characters of the show. One by one, more of the familiar Stranger Things characters become playable.
Perhaps the Telltale Stranger Things game will unfold in a similar manner. Or perhaps it'll be something completely different, tying-in to the upcoming third season of the hit show.