'Creed II' Trailer: Michael B. Jordan Steps Back Into The Ring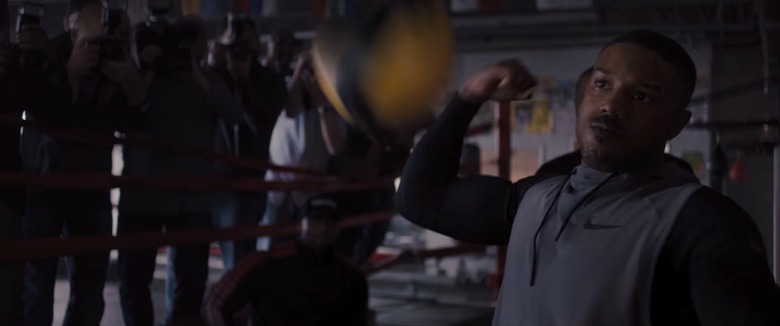 Adonis Creed and Rocky Balboa are back in Creed II, the sequel to Ryan Coogler's fantastic 2015 Rocky spin-off Creed. Also back: Rocky IV's Ivan Drago (Dolph Lundgren) – the man who killed Adonis' father Apollo Creed in the ring many years ago. Watch the Creed II trailer below.
Creed II Trailer
I loved Ryan Coogler's Creed. Coogler's film took the legacy of the Rocky franchise and turned it something completely new and exciting. It was an emotional, entertaining drama featuring great performances from Michael B. Jordan, Tessa Thompson and, perhaps most surprising of all, Sylvester Stallone. No offense to Mr. Stallone, but most people didn't consider him a great actor for the bulk of his career. He was more of a presence. But Creed reminded us that Stallone has some serious acting chops, as the actor turned in a wonderful dramatic turn.
On top of all that, Coogler's direction was phenomenal, staging some incredible boxing sequences that brought you right into the ring. As an added bonus, the film introduced the whole world to Philadelphia's all-purpose noun "jawn."
All that said, I'm slightly hesitant about Creed II. As great as Creed was, it didn't cry out for a sequel. Turning Creed into its own franchise runs the risk of going the way of the Rocky series. That is, each sequel risks becoming progressively worse. Don't get me wrong – the Rocky films are all watchable in their own right. But none of them can hold a candle to the original Rocky (except maybe 2006's Rocky Balboa).
Creed II will take Creed even further down the Rocky rabbit hole, as the film brings in Rocky IV bad guy Ivan Drago, played by Dolph Lundgren. Drago has a dark history with the Creed legacy – he killed Adonis Creed's father Apollo Creed in the ring. Drago's son, Viktor (Florian Munteanu), is also on hand, to give Adonis a new opponent.
Jordan, Stallone and Thompson are all back from the first film, along with Phylicia Rashad, Wood Harris, and Andre Ward. Not returning: original director Ryan Coogler. Steven Caple Jr. is in charge of directorial duties this time, with Coogler serving as executive producer. "When I wrote and directed Creed, I wanted to tell a human story about a family from a new perspective, while also paying homage to the Rocky characters we've all grown up knowing and loving. I've known Steven was an amazing filmmaker since our days at USC film school together, so I can't wait to see what he, Sly, Mike and Tessa bring to this next chapter," Coogler said.
Caple Jr. added: "It's an honor to be a part of the franchise and work with such a thoughtful team. I got involved because I've always been a Rocky fan and I enjoy stories with heart and substance. But when Ryan put his touch on Creed I felt another level of connection to the franchise. It started to feel personal for many different reasons. This next Creed is a tale beyond the boxing ring and dives deeps into family, legacy, and fears. I'm excited to share my view and collaborate with the talented cast and crew."
Creed II opens on November 21, 2018.
Life has become a balancing act for Adonis Creed. Between personal obligations and training for his next big fight, he is up against the challenge of his life. Facing an opponent with ties to his family's past only intensifies his impending battle in the ring. Rocky Balboa is there by his side through it all and, together, Rocky and Adonis will confront their shared legacy, question what's worth fighting for, and discover that nothing's more important than family. Creed II is about going back to basics to rediscover what made you a champion in the first place, and remembering that, no matter where you go, you can't escape your history.