'The Devil's Doorway' Trailer Unleashes Unholy Terrors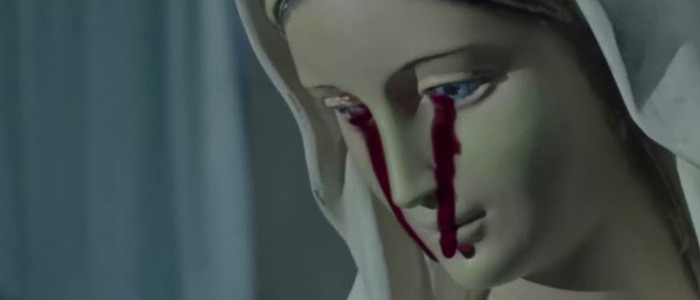 Fans of found footage horror take note: The Devil's Doorway looks pretty darn spooky. This fright flick finds two priests in Northern Ireland doing battle with demonic possession, bleeding statues and all sorts of loaded Catholic imagery. Watch The Devil's Doorway trailer below.
The Devil's Doorway Trailer
If there's one thing horror movies have taught us, it's that Catholic imagery is spooky. So many horror films have gotten so much mileage from images of inverted crosses, Virgin Mary statues and priests going up against unholy evil. The Devil's Doorway is the latest film to employ such imagery, and it's a found footage film to boot. So if the recent teaser for The Nun left you craving more religious-tinged horror, The Devil's Doorway trailer is here to help.
The new horror film comes from filmmaker Aislinn Clarke (the first woman to direct a horror film in Northern Ireland) and focuses on two priests documenting the scary goings-on at an Irish convent in the 1960s. As the trailer tells us, this is no normal convent. For over 200 years, he Catholic church in Ireland held women in asylums called "Magdalene Laundries." Here, they held prostitutes, orphans, unmarried pregnant women, and the mentally disturbed. In the 60s, two priests were sent to a Magdalene Laundry to documentary a report of a miracle. Of course, since this is a horror movie, super scary stuff happens. Cue the jarring music.
I know found footage gets a bad wrap, but when done right it can be highly effective. I love the vintage '60s look (and sound) here – it adds an extra layer of creepiness, and makes the film stand out from other found footage flicks. The Devil's Doorway will screen at Cinepocalypse at the Music Box Theatre in Chicago on June 22 before coming to select theaters, VOD and via digital platforms in the U.S. on July 13, 2018. In addition to the trailer below, check out the (really cool) poster below.
What unholy terrors lurk behind the walls of a secretive Irish convent? Northern Ireland, 1960: Father Thomas Riley (Lalor Roddy) and Father John Thornton (Ciaran Flynn) are dispatched by the Vatican to investigate reports of a miracle—a statue of the Virgin Mary weeping blood—at a remote Catholic asylum for "immoral" women. Armed with 16mm film cameras to record their findings, the priests instead discover a depraved horror show of sadistic nuns, satanism, and demonic possession. Supernatural forces are at work here—but they are not the doing of God. Inspired by the infamous true histories of Magdalene Laundries—in which "fallen women" were held captive by the Irish Catholic Church—this found footage occult shocker is a chilling encounter with unspeakable evil.