Small-Screen Stream: Revisiting 'The Staircase,' Remembering Anthony Bourdain, And More Of The Best Shows Streaming Now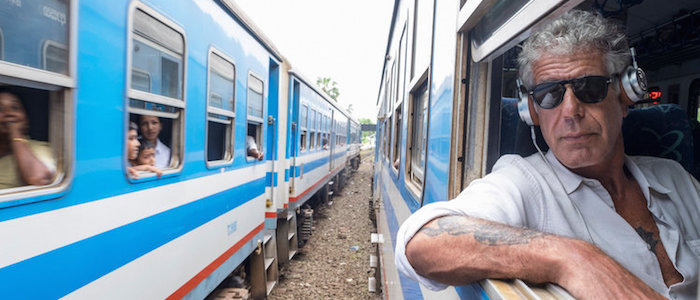 (Welcome to Small-Screen Stream, a feature where we share the best television shows streaming and where you can watch them.)
Summer is here, and with it comes a pretty eclectic group of impulse watches. Whether you're drowning out the heat with the AC or anxiously awaiting the warmth, that distinct summer feeling is already in the air. And sometimes, the only thing that satiates it is shows about people basking in the heat, same as you. Or true crime. Or fluffy comedies. Or a Twin Peaks marathon.
Okay – there isn't one true way to get in the summer mood, but if you're like me, and enjoy an eclectic mix of media, here are my suggestions for the best shows to binge on streaming services this week.
Created By: Jean-Xavier de Lestrade
This French true crime miniseries first aired back in 2004, but Netflix scooped up the distribution rights and added three wrap-up episodes to attract those who've already seen it into watching again. If you've never seen The Staircase, you're in for a treat. It's one of the most exhaustive crime series out there, and documents the trial of Michael Peterson, a novelist accused of killing his wife Kathleen. I won't say too much more about the case, because one of the great delights of The Staircase is going in cold and getting swept through each twist and turn as it hits you. If you enjoyed Netflix's other true crime series, like Evil Genius or Making a Murderer, you'll eat this one up. It's longer than those series – with the new episodes, it clocks in at 13 total – but better, and is a great way to avoid the sun for a weekend and get wrapped up in the unexpected ins and outs of Peterson's case.
Anthony Bourdain: Parts Unknown, Seasons 1-8
Created By: Anthony Bourdain
Last week, we suffered the loss of chef and travel documentarian Anthony Bourdain. It was a tragic blow to anyone who called themselves a fan, and to anyone who appreciated his work and love of the human population from afar. Bourdain's demons were well-documented, but those pale in comparison to his enormous heart, which is on full display in Anthony Bourdain: Parts Unknown, which is currently streaming on Netflix. (It was due to leave the service on June 16, but Netflix announced yesterday that they extended their agreement to keep the show around for "months to come.") That's great news if you're someone like me and wanted to revisit the best parts of Bourdain following his death, like watching him explore civilizations old and new to him, learning about the cultures, and delighting in their food and drink. From America to Jerusalem to the Congo and back, Parts Unknown lets us travel the world with one of the greats. It's a bittersweet watch, but a comforting one, too.
Where To Watch: Showtime Anytime
Cast: Dominic West, Ruth Wilson, Maura Tierney, Joshua Jackson
Created By: Sarah Treem, Hagai Levi
The Showtime drama returns for its fourth season this Sunday, and if you're interested in catching up, or geared up for a re-watch, the series is currently available to stream on Showtime Anytime or with Showtime subscription add-ons on Hulu or Amazon Prime. It's easy to breeze through; there are only 32 episodes all together so far, and the setting – in the tranquil beach town of Montauk, New York – gives it an easygoing feel, despite all of the insane drama these rich people put themselves through. The story follows two couples wrapped in the fallout of an affair, with episodes split into halves to show the narrative from different perspectives. It's a neat concept that grows a little tedious down the road, as does most of this show, which is melodramatic to the point of absurdity. And yet... I can't stop watching, like a car crash with set dressings by J. Crew. It's silly, but it's addicting, and the acting – all things considered – is really top-level. Ruth Wilson is especially compelling here.
Picnic At Hanging Rock, Season 1
Where To Watch: Amazon Prime
Cast: Natalie Dormer, Lily Sullivan, Lola Bessis
Created By: Jo Porter
I was hesitant about this one, only because Peter Weir's 1975 Australian film is one of my all-time favorites, and such an iconic film at that. I knew a TV series could never capture its unique look, and probably shouldn't, but that the story would be lesser for it. And honestly, my suspicions were correct, because Amazon Prime's Picnic at Hanging Rock feels like a knockoff version of that far more interesting, haunting depiction of the disappearance of four schoolgirls and their female teacher during a picnic at Hanging Rock, Victoria in Australia. Fleshing the story out too much robs it of its menacing quality, and I had a hard time looking past that, but I stuck through the first few episodes based solely on my love of Natalie Dormer, who gets the star treatment here as the girl's teacher. The material doesn't live up to all that she's putting down, but it's great fun to watch her chew scenery in turn-of-the-century costumes, and getting to know her character is one of the benefits of a 6-hour vs. 2-hour story. If you're a Dormer fan like me, you might enjoy this spooky period drama, too.
Sex and the City, Seasons 1-6
Where To Watch: HBO Now
Cast: Sarah Jessica Parker, Cynthia Nixon, Kim Cattrall, Kristin Davis
Created By: Darren Star
The show just celebrated its 20th anniversary, which inspired me to revisit some episodes out of pure nostalgia. And yes, the show holds up (although certain attitudes in it don't), and yes, it – sadly – still feels revolutionary to hear women speak so frankly about sex and work and desire. If there's anything on this list that is quintessentially summer, it's this; I sank in 10 episodes without realizing, and could have gone for more. It's like drinking a fresh cocktail on a patio, and you'll be surprised at how fast your feelings for these women flood back to you.
Cast: K.J. Apa, Lili Reinhart, Camila Mendes, Cole Sprouse, Madelaine Petsch
Created By: Roberto Aguirre-Sacasa
Netflix just put up the second season of Riverdale, only a week after it aired on CW, so if you missed it live you can catch up to speed in no time. And really, why wouldn't you, because Riverdale is one of the best teen shows currently airing, a high-wire camp act of murder, sex, and high school. It's a blend of genres, from horror to noir to musical, based on the classic Archie comics, and has the benefit of being totally batshit and totally self-aware of its batshittiness. Where else can you watch a show with a gangster named Papa Poutine, where teens quote Shakespeare and Tarantino in the same breath, where the local prison is called Shankshaw, where bets are settled with drag races and brawls outside of the local chocolate shoppe? It's a whole lot of ridiculousness, and a whole lot of perfection, and I can never recommend Riverdale enough.
Cast: Anna Paquin, Stephen Moyer, Alexander Skarsgård
Created By: Alan Ball
I lost interest in True Blood around the fourth season, but the other day had this sudden urge to watch a clip from the show, which lead to watching full episodes, which led to a mini-binge. And honestly – I'm not mad. True Blood devolved into bonkers territory eventually, but dammit is this show fun. And absolutely perfect for summer, with all of its sticky Southern charm. The whole look and feel of the show – about vampires coming to public attention in modern-day Louisiana – is familiar; the sun through the trees, the dreamy sexuality, the bright colors, the massive amounts of gore. Returning to the town of Bon Temps, and to Paquin's loopy Sookie Stackhouse, felt like meeting up with old friends. The show is full of a colorful cast who have a lot of fun with the campy vampire material. If you're like me and trying to put good use to an HBO Now subscription outside of watching Westworld, it's always fun to dig into that back catalogue. True Blood is a good place to start.
Where To Watch: Showtime Anytime
Cast: Kyle MacLachlan, Laura Dern, Naomi Watts
Created By: David Lynch
Yeah, okay. I'm going to be that person and once again since the hymn of my people: my fellow Twin Peaks obsessives who deserve nice things. The second it got warm this year, I was flogged with memories of last year's magical return to the wicked brain of David Lynch, and the town of Twin Peaks. The newest season – it's own miniseries, technically; subtitled The Return – came out last summer, and fundamentally changed television. It was an event, the way no show had truly been an event since the original, and nothing since has quite captured the collective imagination. I miss those long days between weeks, re-watching dreamlike sequences, theorizing on Reddit, picking up on little bits of dialogue, wondering when the hell we'll see the real Dale Cooper again. It was a magical summer, and one I'm trying to re-capture in some small way, as I dig back through The Return at a snail's pace. I highly recommend it; it's not the same as it was the first time, but it's already nostalgic.
Cast: Iwan Rheon, Robert Sheehan, Lauren Socha, Nathan-Stewart Jarrett, Antonia Thomas, Joe Gilgun
Created By: Howard Overman
I used to be obsessed with this erratic, irreverent British series – about a group of juvenile delinquents who gain superpowers after an electrical storm – so it was a pleasant surprise to find all five seasons on Hulu. The show feels low-budget and kind of goofy, but that's part of its affable charm. There's also something super refreshing about watching dumb teens actually behave and speak like actual kids their age, something American TV hasn't harkened onto just yet. They swear, they burp, they say crude things to one another, all while they try to navigate the unchartered territory of their newfound capabilities. It's a bit like Buffy that way, with all of the supernatural puberty metaphors, but Misfits has its own unique energy, and great chemistry between its cast, with Robert Sheehan and Game of Thrones' Iwan Rheon as standouts. The show shakes up the cast after season two, and loses a bit of its magic in the process, but it's still a lot of fun, and makes for mindless summer entertainment.