'Dumbo' Trailer: Tim Burton Gives Us A Dark, But Not Too Burton-Esque, Live-Action Take On The Disney Classic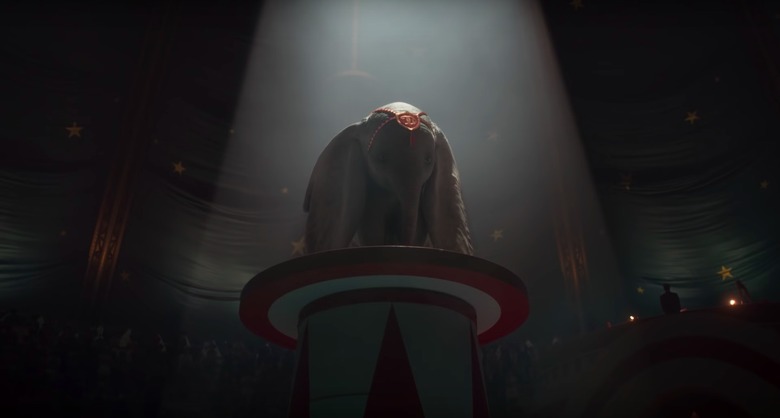 When the first strains of the haunting "Baby Mine" float over the first trailer of the live-action Dumbo, you know you're in for some emotional damage. The animated movie that traumatized you as a kid is now a live-action film, adapted by Gothic connoisseur Tim Burton, no less. But Burton's Disney adaptation of Dumbo surprisingly reigns back the darkness and gives us a little more of that childhood awe in the Dumbo trailer.
Dumbo Trailer
Disney continues its barrage of live-action adaptations of its animated classics with Dumbo. But while Dumbo has some of those familiar, striking images (the jail cell, the trembling eye, the floppy ears), the live-action Dumbo is a bit of a departure from the original film. And that's good. Burton takes Dumbo to the turn of the 20th century, dousing the film with Gilded Age aesthetics and callbacks to the era of traveling circuses. It's also a surprising departure for Burton, whose name has become synonymous with a Gothic flair and kabuki-mask faces. But in Dumbo, everyone is flesh-colored, warm and full of hope — especially the young girl Milly (Nico Parker) who takes the lost Dumbo under her wing.
The live-action Dumbo reworks the tale of the bullied elephant with big ears into a story of a single father (Colin Farrell) and his two children who work at a traveling circus run by Max Medici (Danny Devito, who has apparently kept his ringmaster costume since Big Fish). There, they bond with the circus's newest addition, a shy young elephant named Dumbo. But Dumbo has a unique ability that soon garners the attention of the greedy entrepreneur — and obvious P.T. Barnum stand-in — V.A. Vandevere (Michael Keaton).
Directed by Burton from a script by Ehren Kruger (Ophelia, Dream House), Dumbo also stars Eva Green, Alan Arkin, and Finley Hobbins.
Here is the official synopsis for Dumbo:
From Disney and visionary director Tim Burton, the all-new grand live-action adventure "Dumbo" expands on the beloved classic story where differences are celebrated, family is cherished and dreams take flight. Circus owner Max Medici (Danny DeVito) enlists former star Holt Farrier (Colin Farrell) and his children Milly (Nico Parker) and Joe (Finley Hobbins) to care for a newborn elephant whose oversized ears make him a laughingstock in an already struggling circus. But when they discover that Dumbo can fly, the circus makes an incredible comeback, attracting persuasive entrepreneur V.A. Vandevere (Michael Keaton), who recruits the peculiar pachyderm for his newest, larger-than-life entertainment venture, Dreamland. Dumbo soars to new heights alongside a charming and spectacular aerial artist, Colette Marchant (Eva Green), until Holt learns that beneath its shiny veneer, Dreamland is full of dark secrets.
Dumbo soars into theaters on March 29, 2019.