'Aquaman' Trailer: Jason Momoa Is Everyone's Favorite Fish-Talking Superhero [Comic-Con 2018]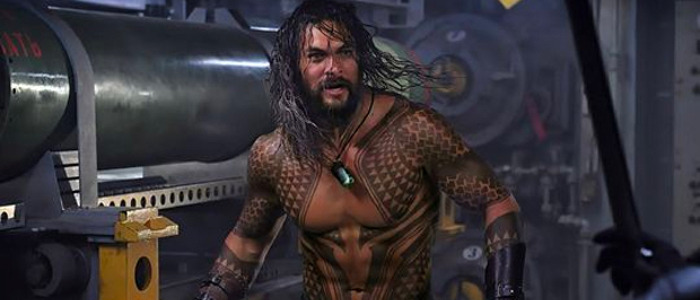 The Aquaman trailer has finally surfaced, revealing James Wan's addition to the sea-changing DCEU. Jason Momoa stars as the half-human/half-Atlantean hero, who gets to swim into the spotlight after splashing around in a supporting role in Justice League. Dive into the Aquaman trailer below.
Aquaman Trailer
Can The Conjuring director James Wan inject new life into the gills of the DCEU? We all certainly hope so. Wan helms Aquaman, the latest entry in DC's strange, unwieldy cinematic universe. In some respects, Aquaman feels like a hold-over from another time – the film was announced long before Justice League, back when DC and Warner Bros. had plans for a whole cinematic universe that would include each Justice League character (even Cyborg!) getting their own film.
But then Justice League got filleted by critics and drowned at the box office, and now the future of what we know as the DCEU seems to be up in the air (or under the sea). Wonder Woman 1984 is hitting theaters next year, and there are at least two different films being spun-off from Suicide Squad – a Harley Quinn/Birds of Prey movie, and a standalone Jared Leto Joker film. At the same time, Warner Bros. and DC are developing a "new origins" banner that's separate from the current DCEU as we know it. This new banner allows multiple actors to play multiple versions of certain characters, with no overlap. This is bound to get confusing.
For now, though, let's just focus on Wan's take on Aquaman. Warner Bros. seems very happy with the film. "James has done an incredible job with his team," Warner Bros. film chief Toby Emmerich told EW. "The film is taking you to a different place and imagining the underwater world in a way you haven't seen before."
Producer Peter Safran added that the film has "the great action you expect, it's got a lot of great humor, it works on so many levels...it's a testament to James' unique vision. I think it's an extraordinary step in the DC Universe that sets it on the right path."
"The underwater stuff has never been executed like this before," adds Geoff Johns. "The visual effects shots coming in are just beautiful. James can switch modes from horror to big bright colorful action to really emotional scenes. He's so able to hit all these different genres."  Johns' comment about "bright colorful action" is likely a deliberate attempt to distance Aquman from past gloomy DC films Batman v Superman and Justice League.
I have high hopes for this film. I'm a fan of James Wan's work (although I wish he'd get back to horror movies), and I have faith that he can turn this into something special. I didn't particularly care for Momoa's take on Aquaman in Justice League, but I'm curious to see how he handles the character with a different director and in his own standalone film. Plus, the cast surrounding Momoa – Amber Heard, Willem Dafoe, Temuera Morrison, Dolph Lundgren, Yahya Abdul-Mateen, Patrick Wilson and Nicole Kidman – is pretty darn great.
Aquaman doggy-paddles into theaters on December 21, 2018.