Jackie Chan And John Cena Team Up For New Action-Thriller 'Project X'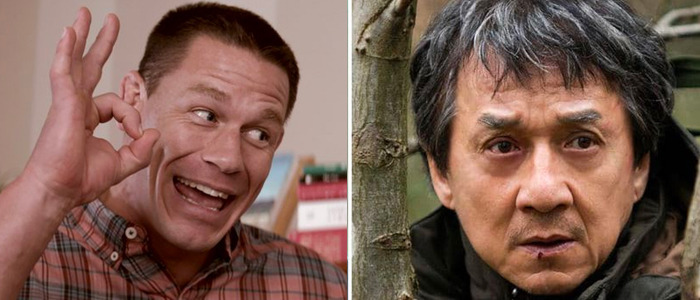 Here's something with a heck of a lot of potential: legendary action star Jackie Chan and wrestler-turned-surprisingly-funny-actor John Cena are teaming for a new action-thriller called Project X. Cena is replacing Sylvester Stallone, who was originally set to co-star with Chan. The film focuses on an attempt to extract oil workers from "a China-run oil refinery in the Middle East."
Back in the '90s, a team-up movie starring Jackie Chan and Sylvester Stallone would've been one of the coolest things ever. But this isn't the '90s anymore, folks, and while a Stallone/Chan tag-team flick would still be pretty cool, a Jackie Chan/John Cena movie sounds appealing as well. Stallone and Chan were originally set to appear together in an action-thriller tentatively titled Project X, but now THR reveals that Cena is taking Stallone's place.
The film focuses on "a Chinese private security contractor (Chan) who is called in to extract the oil workers when a China-run oil refinery in the Middle East is attacked. When he learns that the attackers' real plan is to steal a fortune in oil, he teams up with an American — a former Marine played by John Cena — to stop them."
Scott Waugh, a stuntman-turned-filmmaker who helmed the surprisingly fun (and completely ignored) Need For Speed movie, will direct. Arash Amel, writer of Grace of Monaco, penned the script. This seems like such a random assortment of talents – Jackie Chan! John Cena! The guy who made Need for Speed! The writer of a Nicole Kidman Lifetime movie! All together at last! Will it work?
I'm hopeful. Chan is a legend, and while he's not as high-profile as he used to be, he occasionally turns in a memorable modern performance. Last year, Chan got to make his own Taken-like action flick The Foreigner, where he played an aging father who seeks revenge after his daughter is killed. It was pretty good, and Chan was great in it. Meanwhile, Cena has evolved into a very likable actor. When he first jumped into movies, he was doing generic action flicks like The Marine. Recently, however, Hollywood has discovered Cena has surprisingly good comic timing, resulting in the wrestler-turned-actor turning in memorable comedic performances in Trainwreck and Blockers. If Project X (or whatever t's going to be called; at one point it was called Ex-Baghdad, which is a terrible title) allows Cena to loosen up and use his comedic chops in some capacity, this film might be fun.