12 Amazing Duos We'd Love To See Play Pilots In The 'Top Gun' Sequel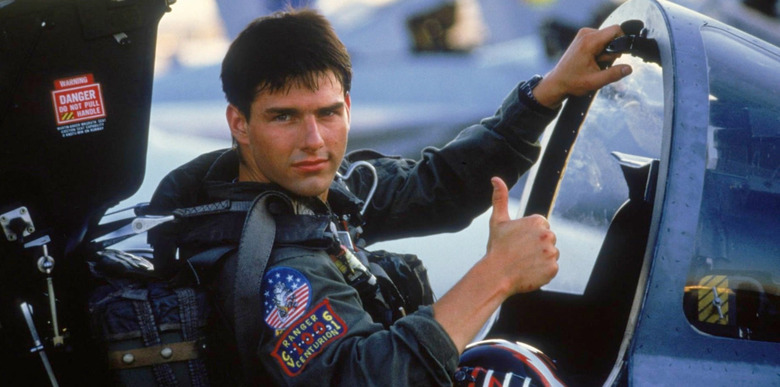 When Tom Cruise posted an unexpected first look at Joseph Kosinski's Top Gun: Maverick, something dawned on me. Had we heard any supporting cast announcements yet? Those actors who'd be given their wings and the opportunity to fly alongside one of cinema's most daredevil pilot aces? That's a big N-O besides Val Kilmer's confirmed participation, so my mind began to wander. Who could rival the likes of Jester, Goose, Hollywood and more in Cruise's upcoming flyboy sequel? We're not here to discuss leads. Kosinski's locked Maverick and Iceman. But what new crop of rookies could effortlessly flank our returning aces? Each plane carries one naval aviator (pilot) and an accompanying Radar Intercept Officer (RIO) – specialists bonded by trust and survival.
The possibilities? Endless.
With that in mind, I've assembled my dream team of sidekicks and sky-chasers who'd thrive in any tonal variation the Top Gun sequel might embrace (veterans and newbies alike). Tony Scott's original is best described as a "romantic military action drama," but over time has become known as a cheeky masculine fantasy loaded with ego measuring, territorial flexing and some super close friendships. Could new blood go the 21 Jump Street reboot route for over-the-top laughs? Or remain deadly serious as Maverick once again soars into the danger zone with steely resolve? Either way, these are the guys and gals who would excel at either expanding the world of Top Gun or redefining the stereotypes once embraced. It's Maverick's world and we're just living in it – but these are the names who'd live to the fullest.
Tyler Hoechlin/Ryan Guzman
Since Everybody Wants Some!!, I've been dying for a Tyler Hoechlin and Ryan Guzman reunion. As two of the alpha males captaining Richard Linklater's team of collegiate athlete goofballs, their brotastic charms and Hoechlin's mustache became impossible to forget. Now picture these fratty one-uppers as part of a different but thematically similar squad (off the diamond, into the air). We've already witnessed their ability to ham up manliness and flash pretty-boy glances. Who better to challenge Maverick and Iceman as a hot-shot flying duo or rock the hell out of standard issue uniforms? Not to mention how epic their volleyball scene would be given the physical self awareness both have displayed (just watch The Boy Next Door or Teen Wolf – these lads knows how to oversell and exaggerate).
They're teen heartthrob adonises with rock-solid washboards. If anyone deserves a second volleyball montage, it's these two.
Walton Goggins/Danny McBride
If you've seen Vice Principals, anything Walton Goggins has acted in or anything Danny McBride has acted in, then you know why this is an obvious combo. Write 'em a country boys backstory and put McBride back in Tennessee mode from Alien: Covenant. These two could easily withstand as change-of-pace pilots who don't necessarily have to be jokesters, yet still play for laughs. Layers of bonded brotherhood chemistry already tie these two together. It's almost too good of an idea. McBride's stone-faced demeanor fits with Goggins' more expressive and effusive reactionary work, blending in tandem when imagining aviation graduates who zip about the skies.
Plus, all you have to do is mention Danny McBride or Walton Goggins in your article to guarantee certain Film Twitter retweets. Here's my quota!
Max Greenfield/Dave Franco
Why does my gut believe these two would pair like Jack and Coke? Why does every part of me believe they'd play their parts with almost a satirical submergence that nails the cockiness of commanding cockpits? All of Max Greenfield's obsessive self pride experience from his "Schmidt" New Girl character being put to good use, and Dave Franco a miniaturized sidekick version of that. This goes back to the same reason for teaming up actors like Hoechlin and Guzman. Franco himself could take a few cues from his Neighbors character as well, after being groomed by Zac Efron as a ride-or-die best bro who'd do anything for his troop. In the world of Top Gun, this is a high-quality personality trait that's shoe-in loyalty material. Someone get these two their sunglasses and let the swooning begin.
Oh, and I'm sure they'd look fine actually flying the planes as well.
Will Arnett/Will Forte
Here's where I start getting ambitious. Or maybe not? Picture these two standing next to one another in fighter pilot costumes. Slicked-back hair and too-cool-for-school attitudes. Movies just aren't complete without sarcastic side characters. Get Will Arnett slinging snark and Will Forte shooting insults. Maybe have a little more fun with the Top Gun sequel than expected. Not saying go full Baywatch – you NEVER go full Baywatch, as we learned – but there's a vision here worth exploring.
That, or my adoration of MacGruber makes me automatically assume more Will Forte is always necessary. And doesn't Will Arnett exude "preppy jetsetter" vibes? I'm imagining a scarf twirled around his neck. Either way, PICTURE IT. In my Top Gun 2, this would be a must. Assuming these two to be "comedy only" types would be a grave underappreciation.
Thomas Lennon/Robert Ben Garant
Maybe I'm just selecting actors I've seen wearing aviators at this point. Can't really tell. What I do know is that I'd pay handsomely for a Top Gun sequel featuring Thomas Lennon and Robert Ben Garant. Hopefully looking like their Reno 911! officers, but without the slapstick. Possibly some towel-whip roughhousing, because what men's locker room doesn't need a little horseplay? These guys just don't get enough credit for their talents. How better way to showcase otherwise than by riding shotgun with one another while making aviation puns to cut through competitive seriousness? Garant's handlebar mustache and dumbfounded face staring at rookies, failing to intimidate. Give it to me.
Alexander Skarsgård/Michael Peña
Have you seen War On Everyone? If not, stop reading and find a copy. VOD. Physical disc. I don't care. You will not understand the next paragraph without witnessing their first collaboration.
Good, all done? Now you understand why these two need to be flying through the skies together. Too few people experienced their crass comradery in War On Everyone, so dial it down and get them in Top Gun 2. No longer cops, now pilots. Same difference with double the wit. They represent the quintessential "dreamy beefcake" and "funny buddy" partnership that would fit right in with Maverick and Iceman. Alexander Skarsgard smiling from the front while Michael Peña screams from behind, double the volume and half the composure. Team these two up again and watch the fireworks explode with each mission.
Blake Lively/Ruby Rose
I'm all about badass Blake Lively. Queen was straight fierce in The Shallows and She's already played a pilot in Green Lantern so it's not even stretch casting. And Ruby Rose? No one had a more rough-and-tumble 2017 after starring in xXx: Return Of Xander Cage, John Wick: Chapter 2 and Resident Evil: The Final Chapter in 2016. Is there anyone better to ballbust overly dudebro pilots who think they're God's gift to the male gender? The more I think about this, the more I want it. Cinema doesn't need another for-the-boys Top Gun – counterbalance all that hormonal inferiority with these two and score a massive "W."
Thomas Mann/Jason Mitchell
You can't get more "rookie" than these clowns, and I kind of like that. Look back at Kong: Skull Island. Thomas Mann and Jason Mitchell play two privates who are thrust into a situation bigger than their collective worlds and reactions are appropriate. Now translate their skittishness to flight school, and you've got the bumbling new guys who might get themselves killed without leaders like Maverick. Mann is a master of the blank stare while Mitchell has a quickness about him that only accentuates his partner's flightiness (pun intended). There's fun to be had here, without delving into full comedy schtick.
Zac Efron/Michael B. Jordan
Houston, we've reached testosterbrone broverload. Imagine the vein-popping, sweat-dripping tests of strength between these two. Arrogance. Fraternal overtones. Zac Efron already showed he's more than up for a beach-sports showstopper (Baywatch bod), and Michael B. Jordan's own work in Creed assures much of the same physical dominance. If you're looking for pilots who think they're hotter shit than dog poo in a campfire, look no further than two dudes who co-starred in That Awkward Moment. Now get them zipped inside pilot onesies and playing every men-in-uniforms card known to dive bars. I'd be wolly unsurprised if these two actually do get announced as Top Gun: Maverick players.
Donald Glover/LaKeith Stanfield
Atlanta rules, Donald Glover's stock is skyrocketing and LaKeith Stanfield has been popping up in multiple noteworthy supporting roles (War Machine, Get Out). How could a movie possibly be worse with them? Stanfield piloting, Glover navigating. We can only assuming Glover's training as young Lando could be utilized in a military-grade aircraft as well, right? These buddies could rise the ranks as either serious pilots or jokey jesters with the same level of success. It's a lofty compliment I mean with my heart of hearts – what can't these two do?
Anders Holm/Adam Devine
Anders Holm looks like he was assembled in a Nantucket country club, and Adam Devine is, well, he's one of the only man-children who could "keep up" with Efron in Mike And Dave Need Wedding Dates. Say you do want to make Top Gun 2 a full-blown comedy in hopes of some 21 Jump Street magic. These guys have bumped boners, broed down and pushed into countless danger zones for seven seasons on Workaholics. Maybe with a little more immaturity than would work for Cruise's second go-around, but slap aviators on these two and tell me it doesn't work. Holm especially. In the "goofball asshole" world of Top Gun 2 sequels, there's a beer bong chug-off featuring these two. And Devine is wearing his "Top Gun" hat, because, you know, he's the Top *Sales* Gun.
Tessa Thompson/Gina Rodriguez
Maybe this is a product of watching Thor: Ragnarok and Annihilation too recently, but our society needs more of this blessed union of souls. Tessa Thompson and Gina Rodriguez could break down the gender wall and leave Cruise's camp splendidly emasculated. Thompson already proven as a boozin' space pilot who stole scenes right from under Chris Hemsworth's now fan-favorite Marvel hero Thor, and Rodriguez a feisty firecracker filled with volcanic levels of spunk. They'd chew you up and spit you out in only a way these two prideful, powerfully empowered wonder women can. Tell me you don't want to see these two well-deserved talents make a name for female naval pilots on the big screen? Go ahead. I dare you to even try.