Life Finds A Way: 'Jurassic World: Fallen Kingdom' Has Given Us Dinosaur-Sized Jurassic Doritos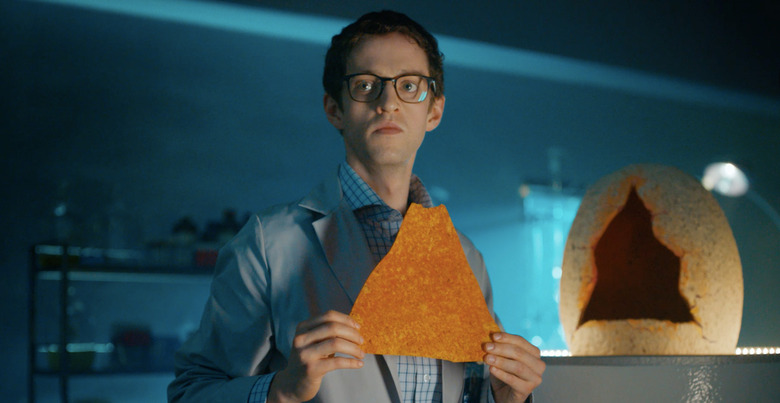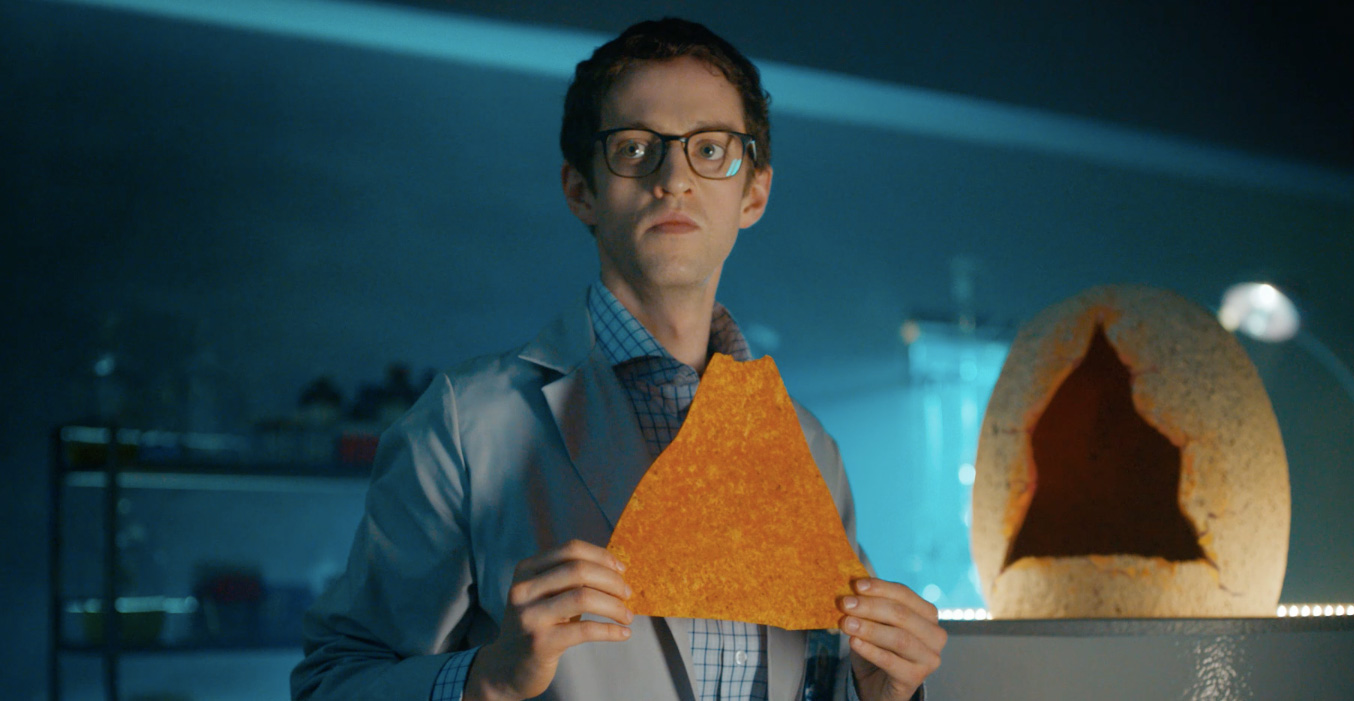 We may receive a commission on purchases made from links.
When I woke up this morning, I didn't think I would be getting a massive Jurassic World: Fallen Kingdom crate sent to me as a totally insane cross-promotion from Doritos. But here we are.
Doritos has teamed up with Universal Pictures to unleash what they call an "experiment gone horribly right." Life found a way, and the two companies have unleashed what they are calling Jurassic Doritos. These are Doritos that are 18 times the size of your average Doritos chip, and they even come housed in an extremely limited edition dinosaur egg. This might be the most bonkers promotional item we've ever seen. Check it out below.
First, look at how big this damn crate is! It's even branded with the Jurassic World and Jurassic Doritos logo: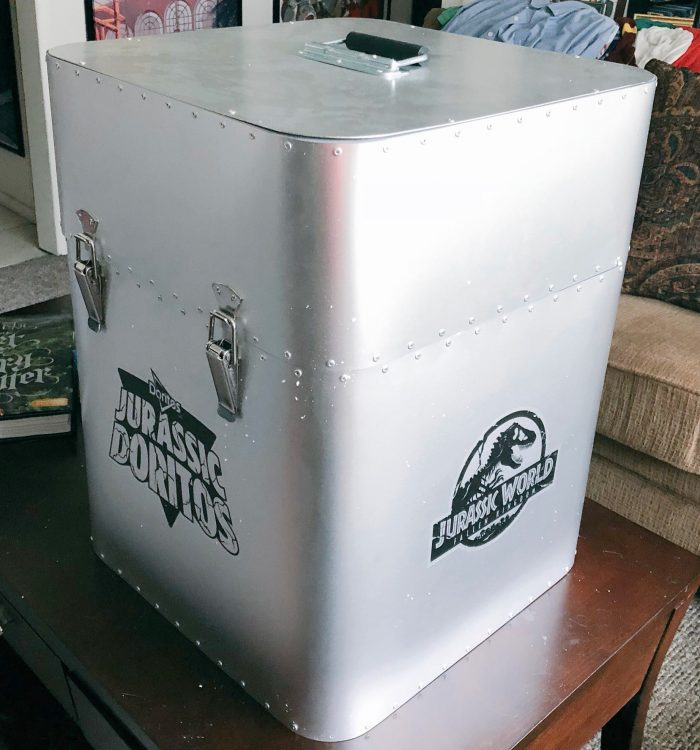 When you open it up, there's this equally impressively big dinosaur egg inside of it: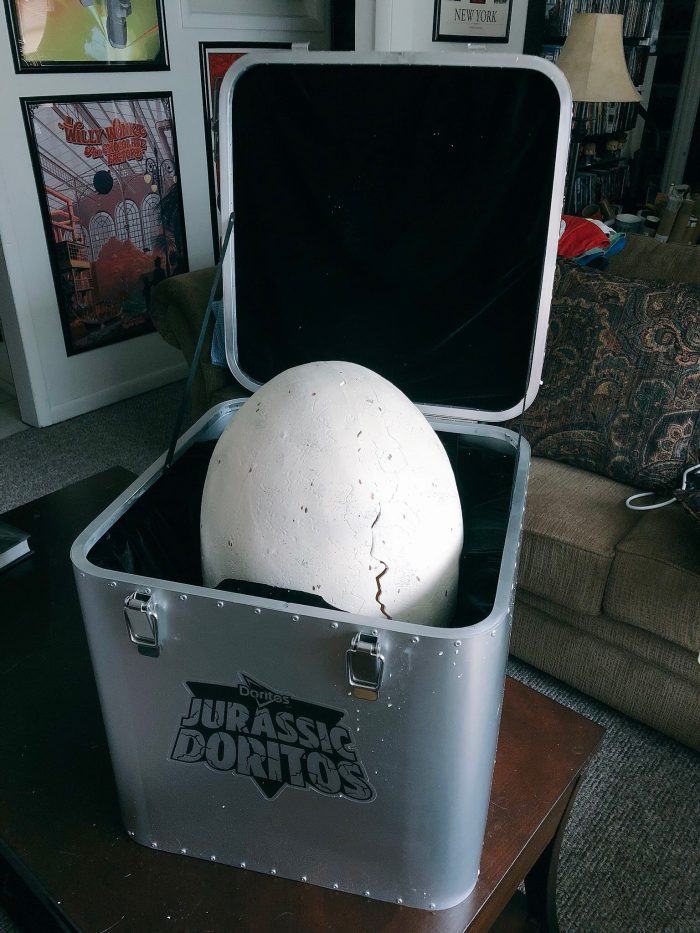 And finally, inside the egg is the biggest nacho cheese Doritos chip you've ever seen: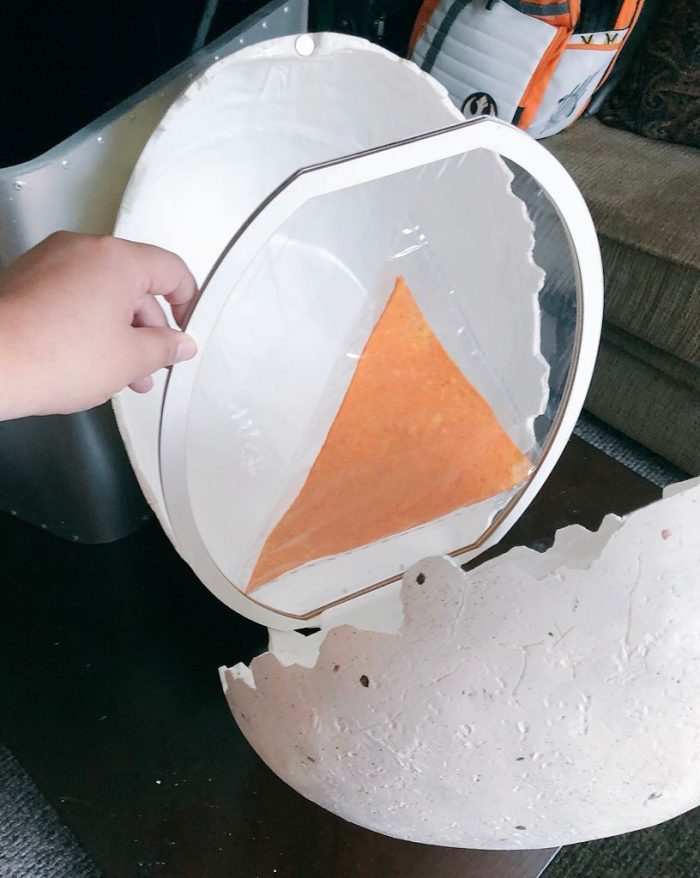 And just in case anyone is thinking of making some fake Jurassic Doritos, forget about it: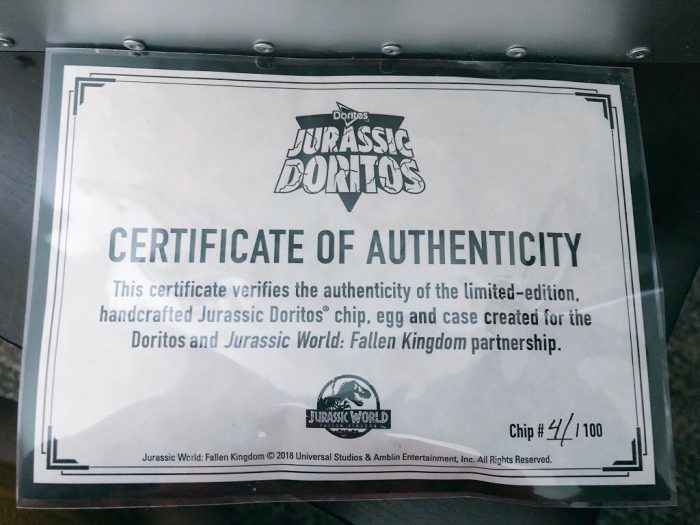 The chip above is totally real and edible, and only 100 of them were made. I can't help but marvel at the creation of something so beautiful. The official press release for this cross-promotion mentions a familiar name when it discusses who helped create these chips:
"Doritos has brought to life what some have only imagined – a snack as bold and intimidating as the most vicious dinosaurs created by Dr. Henry Wu (played by B.D. Wong). As the visionary mind behind the Indominus Rex, Dr. Wu is no newcomer to the development and production of world-altering hybrids. In his latest endeavor, Dr. Wu, the story goes, has merged Doritos and dinosaur DNA to create limited edition Jurassic Doritos, massive chips available in the iconic Nacho Cheese flavor."
Now the first question you might have is, "Why?" But the second question you might have is, "How can I get my hands on one of these ridiculous Jurassic Doritos? Well, you can either fire off a tweet to @Doritos containing the #JurassicDoritos and #Entry hashtags, and you might be lucky enough to get one. Or if you're the charitable kind with some extra money lying about, you can bid on one of these limited edition Jurassic Doritos crates in an auction on JurassicDoritos.com starting on June 14 and lasting through June 21 (the site should be live later today or tomorrow). All proceeds will be donated to help with disaster relief efforts for the American Red Cross chapter in Hawaii, where many scenes from the Jurassic Park films were shot.
There are other Jurassic World-themed contests you can win through Doritos.com, and you can also pick up Jurassic World-themed Doritos from Amazon. Good luck!