New 'Spider-Man' Video Game Trailer Shows Off Every Conceivable Villain, Lots Of Webslinging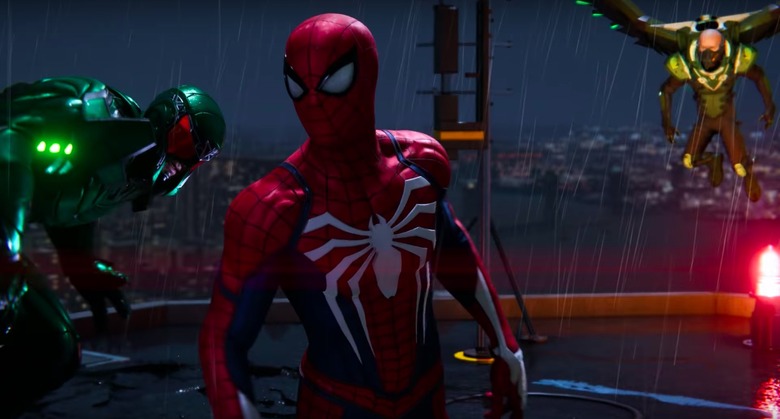 Spider-Man is not only taking over our big screens — in both animated and live-action form — but our video game screens. The long-awaited Spider-Man PS4 video game debuted a new trailer at Sony's E3 showcase this week, and it's a smorgasbord of action, sleek graphics, and sinister villains. The Sinister Six, to be exact.
Marvel's Spider-Man Video Game Trailer
While a Sinister Six movie may or may not be happening (most likely not), at least they'll have the Spider-Man video game. Which, to be fair, looks impressive as hell.
The stunning gameplay clip released at E3 takes the friendly neighborhood Spider-Man out of the neighborhood and into The Raft, a maximum security prison where Electro is attempting to bust out a bunch of criminals to run loose in New York City. But while Spider-Man easily takes out the low-level crooks, he's stopped short by a team-up of some of his most formidable foes: Rhino, Vulture, Electro, Mister Negative, Green Goblin, and a mysterious sixth villain.
Developed by Sony Interactive Entertainment, Marvel and Insomniac Games for PlayStation 4, Spider-Man is a PS4 exclusive that fans have been awaiting for a long time. First announced at E3 two years ago, Sony has been teasing it ever since. Now, with the game a few months away from release, Sony has released the biggest and most action-packed trailer yet. And there's also a tantalizing cliffhanger that will surely make a few people eager to try out the game for themselves.
Here is the synopsis for the Marvel video game:
Marvel's Spider-Man features your favorite web-slinger in a story unlike any before it. Now a seasoned Super Hero, Peter Parker has been busy keeping crime off the streets as Spider-Man. Just as he's ready to focus on life as Peter, a new villain threatens New York City. Faced with overwhelming odds and higher stakes, Spider-Man must rise up and be greater.
Marvel's Spider-Man will hit game shelves on September 7, 2018. It's available to pre-order right here.