George R.R. Martin Suggests A Possible 'Game Of Thrones' Prequel Title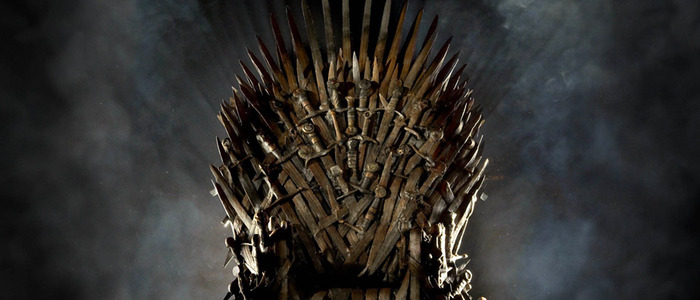 George R.R. Martin should probably get cracking on those still-unwritten Song of Ice and Fire books. Instead, he's weighing-in on titles for the recently-announced Game of Thrones prequel spin-off coming to HBO. Below, Martin offers new details on the series, and suggests a possible Game of Thrones prequel title.Last week, HBO went ahead and pulled the pin on a Game of Thrones prequel spin-off, with Jane Goldman serving as showrunner. We all knew this was eventually coming, especially with Game of Thrones coming to an end, and now it's official. The series is going to be set thousands of years before the current events of Game of Thrones, which opens the new show up to multiple possibilities. George R.R. Martin, the man responsible for the existence of Game of Thrones, took some time off from not writing the latest Song of Ice and Fire book to weigh-in on the spin-off.
"Yes, this is a prequel, not a sequel," Martin wrote on his blog. "None of the characters or actors from Game of Thrones will appear in the new show. All of the successor shows we've been developing have been prequels, as I have mentioned before. This one really puts the PRE in prequel, since it is set not ninety years before Game of Thrones (like Dunk & Egg), or a few hundred years, but rather ten thousand years (well, assuming the oral histories of the First Men are accurate, but there are maesters at the Citadel who insist it has only been half that long)."
And what will this show be called? There's no official title yet, but Martin has a few ideas:
We're very early in the process, of course, with the pilot order just in, so we don't have a director yet, or a cast, or a location, or even a title.  (My vote would be THE LONG NIGHT, which says it all, but I'd be surprised if that's where we end up.  More likely HBO will want to work the phrase "game of thrones" in there somewhere. We'll know sooner or later).
I'm not very well-versed in all-things-Game of Thrones, but a trip over to the Song of Ice and Fire Wiki tells me that the Long Night "is how the Westerosi refer to a period when a terrible darkness fell across the Known World. It occurred during the Age of Heroes approximately eight thousand years before Aegon's Conquest, in the midst of a great winter that lasted for years. The Long Night lasted a generation and laid waste through famine and terror." Sounds pleasant! Just kidding – it sounds bleak and emotionally crushing, just like Game of Thrones. 
Martin also offered an update on other possible Game of Thrones spin-offs (HBO wants more than one, because of course they do). To hear Martin tell it, there are three other prequel shows currently in active development:
As for the other successor shows... if you have been following along, you know that we started with four, and eventually went to five.   One of those has been shelved, I am given to understand, and of course Jane's pilot is now moving to film.   But that does not mean the others are dead.   Three more GAME OF THRONES prequels, set in different periods and featuring different characters and storylines, remain in active development.   Everything I am told indicates that we could film at least one more pilot, and maybe more than one, in the years to come.   We do have an entire world and tens of thousands of years of history to play with, after all.  But this is television, so nothing is certain.
Nothing is certain indeed. For instance, no one can say with any certainty when George R.R. Martin will finish his next book.