'Tom Clancy's Jack Ryan' Trailer: John Krasinski Goes From Analyst To Special Agent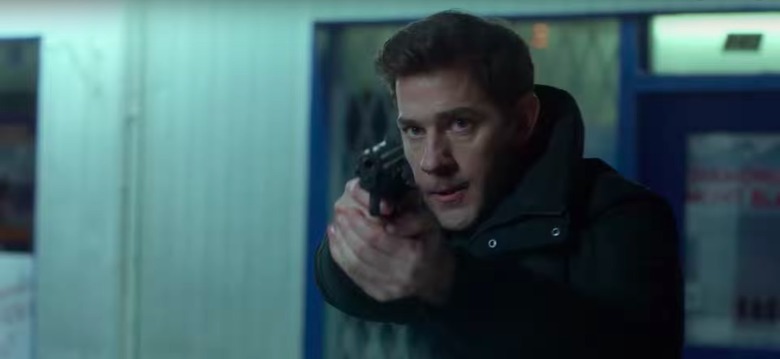 The era of John Krasinski: Action Hero is here. But Tom Clancy's Jack Ryan won't center on a typical action hero. It will follow the character's literary origins and show us a Jack Ryan who starts off as a lowly analyst before becoming a covert agent.
The newest trailer for Amazon's upcoming series gives us a glimpse of Jack Ryan before he becomes the Jack Ryan, the CIA agent created by Tom Clancy and immortalized by every Hollywood Action It Boy from Alec Baldwin to Harrison Ford to Ben Affleck to Chris Pine. Now, Krasinski takes up the mantle. His Jack Ryan begins as a timid desk jockey who gets roped into a dangerous covert mission in Yemen that he never signed up for.
Tom Clancy's Jack Ryan Trailer
Hollywood loves a good origin story, and it seems like Amazon's new series, Tom Clancy's Jack Ryan, is the latest to enter the origin story craze. Ever since Alec Baldwin stepped into Jack Ryan's capable shoes in 1990's The Hunt For Red October, no introduction has been necessary for the gun-toting CIA analyst.
But the Amazon series will flip the script, introducing Jack Ryan as an up-and-coming analyst who loves nothing more than sitting at his desk. But as the one analyst who uncovers a vast terrorist conspiracy, he turns out to be the only man for the job. Thrust into a dangerous covert mission, Jack Ryan must learn to be the agent we all know him to be — and Krasinski seems up to the task, playing both the early dweebish Ryan and the capable, kick-ass Ryan with aplomb.
In addition to Krasinski, Tom Clancy's Jack Ryan stars Abbie Cornish, Mena Massoud, Timothy Hutton, Peter Fonda, and Wendell Pierce. The series was created by Lost's Carlton Cuse and Graham Roland, and has a laundry list of executive producers that includes Krasinski, Cuse, Roland, Michael Bay, Mace Neufeld, Brad Fuller, Andrew Form, David Ellison, Dana Goldberg, Marcy Ross, and Lindsey Springer.
Here is the official synopsis for Tom Clancy's Jack Ryan:
Jack Ryan, an up-and-coming CIA analyst, is thrust into a dangerous field assignment for the first time. He soon uncovers a pattern in terrorist communication that launches him into the center of a dangerous gambit with a new breed of terrorism that threatens destruction on a global scale.
Tom Clancy's Jack Ryan premieres on Amazon Prime on August 31, 2018.