Marvel Celebrates 10 Years Of The MCU With A New Website, Glitzy Gold Posters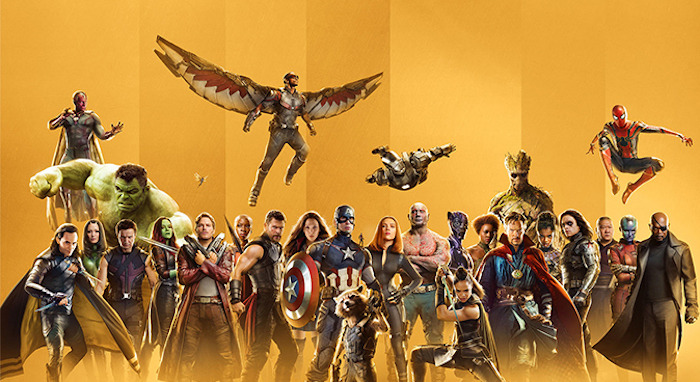 Gold is usually reserved for 50-year anniversaries, but we'll let it slide for Marvel Studios. The studio is celebrating an unlikely 10-year anniversary that began all the way back with Iron Man in 2008 — a movie that no one expected to launch a cinematic universe spanning 10 years and 19 movies. But jump forward to 2018, and here we are: there's a brand spanking new anniversary website and collection of posters to celebrate Marvel's first 10 years.
A decade flies by when you're having fun — or when you're literally flying in your superhero costume. And Marvel Studios has chosen to celebrate the auspicious occasion of its 10th anniversary by launching a new anniversary website.
The website comes complete with an official Marvel movie timeline, a contest to win a private screening of the upcoming Ant-Man and the Wasp, and glitzy new posters of all the beloved heroes of the MCU. The character posters include everyone from the main members of the Avengers and the Guardians of the Galaxy to supporting characters like Wong and Korg. Everyone gets some time to shine!
Here are a few of the special "Gold" edition posters below.
As you can see, these aren't created from any new images or photoshoots with the heroes, though the gold theme is pretty cool. You can view the rest here.
This website launch follows the first big 10-year celebration, the famous "Class Photo" of all the filmmakers and stars that made the MCU possible. It was a veritable who's who of Hollywood stars, and gave us some glorious meme-worthy moments.
We can probably expect the rollout of Marvel's 10-year anniversary celebration to continue for the rest of the year. What could be next? Another contest? A challenge to see Avengers: Infinity War 43 times? Who knows. Me, I'm hoping for a Korg Marvel One-Shot. It's what we deserve.