'Kingdom Hearts 3' Trailer Finally Reveals A 2019 Release Date (And We'll Never Let It Go) [Updated]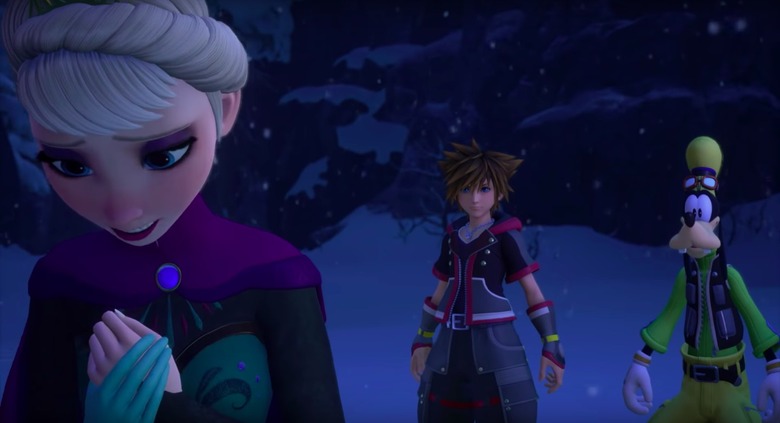 Update: More footage of the Pirates of the Caribbean world has been released in a trailer from the Playstation showcase at E3. See the trailer below.
It's happening. It's been 84 years, but we finally have (another) Kingdom Hearts III release date. And we won't let it go if they change it on us again.
The new Kingdom Hearts 3 trailer reveals exciting new worlds from Disney's latest hit films including Frozen, Tangled, and Wreck-It-Ralph, as well as a sneak peek at Utada Hikaru's new theme song for the video game sequel. Hopefully, that will be enough to tide us over as the game gets pushed back once again after being first announced five (!) years ago.
Kingdom Hearts 3 Trailer
A new Kingdom Hearts III trailer was released at this year's E3 with a few surprising revelations. First, the Square Enix/Disney video game, which was long limited to the Playstation console (or Game Boy consoles for its handheld spin-offs), will be available for the first time on Xbox One. But that announcement comes laced with some bad news: we'll have to wait a little longer than we expected.
A new Kingdom Hearts III release date has been set for January 29, 2019, a year later than what another trailer had promised at last year's D23 Expo. Director Tetsua Nomura apologized for the delay once again, releasing a statement on the official Kingdom Hearts Twitter account: "I'm sorry that we're asking for a little more time than initially planned. Please look forward to other information, including a few trailers at E3. Thank you."
And they thought they could tide us over with a new, shiny trailer. Well you know what? They're right.
This trailer is the most impressive and exciting one yet, with glimpses of new worlds and encounters with the insanely popular Frozen characters Elsa, Anna, and Olaf, as well as specialized gameplay themed to Tangled and Frozen. Plus, for all you Kingdom Hearts lore fanatics, there's that tantalizing peek at Aqua at the end of the trailer, who may have tragically lost her fight with the darkness. But most importantly, we get to hear a few strains of the theme song "Don't Think Twice" by Utada Hikaru, the Japanese-American singer upon who we can always rely to bring that extra depth to Kingdom Hearts as much as we can rely on Donald to be useless in battle.
Kingdom Hearts 3 Trailer: Pirates of the Caribbean
It's been a long wait for the third Kingdom Hearts game. Kingdom Hearts III was first announced at the 2013 E3 Expo — yes, five years ago. Square Enix has released seven handheld and mobile games, as well as three "Remix" games, which packaged together HD remakes of the main console games and story-centric scenes from the spin-off games. The story has only gotten more convoluted and confusing since the first Kingdom Hearts was released in 2002, but that doesn't matter as long as I get to become an ice queen in Kingdom Hearts III. But hey, since we're waiting until next year, at least we have time to catch up on the Birth By Sleep gameplays.