'It: Chapter 2' Lands Isaiah Mustafa For The Last Slot In The Losers' Club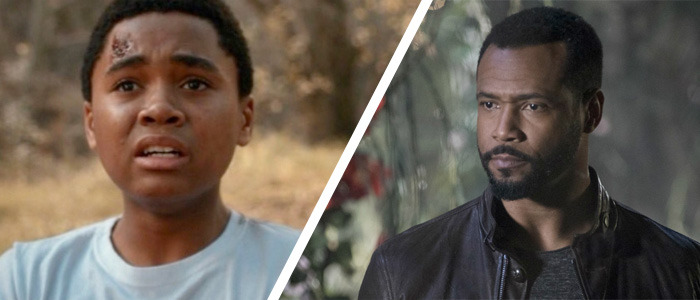 The cast of It: Chapter 2 has slowly been filling out over the past couple months, and now the final piece is in place.
Isaiah Mustafa, best known as the former spokesman for Old Spice, has landed the role of the adult version of Mike Hanlon. He's the only member of the Losers' Club to stay behind in Derry, Maine as an adult. It's Mike who ends up calling the gang back to town to fight Pennywise the Clown when he returns.
Chosen Jacobs, who played young Mike Hanlon in the first IT last year, announced the news on Instagram:
One of Mike Hanlon's more interesting traits in IT was handed off to the character of Ben. Originally it was Mike who was pouring over old photos and documents in the library to dig into the history of Derry, Maine. However, it sounds like Mike will get that responsibility back in the sequel. Since Mike stayed back in Derry, he's been researching the town, interviewing residents and trying to figure out how to defeat Pennywise once and for all. But his efforts have come at a risk to his mental stability.
Last fall, director Andy Muschietti teased a bit of a darker path for Mike Hanlon in It: Chapter 2:
"My idea of Mike in the second movie is quite darker from the book. I want to make his character the one pivotal character who brings them all together, but staying in Derry took a toll with him. I want him to be a junkie actually. A librarian junkie. When the second movie starts, he's a wreck. He's not just the collector of knowledge of what Pennywise has been doing in Derry. He will bear the role of trying to figure out how to defeat him. The only way he can do that is to take drugs and alter his mind."
Isaiah Mustafa isn't exactly a household name, so his casting is somewhat surprising for a role that seems rather significant. In fact, with the exception of his turn as the handsome spokesman of Old Spice commercials, this will be the highest profile role he's ever taken. Otherwise, the past couple of years he's had a role on the series Shadowhunters: The Mortal Instruments.
Mustafa joins a cast that includes Jessica Chastain as Bev, James McAvoy as Bill, Bill Hader as Richie, Jay Ryan as Ben, Andy Bean as Stanley Uris and James Ransone as Eddie. Plus, Bill Skarsgard will be returning as the creepy Pennywise.
It: Chapter 2 arrives this fall on September 6, 2019.