Ellen Burstyn Joins 'Pale Blue Dot' Cast Alongside Natalie Portman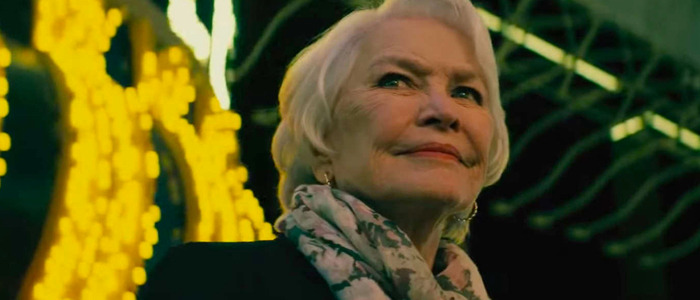 Noah Hawley's sci-fi film Pale Blue Dot (which may not be called Pale Blue Dot anymore) just landed a great new cast member: Exorcist and Requiem for a Dream actress Ellen Burstyn. Other Pale Blue Dot cast members include Natalie Portman, Jon Hamm and Dan Stevens.Legion and Fargo creator Noah Hawley is lining-up his first feature film, and he's attracting a killer cast int he process. Per Variety, the film, a sci-fi drama that used to go under the name Pale Blue Dot but is apparently now untitled, just added Ellen Burstyn to its cast. Burstyn is a phenomenal actress whose been acting since the late 1950s. She's probably most famous for her role in The Exorcist, but she's also appeared in Alice Doesn't Live Here Anymore, The Last Picture Show, and of course, Requiem for a Dream. She also was recently seen in the film The Tale, which premiered at Sundance and recently debuted on HBO.
Other cast members include Natalie Portman, who plays the lead in the film; Dan Stevens, who also stars on Hawley's trippy Marvel series Legion; and Mad Men actor Jon Hamm. Deadpool 2's Zazie Beetz was rumored for a part as well, but that has yet to be confirmed. The film was first announced in 2017, with Reese Witherspoon in the lead. Witherspoon has since dropped out of acting in the film, and will now serve as a producer. Brian C. Brown, a producer on Legion, and Elliott DiGuiseppi, wrote the script. Production is expected to begin in the spring of 2019.
According to the Variety, Pale Blue Dot (or whatever it's called now) "follows a female astronaut who, after coming back home from a mission in space, starts to unravel when confronted by her seemingly-perfect life. The film explores the theory that astronauts who spend long periods of time in space lose their sense of reality when they return home." Portman will play the female astronaut, while Hamm plays another astronaut that Portman "aggressively pursues after returning to Earth." It's not clear why she's aggressively pursuing Jon Hamm. Perhaps this is a secret sequel to Tag, which also stars Hamm, and she just wants to tell him he's it. There's no word on who Burstyn is playing.
While I'm not as enamored with Hawley's TV work as others, I do recognize his talent, and I'm looking forward to seeing what he does on the big screen. Hawley's been attached to the Doctor Doom movie for years, but we probably shouldn't expect to see that anytime soon. As for Pale Blue Dot, I'm hoping it will fit into the recent trend of unique, modern sci-fi films – films like Ex Machina, Arrival, and Annihilation – which also starred Portman.