'Stranger Things' Books Are Coming This Fall, Including A Prequel About Eleven's Mother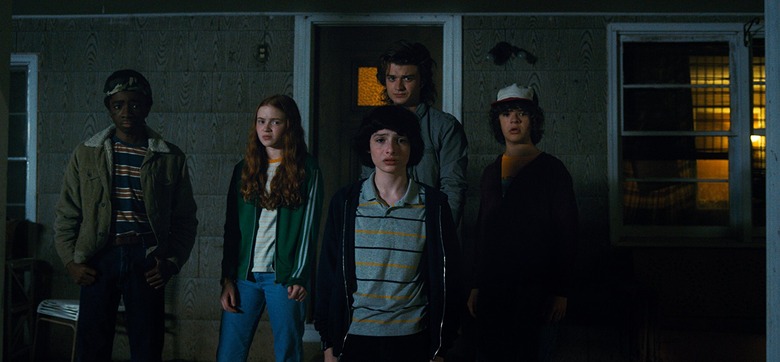 It'll be a long wait until Stranger Things season 3 arrives sometime in 2019, but how about a little bit of...strange reading to bide the time? Your homework for the next season of the Netflix series is coming this fall: A series of Stranger Things books will be arriving at a store near you.
Penguin Random House is partnering with Netflix on a worldwide publishing deal for books based on Stranger Things, according to Deadline.
Three titles are planned so far, with the first two titles announced to be a behind-the-scences companion book and a hardcover gift book for young readers. The as-yet-untitled gift book will reportedly offer "advice, wisdom, and warnings from the Stranger Things world," says the publisher.
But the third book will expand on the show — a prequel tie-in to the Netflix series that fills out the gaps in the story of Eleven's mother and the MKUltra program. Written by Gwenda Bond, the untitled prequel novel will be released in spring 2019. The companion book, titled Stranger Things: World Turned Upside Down: The Official Behind-The-Scenes Companion, and the gift book will hit shelves in fall 2018.
Random House and Netflix plan to release even more books later in 2019. Audiobook editions of the books will be available as well.
It's smart to do novel tie-ins with Stranger Things, which is shaping up to be Netflix's biggest crossover hit ever. Popular with genre and non-genre fans alike, Stranger Things hits that sweet spot of nostalgia and rosy child action/adventure stories. Despite its dark and oft-violent plot twists, Stranger Things is a family affair, which makes the book tie-ins a perfect fit. Movie buffs can snatch up the companion book for behind-the-scenes details, while the gift book sounds great for everyone in the family. Meanwhile, the prequel tie-in novel is perfect for everyone impatient for Stranger Things season 3, which will likely not hit Netflix screens until early 2019 at best.
Details are under wraps for Stranger Things season 3, which will reportedly take the sci-fi/horror series in a "new" direction. Main cast members David Harbour, Winona Ryder, Millie Bobby Brown as Eleven, Finn Wolfhard, Gaten Matarazzo, Caleb McLaughlin, Noah Schnapp, Charlie Heaton, Joe Keery, Dacre Montgomery, and Sadie Sink are set to return for the third season. New cast members include Cary Elwes as Mayor Kline, Jake Busey as a journalist named Bruce, Maya Thurman-Hawke as a mysterious "alternative girl," and Francesca Real as a popular lifeguard.