'Cloak And Dagger' Is A Perfect Example Of A Comic Adaptation Improving Upon The Source Material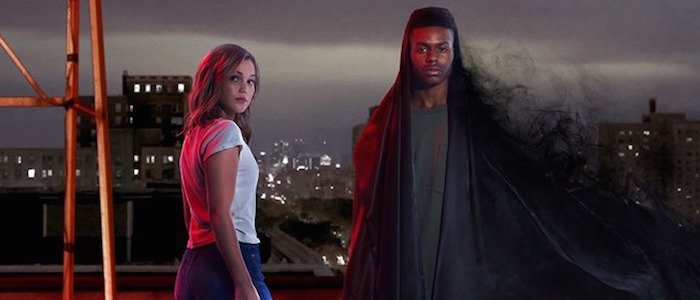 The two-hour premiere of Marvel's Cloak & Dagger on Freeform, directed by Gina Prince-Bythewood, is an extraordinary lesson in how to make a superhero show have substance beyond its source material. Instead of focusing solely on the strange and mysterious powers Tandy Bowen (Olivia Holt) and Tyrone Johnson (Aubrey Joseph) have, there's more focus put on who they are as people and how those powers are informed by their life experiences.
Even without the powers, Cloak & Dagger's first episodes, "First Light" and "Suicide Sprints," present a gripping, engaging young adult drama thanks to these three storytelling decisions.
Changing the origins
In the original Cloak & Dagger comic book origin, Tandy and Tyrone were teen runaways in New York who were captured and subjected to illegal testing with a new form of synthetic heroin. The tests went awry, with the result being that Tyrone and Tandy came away with their newfound powers. In Freeform's version of Cloak & Dagger, Tyrone and Tandy are from New Orleans, and their backgrounds have been altered. Their original stories were already tragic – Tyrone failed to save his friend from getting shot by the police for a crime his friend didn't commit, and Tandy ran away from her supermodel mother who was more concerned about being a socialite than a parent. But somehow, the show manages to make their lives even more horrific while making them all the more realistic and sadly pertinent to today's issues.
Instead of losing a friend to police violence, Tyrone loses his older brother Billy (Marqus Clae), whose death keeps reverberating throughout his family and still shakes Tyrone to his core. To add insult to injury, the officer who killed his brother, Detective Connors (J.D. Evermore), mysteriously isn't a part of the force (or, if he is, he's being protected by the blue wall to the nth degree). Connors himself is also a criminal who sells drugs to criminals. In an effort to get his life back on track, Tyrone's family have enrolled him into Catholic school, and he's part of the basketball team and the choir. However, the urge to destroy the man who ruined his life still runs deep, and his shadowy powers run concurrent to his depression-fueled rage.
The Freeform version of Tandy is, like her comic book counterpart, from the upper crust and she had dreams of going far in ballet. But after her father dies in an accident (the pivotal accident that launches her and Tyrone into each other's orbit), her mother Melissa's (Andrea Roth) already deteriorating state crumbles, and she becomes hooked on pills and ends up living in temporary housing as she quits jobs, clings to her old monied life, and drinks and pops her life away. Meanwhile, Tandy is left to fend for herself, grifting with her boyfriend Liam (Carl Lundstedt) and popping and snorting drugs herself to sedate her own hopes and dreams as well as her depression over her father's death.
Addressing problematic characterizations
Even though the comics were largely about a duo eradicating drug-centric crime from the streets and saving runaways, the comics unfortunately have their fair share of potentially problematic characterizations that were wisely sidestepped in this now iteration.
The biggest issue with Cloak's powers in the comics is that he feeds off of violence to a degree; he absorbs the darkness from the criminals they take down, and if he isn't feeding on the darkness from the victims he throws into the darkforce dimension, he has to be directly assuaged by Dagger's lightforce. This puts Dagger, a white woman, in the position of being the person who can control Cloak, a black man, due to her abilities to project light and even cure people of their drug addictions. In short, Dagger is still put in the stereotype of the "pure" white woman who can "bravely" keep the "dangerous" black man in check thanks her to internal virtue.
Freeform's Cloak & Dagger does well to alter that point of view by positioning Tyrone in a position of upward mobility thanks to his schooling and his nuclear family comprised of his mother Adina (Gloria Reuben), who does work in politics, and his father Michael (Miles Mussenden). His powers are also not focused on devouring everyone else's darkness or projecting onto them their most fearful nightmares; instead, his power allows him to see people's personal anxieties, their buried hang-ups and sadness. Yes, he still sees their fears, but he's (currently) not using those fears as weapons. Instead, his ability to see fear allows him to connect deeper to those he loves, like his mother, who seems like she has it all together despite still suffering from Billy's death.
Tandy, on the other hand, has fallen from grace. Despite coming from money, she's now living in a dilapidated church, stealing from the wealthy, and running away from everything good and bad in her life. While both Tyrone and Tandy are emotionally lost, Tandy is worse off, since her family structure has disintegrated into nothing. Her powers are also re-jiggered to portray Tandy as being haunted by the light, i.e. the hopes and dreams she had for her life and her wish that things could be different. Tandy's power wants her to comes to terms with her life's trajectory, and the only way Tandy can do that is by facing reality. That seems to be Tandy's particular challenge as the series goes on.
The right tone for the right story
I knew Cloak & Dagger was going to be different than other Marvel shows, but I was still hesitant about what I'd get. The last thing I wanted for Cloak & Dagger was for it to be a rock 'em-sock 'em teen show that focused more on MCU continuity than telling its own story. In other words, I didn't want it to be another Agents of S.H.I.E.L.D. I hoped Cloak & Dagger would be along the lines of Agent Carter or Luke Cage, charting its own course and saying something truly unique, something that expands beyond the world of the comic book and into the everyday. Thankfully, this is what we got.
I have to admit that my fear was misplaced, since Cloak & Dagger highlights one of Marvel's strengths, a strength I sometimes forget about, which is that Marvel does dive into different genres depending on what the story at hand needs. I'd argue that their ability to genre-hop has only grown in concert with the company's amount of self-assurance and confidence. Even though Agents of S.H.I.E.L.D. is not a show I'm personally drawn to, the show has set the groundwork for Marvel on television, and its success has allowed the company to think about creating a period spy drama like Agent Carter, a blaxploitation-esque action series like Luke Cage, a feminist-led drama like Jessica Jones, and now a gritty, woke teen angst-fest like Cloak & Dagger. 
There was no way a staunchly MCU-beholden storyline would work with Cloak & Dagger, since there is so much to work with when it comes to the characters, their backgrounds, and their powers. The characters have had hard childhoods, so it only makes sense that Cloak & Dagger's tone would draw from those experiences. It's through those experiences that the show is able to comment on several real-world topics at once. There's police brutality, drug addiction among the white and/or wealthy (i.e. the current heroin overdose epidemic the country is witnessing), sexual violence and abuse (i.e. Tandy creating her dagger of light to stab her assailant, a rich frat guy she stole from), and the pressure for black youth to be perfect in order to be considered half as good as their white counterparts, the latter of which is laced in Adina's statement to Tyrone – that she worries that even if he does everything right, he'll still end up losing.
Overall, Cloak & Dagger had a strong opening, and I can't wait to see where this slow-burn of a series goes.