'Incredibles 2' Featurette: Tons Of New Footage From The Superhero Family's Latest Adventure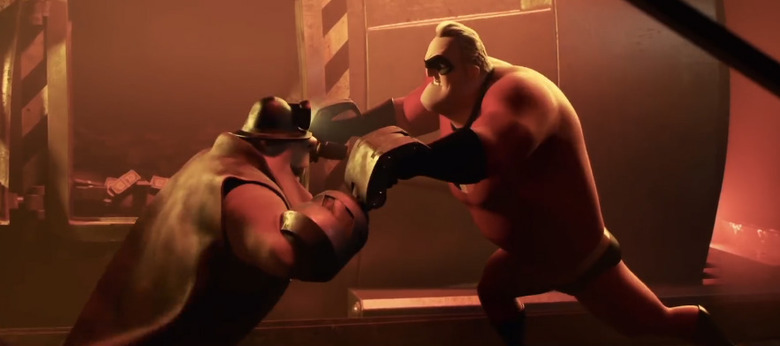 If you can't wait to see Pixar Animation bring back The Incredibles for another round of superheroics, we have something that might hold you over until then.
A new Incredibles 2 featurette has arrived online to set the stage for the animated sequel that brings back Mr. Incredible and Elastigirl along with their kids Violet, Dash and Jack-Jack as they deal with the unique trials and tribulations of being a family where everyone just so happens to have super powers. There's plenty of new footage on display here, but it borders on the point of showing a little too much, so if you're already sold on this movie, then you might not want to watch. Otherwise, enjoy!
Watch the Incredibles 2 Featurette
Incredibles 2 has already been screening for critics, and the early buzz is through the roof. Many are saying that the sequel is every bit as good as the original, and some think it's Pixar's best sequel since Toy Story 3. Others have even gone so far to say that it might surpass the original in greatness.
Having just seen Incredibles 2 myself, here are my brief thoughts about the sequel from social media (since full reviews won't hit the web until June 11 next week):
#Incredibles2 is phenomenal. It's every bit as good as the original. Action-packed, hilarious and just plain fantastic. Totally worth the 14-year wait, and I want to see INCREDIBLES 3 immediately.

— Ethan Anderton (@Ethan_Anderton) June 7, 2018
It goes without saying that @m_giacchino has crafted another outstanding score for #Incredibles2⁠ ⁠. The first score contians one of my favorite themes ever, and he adds some cool new sounds this time. Stay through the credits to enjoy them in full.

— Ethan Anderton (@Ethan_Anderton) June 7, 2018
Undoubtedly, Incredibles 2 will be a huge hit when it arrives in theaters next weekend. The movie is already close to breaking a box office record by being the best animated pre-seller of all time. It sounds like 14 years of waiting have made Pixar fans hungry for this family's superheroics. More than likely, it will make fans eager to see Incredibles 3, but given how long it took Incredibles 2 to come about, we might not see it happen until after 2030.
For more on Incredibles 2, check out our recap and reaction to 35 minutes of footage shown to us at Pixar Animation.
Helen (voice of Holly Hunter) is called on to lead a campaign to bring Supers back, while Bob (voice of Craig T. Nelson) navigates the day-to-day heroics of "normal" life at home with Violet (voice of Sarah Vowell), Dash (voice of Huck Milner) and baby Jack-Jack—whose superpowers are about to be discovered. Their mission is derailed, however, when a new villain emerges with a brilliant and dangerous plot that threatens everything. But the Parrs don't shy away from a challenge, especially with Frozone (voice of Samuel L. Jackson) by their side. That's what makes this family so Incredible.
Incredibles 2 arrives on June 15, 2018.