Jeph Loeb Teases 'Iron Fist' Costume In Season 2, More Inhumans In Other Marvel Shows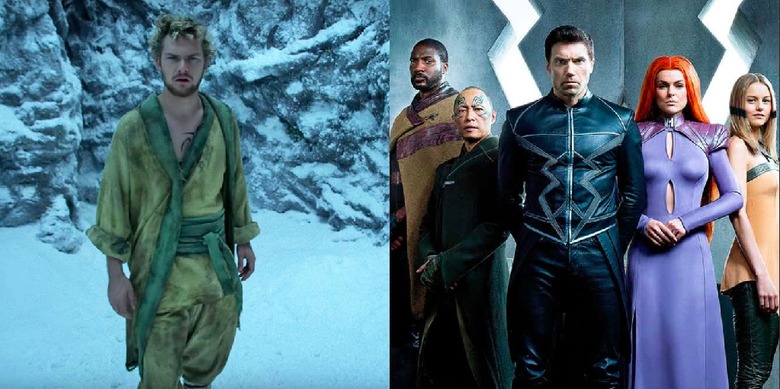 In all the Marvel TV news you've been craving, Marvel Television head Jeph Loeb has doubled down on some of the studio's most unpopular properties. Iron Fist and Inhumans were met with near-universal critical disapproval, but Loeb is teasing even more for fans of these shows.
Iron Fist
Among some of Iron Fist's many problems was that it did not feature the hero's iconic costume. Instead, Danny Rand (Finn Jones) spent much of the first season shirtless or dressed as a homeless man. But fans of the martial arts-fighting character were given new hope at seeing the costume at the end of The Defenders, whose final shot seemingly teased Danny's comics-accurate outfit.
Now Loeb suggests that the costume will be more than a fun Easter egg (à la Luke Cage's costume cameo in season 1 of Luke Cage). In a recent Reddit AMA (via ComicBookMovie.com), a fan asked Loeb whether Iron Fist will receive his costume soon. Naturally, the producer obfuscated  bit, but he did tell the fan that they will "be very happy with Season 2 coming this year."
So, you're in luck Iron Fist fans. You'll soon get to see Danny Rand don a yellow sash on his face — as it was always meant to be.
Inhumans
There's no getting rid of the Inhumans. Demoted from the Marvel Cinematic Universe to Marvel TV, Inhumans was meant to be the splashy introduction of a royal family rivaling the Lannisters on Game of Thrones...and ended up becoming more like the Kardashians. Inhumans was met with an abysmal critical reaction, and an even worse audience one, with ratings tanking quickly into the first season. Before you could blink, ABC had cancelled Inhumans, despite the petitions of all 14 of its fans.
But fear not, intrepid Inhumans fans. You could be blessed with more Inhumans appearances in other Marvel shows.
In the same Reddit AMA, Loeb answered a fan asking if there was a chance of seeing Inhumans' Anson Mount as Black Bolt, Serinda Swan as Medusa, and Iwan Rheon as Maximus in other Marvel shows like Agents of S.H.I.E.L.D. "Hope so. We love these characters and the actors are the best!" Loeb responded.
While this isn't confirmation, it opens the possibility for Inhumans living long past its expiration date. Just give the people what they want Loeb: a Lockjaw web series.