Win A Horror Movie Blu-Ray Bundle, Including 'The Strangers: Prey At Night'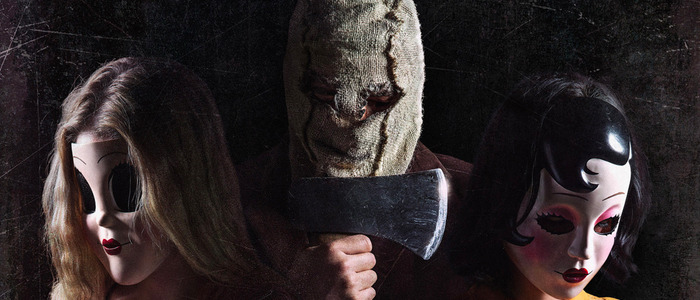 The Strangers: Prey at Night hits Blu-ray on June 12, 2018, and in honor of that impending release, we're giving away a horror movie Blu-ray bundle. Below, you'll have a chance to win six horror movie Blu-rays for free.
If you missed The Strangers: Prey at Night in theaters and want to catch it on Blu-ray, you're in luck. We're going to give you a chance to score a copy of the film for free. But that's not all! We're sweetening the deal with a whole bundle of Blu-rays. We must be crazy to be offering you such an amazing deal! The winner will receive the following Universal films on Blu-ray:
The Stranger: Prey at Night
Split
Cult of Chucky
Happy Death Day
The Bye Bye Man
The Purge Election Day
How can you win this sweet package of terror? All you have to do is head on down into the comments section and tell us your favorite horror movie of the 21st century. That's it. U.S. residents only, please.
Inspired by the 2008 cult classic The Strangers, The Strangers: Prey at Night is based on real events surrounding a family struggling to survive as they are attacked on their vacation by a trio of masked psychopaths that hunt their prey with seemingly no rhyme or reason. Director Johannes Roberts (47 Meters Down) pays homage to The Strangers by bringing back the infamous masked villains — Dollface, Pin-Up Girl and Man in the Mask — and incorporates elements of the '80s slasher genre to create a perfect mix of old and new that is sure to satisfy and reignite fear in fans of the original while also bringing new devotees to the franchise. Arriving on Digital on May 22, 2018 and Blu-ray, DVD and On Demand on June 12, 2018 from Universal Pictures Home Entertainment, The Strangers: Prey at Night is packed with exclusive bonus content including a never before seen alternate ending and an unrated version that brings the chaos and horror of the film to a whole new level.
A family's road trip takes a dangerous turn when they arrive at a secluded mobile home park to stay with relatives and find it mysteriously deserted. Under the cover of darkness, three masked psychopaths pay them a visit to test the family's every limit as they struggle to survive. Johannes Roberts, whose shark diving thriller 47 Meters Down was a smash hit, directs this horror film featuring Christina Hendricks ("Mad Men"), Bailee Madison (Don't Be Afraid of the Dark), Martin Henderson (The Ring), and Lewis Pullman (Battle of the Sexes).
BONUS FEATURES on BLU-RAY, DVD AND DIGITAL
Alternate Ending
"Prep for Night" Music Video – Director's Cut: The Man in the Mask, Dollface, and Pin-up Girl get ready to terrorize an unsuspecting family in a music video directed by horror auteur Mickey Keating (Darling, Carnage Park)
A Look Inside The Strangers: Prey at Night: Stars Christina Hendricks, Martin Henderson and director Johannes Roberts talk about the making of the film
Family Fights Back: Stars Christina Hendricks, Martin Henderson, Bailee Madison, Lewis Pullman and director Johannes Roberts review the film's characters and their fight to survive
The Music of The Strangers: Prey at Night: Director Johannes Roberts and star Bailee Madison discuss the John Carpenter-inspired score and the '80s soundtrack that keeps The Strangers killing