Oh My God, You Guys: 'Legally Blonde 3' Is Arriving In 2020, Reese Witherspoon Confirms Return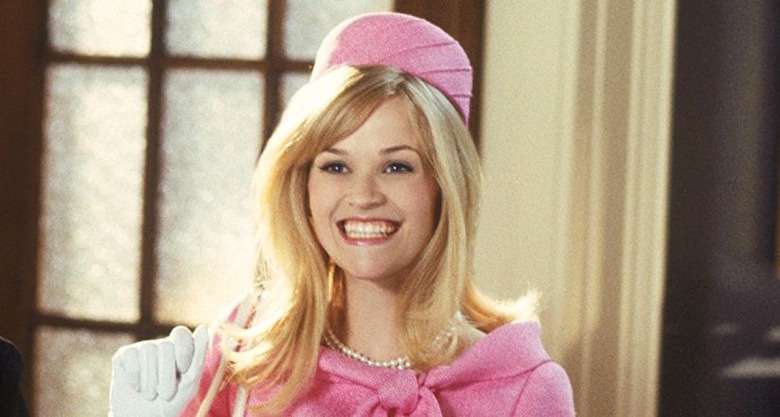 All this week we've had butterflies — and it's thanks to the recent reports that MGM is moving forward with Legally Blonde 3. Now, MGM Studios has officially announced a release date, just a few hours after Reese Witherspoon confirmed that she was reprising the role as feminist icon Elle Woods.
Ready your horoscopes, Gemini vegetarians: Legally Blonde 3 will be arriving in theaters on February 14, 2020. MGM confirmed the Legally Blonde 3 release date on Twitter with all the fanfare of a presidential campaign (which plenty of fans are speculating will be the plot of the second Legally Blonde sequel).
Back in Pink in 2020! #LegallyBlonde3 pic.twitter.com/KP1l6R0zTU

— MGM Studios (@mgmstudios) June 7, 2018
The announcement came several hours after Witherspoon confirmed her return to the character that she originated in 2001's Legally Blonde. And she did it in the best way imaginable: by recreating the bikini scene from her Harvard Law School application video, complete with the float. "It's true..." she wrote in the Twitter caption, three days after a report surfaced that MGM was in talks with Witherspoon to bring back the series.
It's true... #LegallyBlonde3 pic.twitter.com/i9zBrUpRCp

— Reese Witherspoon (@ReeseW) June 7, 2018
Witherspoon will be starring as Elle Woods, the pink-obsessed lawyer with brains, beauty, and an immaculate fashion sense. Legally Blonde has accumulated a loyal following since its premiere 17 years ago, thanks to Witherspoon's bubbly and sincere portrayal of the air-headed sorority girl who chases a boy to Harvard only to realize her true calling as a lawyer. Legally Blonde 2: Red, White & Blonde saw the lawyer heading to Washington, D.C., to advocate for animal rights, so you know what the next step is: the Oval Office.
Legally Blonde writers Kirsten "Kiwi" Smith and Karen McCullah are returning to pen Legally Blonde 3, while Witherspoon is set to produce alongside original producer Marc Platt. MGM is currently searching for a director.
There's no confirmation on whether original cast members like Luke Wilson and Jennifer Coolidge will reprise their roles. But it's an exciting prospect to see Elle Woods on the big screen again — especially at the height of the Me Too movement. This will be the best Valentine's Day ever.
Legally Blonde 3 opens in theaters on February 14, 2020.