'Bad Times At The El Royale' Trailer: Shirtless Chris Hemsworth Has Never Seemed So Sinister...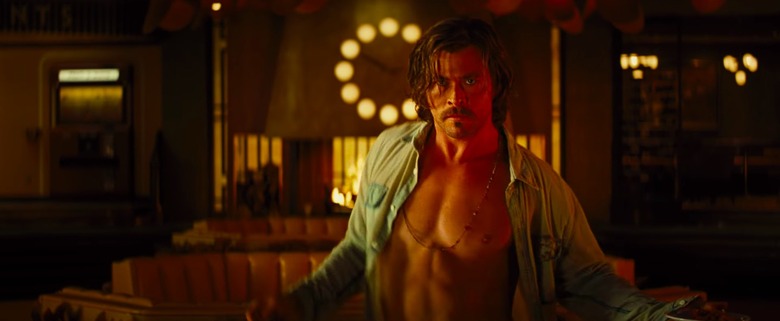 After making a splashy directorial debut with the subversive horror film The Cabin in the Woods, not much had been heard from Drew Goddard. The longtime Joss Whedon collaborator dabbled in TV (Daredevil), and wrote some Oscar-nominated screenplays (The Martian), but he didn't yet give fans what they wanted: his second feature film. Now, six years later, he finally unleashes Bad Times at the El Royale, and boy, does it looks like he'll deliver.
Reuniting with his Cabin in the Woods star Chris Hemsworth, Goddard gives us a deliciously sinister horror-tinged noir, which follows a group of seven strangers who are about to experience a night of unsuspected mayhem at a strange, rundown hotel. You can watch the new red band trailer (and a tamer green band version) below.
Bad Times at El Royale Trailer
A shirtless, dancing Chris Hemsworth has never looked so sinister. In fact, this trailer is the perfect encapsulation of "mark me down as scared and horny." Sleek, pulpy, and a little bit bizarre, the Bad Times at the El Royale trailer seems to double down on the relentless stylishness that Goddard showed in Cabin in the Woods, and maximize it tenfold.
The trailer follows seven strangers who find themselves at the El Royale, a novelty hotel at the border of California and Nevada. But as the strangers disappear to their rooms — one a preacher (Jeff Bridges) who is warned by the hotel manager that the hotel isn't suitable for him — one of them (Jon Hamm) discovers a very strange amenity that wasn't in the brochure: a double-sided mirror looking into each room. Something strange is going on at this hotel, and none of the customers are who they appear to be. And Chris Hemsworth is also shirtless for some reason, but we're not going to question that.
See the green band trailer below.
Written and directed by Goddard, Bad Times at the El Royale also stars Cynthia Erivo, Dakota Johnson, Cailee Spaeny, Lewis Pullman, and Nick Offerman.
Here's the official synopsis for Bad Times at the El Royale:
Seven strangers, each with a secret to bury, meet at Lake Tahoe's El Royale, a rundown hotel with a dark past. Over the course of one fateful night, everyone will have a last shot at redemption... before everything goes to hell. Jeff Bridges, Chris Hemsworth, Jon Hamm, Dakota Johnson and Cynthia Erivo lead an all-star cast in BAD TIMES AT THE EL ROYALE.
Bad Times at the El Royale opens in theaters on October 18, 2018.