Lin-Manuel Miranda's 'In The Heights' Movie Set For 2020 Release Date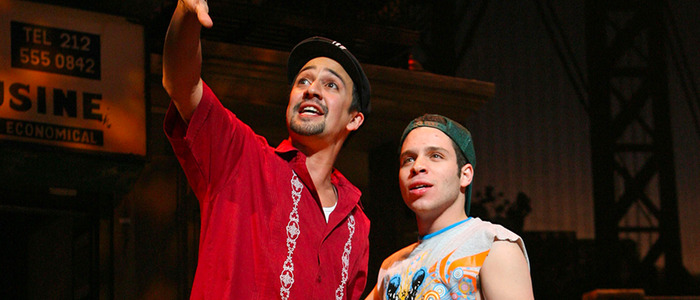 While we all bide our time until the inevitable Hamilton movie, we can take solace in knowing Lin-Manuel Miranda's other Broadway musical, In The Heights, is coming to the big screen. And now the In The Heights movie release date has been set: summer 2020.
Before Hamilton, there was In The Heights, Lin-Manuel Miranda's musical set in Washington Heights, NYC. While In The Heights wasn't as huge a phenomenon as Hamilton would become, it won awards and earned its rightful place in musical theatre history. And now it's coming to the big screen. We already reported the In The Heights movie had landed at Warner Bros., and now The Wrap reports Warners has set a release date: June 26, 2020.
Miranda is producing the film, and Crazy Rich Asians director John Chu will direct. There's no casting yet, but hopefully the film will be able to land some of the players from the various stage productions.
In The Heights unfolds over three hot summer days in the largely Hispanic-American neighborhood of Washington Heights, and focuses on several interconnected characters. Here's the full play synopsis:
In the Heights centers on a variety of characters living in the neighborhood of Washington Heights, on the northern tip of Manhattan. At the center of the show is Usnavi, a bodega owner who looks after the aging Cuban lady next door, pines for the gorgeous girl working in the neighboring beauty salon and dreams of winning the lottery and escaping to the shores of his native Dominican Republic. Meanwhile, Nina, a childhood friend of Usnavi's, has returned to the neighborhood from her first year at college with surprising news for her parents, who have spent their life savings on building a better life for their daughter. Ultimately, Usnavi and the residents of the close-knit neighborhood get a dose of what it means to be home.
The play first was first performed at the Eugene O'Neill Theater Center in Waterford, Connecticut in 2005 before moving to Off-Broadway in 2007. The Broadway production launched in 2008, and ran until 2011.
The In The Heights movie has had a bit of a bumpy road to the big screen. The movie was originally supposed to be distributed by Universal Pictures, but Universal balked at the film's proposed $37 million budget. From there, the project moved to The Weinstein Company, but in the wake of the Harvey Weinstein scandal, the rights to the play reverted back to Miranda and In the Heights book writer Quiara Alegría Hudes. Over the course of this period, Miranda's Hamilton became a culturural phenomenon, breaking the bank and Broadway records along the way. This made any project with his name a hot commodity, kicking off a huge bidding war. Warners ultimately won that war, and now we'll finally see the film in 2020.