'Incredibles 2' On Track To Be The Biggest Animated Pre-Seller Of All Time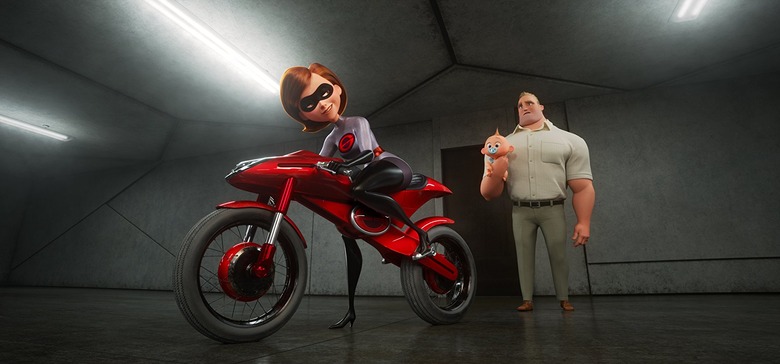 Incredibles 2 is flying to the top of the pre-sale charts and shattering the records for animated movie advance tickets. The Pixar sequel is on track to pummel the records of its last reigning champion, Finding Dory, which currently holds the No. 1 spot for most advance tickets sold. But Incredibles 2 appears to be on track to outstrip Finding Dory and become the best-selling pre-sale animated movie ever.Incredibles 2 is showing its super strength in the pre-sales charts. Fandango reports that the Pixar sequel is already outpacing Finding Dory, the ticket-buying service's current No. 1 animated pre-seller, at the same point in the sales cycle.
At the rate it's going, Incredibles 2 will be the best-selling animated movie ever in advance tickets sales. Who knows what that means for the final box office tally, but it's sure to bode well for the family film. Early tracking for Incredibles 2 estimates that the film will have one of the highest opening weekends ever for a Pixar film.
"Fans have been waiting over a decade to see the return of Pixar's most beloved heroic family, and those years of anticipation are leading to record-breaking advance ticket sales for 'Incredibles 2'," said Erik Davis, Fandango managing editor.
In fact, Fandango estimates that Incredibles 2 will be one of the biggest movies of the summer. Not to be confined to the animated category, Incredibles 2 has already outsold Wonder Woman, Spider-Man: Homecoming, and Suicide Squad in advance ticket sales. Fandango did not divulge how Incredibles 2 advance ticket sales are faring compared to this year's blockbusters — which set their own number of records.
Directed by Brad Bird, Incredibles 2 stars Craig T. Nelson, Holly Hunter, Sarah Vowell, Samuel L. Jackson, John Ratzenberger, Brad Bird, Huck Milner, Jonathan Banks, Bob Odenkirk, Catherine Keener, Sophia Bush and Isabella Rossellini.
Incredibles 2 opens in theaters on June 15, 2018.
In "Incredibles 2," Helen (voice of Holly Hunter) is called on to lead a campaign to bring Supers back, while Bob (voice of Craig T. Nelson) navigates the day-to-day heroics of "normal" life at home with Violet (voice of Sarah Vowell), Dash (voice of Huck Milner) and baby Jack-Jack—whose super powers are about to be discovered. Their mission is derailed, however, when a new villain emerges with a brilliant and dangerous plot that threatens everything. But the Parrs don't shy away from a challenge, especially with Frozone (voice of Samuel L. Jackson) by their side. That's what makes this family so Incredible.