'The Nun' Trailer: The 'Conjuring' Universe Continues To Grow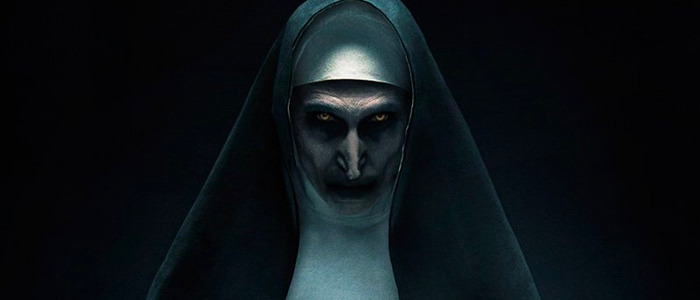 The Conjuring universe continues with The Nun, a new horror film from director Corin Hardy. The film delves into the backstory of the terrifying demonic nun who first popped-up in 2016's The Conjuring 2. Watch The Nun trailer below. Sphenisciphobics need not apply!
The Nun Trailer
When The Conjuring first hit theaters in 2013, I never would've guessed it would launch an entire cinematic universe. And yet, that's just what happened. Not only do we have Conjuring sequels, we also have spin-offs, like the Annabelle films and now The Nun. The character first appeared in The Conjuring 2, when she was glimpsed in all her demonic glory chilling in the Amityville Horror house. Later, the nun popped up in one of the most effective scenes in the film, where she comes out of a painting. Let's all watch that scene and be terrified, shall we?
In The Conjuring 2's conclusion, the nun was revealed to be a demon named Valak. But now, Corin Hardy's The Nun will offer even more insight into this habit-wearing ghoul. In the film, "Vatican officials send a priest and a novitiate to investigate the suicide of a young nun in Romania. They soon find themselves in a fight for their lives when they encounter a demonic force that takes the shape of a nun."
I'm all-in on this movie. The nun/Valak is just inherently creepy looking as a character. Also, I'm excited to see anything new from Corin Hardy, a very promising horror filmmaker who helmed the 2015 fright flick The Hollow. "It was really exciting, when I read [The Nun] script, that it was something new," Hardy told EW. "So, it's part of this universe that's been established, with a character that appeared in a movie, but it wasn't like doing a sequel or a remake."
The filmmaker also said that he went out of his way to use as many practical effects as possible, which is a big plus in my book:
"I've come from a love of practical...It's not just nostalgic, it's things being real and tangible, and you can light them in front of the camera if they're there, you can touch them, people can see them, you can make them wet and they look great. All of that stuff you can do in CG but it takes such a lot of work to do it to the right level...I always want to say, 'Let's do everything as much as we possibly can for real, including in-camera stunts, effects, and then use the CGI to be beautiful, original, invisible tool.'"
The Nun, starring Taissa Farmiga, Demián Bichir, Charlotte Hope, Ingrid Bisu, Jonas Bloquet and Bonnie Aarons, opens on September 7, 2018.
When a young nun at a cloistered abbey in Romania takes her own life, a priest with a haunted past and a novitiate on the threshold of her final vows are sent by the Vatican to investigate.  Together they uncover the order's unholy secret.  Risking not only their lives but their faith and their very souls, they confront a malevolent force in the form of the same demonic nun that first terrorized audiences in "The Conjuring 2," as the abbey becomes a horrific battleground between the living and the damned.