Disney Casts Yoson An As 'Mulan' Love Interest – But Sorry, He's Not Playing Shang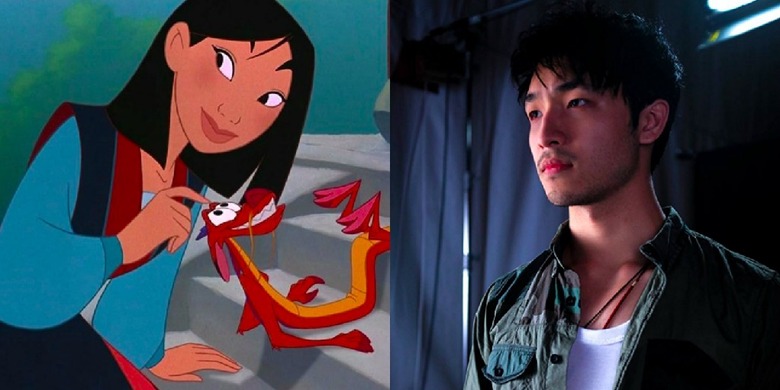 After much hoopla had been made over reports that Disney's live-action adaptation of Mulan wouldn't feature her dreamy love interest Shang, you can rest easy. Kind of. Disney has cast New Zealand-born Yoson An as a new love interest, and yes, he's dreamy. But he's not playing Shang.
All right you can calm down now, you horny bastards. Liu Yifei's Hua Mulan, the mythological figure who dressed as a man to fight in her father's stead, will have a love interest to crush on her despite thinking that she's a male soldier — opening the door to all the good sexual confusion and tension that comes with a cross-dressing film.
But Yoson An will not be playing the sizzling, often-shirtless Shang, Mulan's commanding officer in the 1998 Disney animated film. The Kiwi Chinese actor will be playing a character named Chen Honghui, according to The Hollywood Reporter.
Chen Honghui is "a confident and ambitious recruit who joins Commander Tung's (Donnie Yen) unit," THR reports. Honghui becomes Mulan's most important ally and eventual love interest — which will be a tad different from Li Shang, the army captain played by B.D. Wong in the animated film.
I know Shang is really popular with you ladies (I once had a friend tell me that the only attractive Asian guy is Shang, which...is too much to unpack), but I'm happy that they changed up this character. With Mulan's love interest in the same position and age-range as her, their budding relationship can be on more equal footing, rather than her getting wrapped up with a superior officer. Instead, Donnie Yen is set to play Commander Tung, Mulan's "mentor" — taking up the space left by Mushu, Eddie Murphy's fast-talking dragon in the animated film.
I like that director Niki Caro (Whale Rider) is taking great creative liberties with remake of Mulan — itself an adaptation of a Chinese myth — rather than attempting a shot-for-shot remake of the beloved animated film. Beauty and the Beast suffered from that, and ended up feeling like a pointless and shallow rehash of the superior animated film (though I know $1.26 billion worth of moviegoers would disagree with me).
Jet Li and Gong Li round out Mulan's impressive cast of majority-Chinese actors.
The Hollywood Reporter also reports that Chum Ehelepola has been cast in the role of Ramtish, who plays the second half of a con-artist duo along with Utkarsh Ambudkar's Skatch.
Mulan is set to start shooting in China and New Zealand in August. The film is slated for a March 27, 2020 release.