"Women's Work" Delivers An Almost Rousing Episode Of 'The Handmaid's Tale'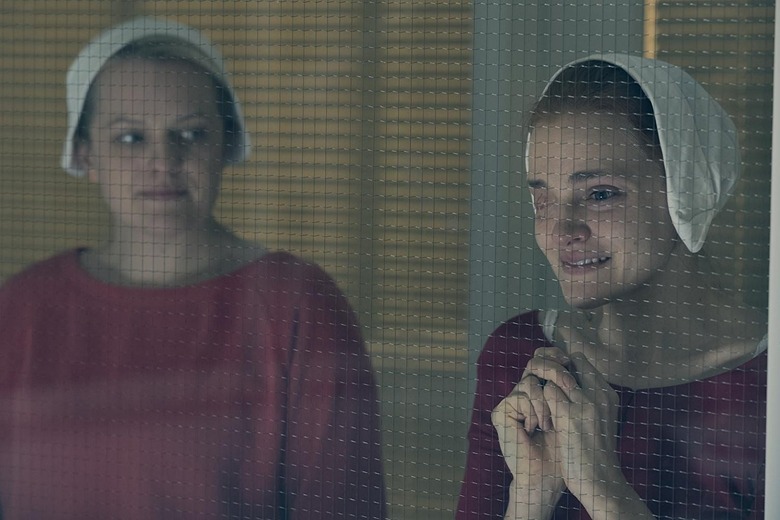 (We're going to kickstart our weekly The Handmaid's Tale review by answering one simple question: Who suffered the most?)
Remarkably for a show that is so deeply committed to disturbing its audiences, The Handmaid's Tale continues its upswing from last week in perhaps the first episode that manages to find the delicate balance between unsettling and uplifting.
"Women's Work" takes that tenuous alliance that was formed at the end of "After" and shows us progressively emboldened June (yay!) and an increasingly sympathetic Serena Joy (hrmph). But "Women's Work" gives us fascinating insight into an uncertain unity that can be formed between women in the face of a huge crisis.
Who Suffered The Most? Serena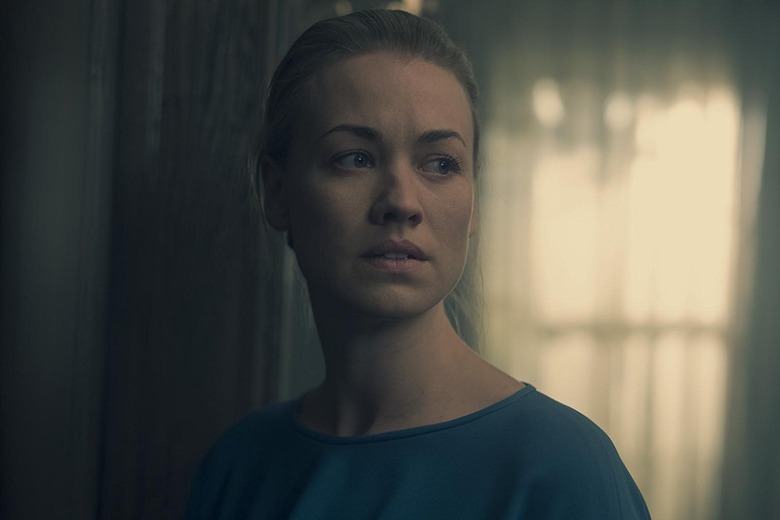 This show has really been building up our sympathy for lady Serena. "Women's Work" was a great episode for Yvonne Strahovski, who got to play a mix of vulnerable and helpless for perhaps the first time in this show's run. Her steely gaze begins to crack under the prospect of losing Baby Angela, and it's a strange 180 for this show that has so actively villainized her (with Strahovski game to go the extra campy mile).
But now, Serena leaves June a thank you gift in the form of a music box and a white rose, Serena pleads with the Putnams to let their former Handmaid Janine see her dying baby, and Serena flouts the law in order to transfer a former top neonatologist from her position as a Martha. It's a huge step for a woman who, only a few weeks ago, emotionally abused her Handmaid for daring to ask to see her daughter.
It's too bad that we see Serena and June's strange partnership in its final hours in this episode. We only get that brief empowering pen click from June and Serena's beaming behind the desk from the end of last episode before Fred Waterford is back from the hospital and ready to take his office back — 5 minutes later for us, but six weeks for them. But in the process Serena and June have almost become friends — exchanging loaded glances at the hospital, thanking each other in earnest — which is naturally threatened immediately by Fred. Upon discovering that the two are in cahoots and have been effectively running the government in his place (on the way to a midnight tryst at June's room, no less), he belts Serena in front of June. It's a horrid moment for The Handmaid's Tale that reminds us of the depths that this show can reach. But it still makes me feel utterly confused when I feel sympathy for Serena as she tearfully examines her welts, and June sobs through her door asking if she can do anything. Adopting her cold commanding voice again, Serena orders her to her room. And like that, their strange, fleeting friendship is over.
The New Normal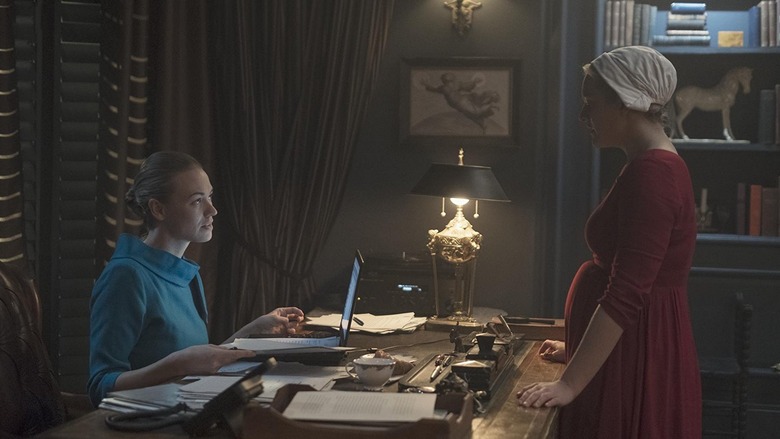 I like that Fred's office has become the place of rebellion. The parallels of June and Fred playing Scrabble and June and Serena drafting warrants are obvious, but it feels different because both June and Serena are breaking the law. And "God," as June puts it. Here it feels like a real rebellion rather than a dalliance to satisfy Fred's whims. But it's short-lived, when Serena reveals that Fred is coming home the next day.
For the first time all season, Fred is ascribing to the "superiority" of his gender that Gilead has given him. It's quite a reversal, as we've always known that Serena held the real power in the house while Fred was often no more than a limp arm of the law. But Serena had been frequently shut out of the meetings she desperately wanted to join, to take part in governing the society that she helped create. And now that she had deigned to take that commanding position for the past six months, it's all the more stark once she realizes that she must give it up again. When Fred and Serena slowly shut his office door, she holding the door handle on the outside in a very overt nod to The Godfather, that power imbalance feels real.
It's astonishing how quick Gilead is to bounce back to the status quo. Only one episode is dedicated to the fallout of the bombing, which was supposed to galvanize the show out of its dread-laced stupor. And while the little acts of rebellion among the Handmaids are showing — June chatting with Janine about Star Wars and Alien, Emily openly cursing Gilead — things are still very much the same.
Baby Angela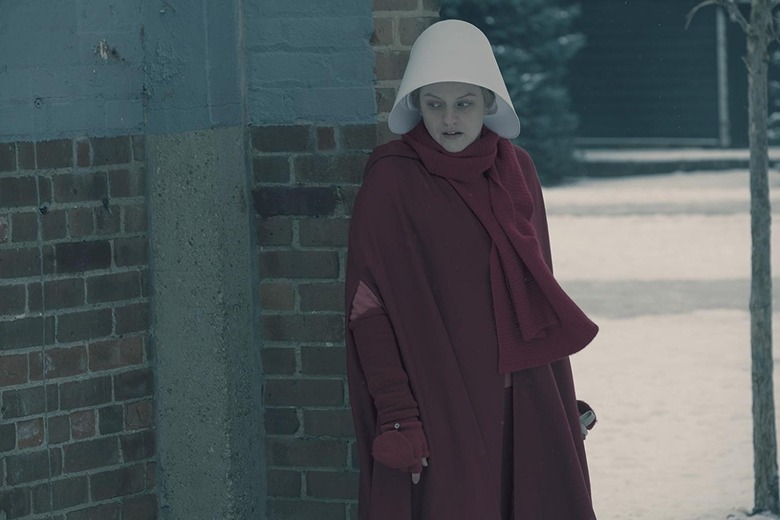 But the majority of this episode is not about the Handmaids' rebellion or even Serena — the plot revolves around saving Baby Angela. The helpless baby of the Putnams who Janine gave birth to last season (and almost killed) falls fatally sick, which seems to be the one crisis that can rally all of Gilead, a totalitarian government that was supposedly formed because of the dropping birth rates.
All the women are in harmony for once, with even Aunt Lydia and the uptight Mrs. Putnam relenting when June pleads to let Janine see her baby. This turns out to be the baby's saving grace, as Janine rocks and croons to Angela (or Charlotte) next to her bare skin all night, bringing her back from the brink of death even when the neonatologist couldn't find any discerning symptoms. Lydia will clearly mark it down as a miracle, though the scene gives the somewhat concerning implication that the Putnams weren't showing their baby any affection — something that Serena hinted at when she gossiped that Mrs. Putnam only wanted the baby as a status symbol. This episode is a magnificent showcase for Madeline Brewer, who toned down Janine's mania and portrayed her overwhelming capacity for empathy and love.
Tale Tidbits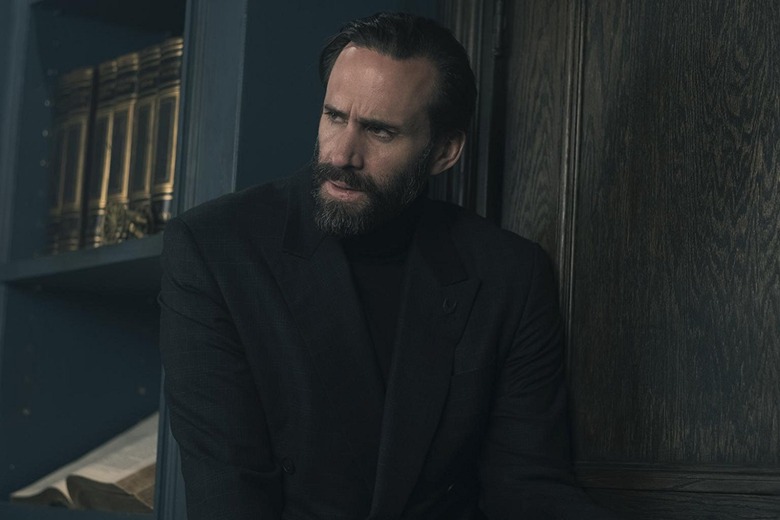 June's "someone once said" about the difference between men and women's fears was a quote from Margaret Atwood.
Eden (Sydney Sweeney) was kind of being built up as the new antagonist this season, but has been given little to do except to waffle around Nick and deliver her lines in a weird lilting intonation.
Ending the episode with Janine crooning her lullaby is a much better alternative to the on-the-nose needledrops that the show is so fond of. More of this, please.