Now Stream This: 'The Fountain', 'Thor: Ragnarok', 'Lady Bird', 'I, Tonya' And More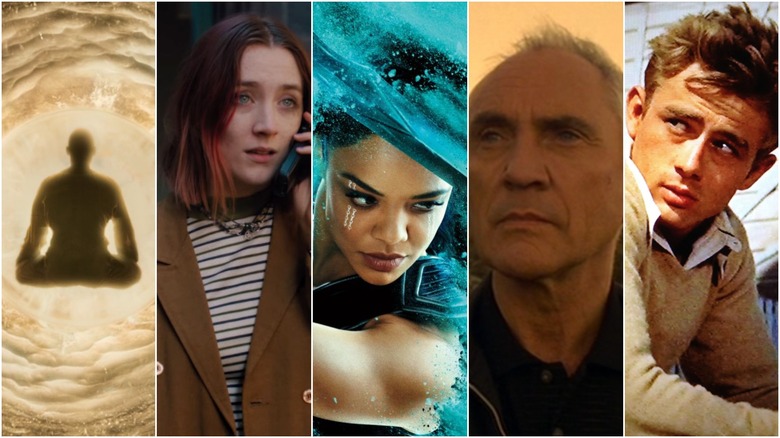 (Welcome to Now Stream This, a column dedicated to the best movies streaming on Netflix, Amazon, Hulu, and every other streaming service out there.) 
Welcome, streaming fans. Once again, I've scoured streaming services far and wide to bring you back the best streaming options available to you this week, and beyond. In this edition, you'll find the sci-fi meditation on grief and love The Fountain, Greta Gerwig's acclaimed Lady Bird, the very funny Thor: Ragnarok, the James Dean classic East of Eden, and many more.
These are the best movies streaming right now. Let's get streaming.
The Best Movies Streaming Right Now
Now Streaming on FilmStruck
Release Date: 2006Genre: Sci-fi dramaDirector: Darren AronofskyCast: Hugh Jackman, Rachel Weisz, Ellen Burstyn
If you want to know what Darren Aronofsky's masterpiece is, look no further than 2006's The Fountain. A heart-breaking, mind-bending story of love and loss, Aronofsky had originally planned The Fountain as a much bigger, much more expensive film. Budget problems forced him to retool the project, and perhaps that was for the best. Because the final film feels more intimate, more personal, and more special. The film features three storylines: the tale of a conquistador (Hugh Jackman) sent by the Queen of Spain (Rachel Weisz) to find the Tree of Life; the story of 21st century doctor Tom (Jackman again) trying to find a cure for his wife (Weisz again), who is dying of cancer; and finally, a trippy space saga in which an astronaut (Jackman once again) hurtles through space sometime in the 26th century. How are all these stories connected? You'll have to watch the film to find out, but Aronofsky ties them all together in a heartbreaking way. Jackman has spent so long playing Wolverine that it's easy to forget he's got serious dramatic chops, and he uses them to great effect here. Weisz is even better. Best of all, though, is Clint Mansell's haunting, melancholy score. Call it hyperbole if you want, but The Fountain is one of the best films of the 21st century.
For fans of: Noah, Upstream Color, Cloud Atlas, transcending death itself.
Now Streaming on Shudder
Release Date: 1999Genre: Crime drama with amazing editingDirector: Steven SoderberghCast: Terence Stamp, Lesley Ann Warren, Luis Guzmán, Barry Newman, Peter Fonda
On the surface, The Limey is your standard revenge thriller. Terence Stamp plays a tough-as-nails Brit who travels across the pond to Los Angeles to find out who killed his estranged daughter. To get the info he needs, he cuts a path of destruction, badly injuring (or killing) anyone who gets in his way. Sounds by-the-numbers, right? Not so fast. Director Steven Soderbergh and editor Sarah Flack take this idea and chop it to hell – and I mean that in a good way. The Limey isn't edited like normal movies – scenes cut at odd places; moments backtrack into moments we've already seen; a dreamy, disconnected feeling prevails. It makes the whole movie feel almost surreal. At the center of it all is a ferocious performance from Stamp, who commands the screen at every opportunity.
For fans of: Out of Sight, Straw Dogs, Hardcore, Terence Stamp yelling at people.
Now Streaming on Amazon Prime Video
Release Date: 2017Genre: Coming-of-age comedyDirector: Greta GerwigCast: Saoirse Ronan, Laurie Metcalf, Tracy Letts, Lucas Hedges, Timothée Chalamet, Beanie Feldstein, Stephen McKinley Henderson, Lois Smith
I wasn't quite as enamored with Lady Bird as some other critics last year, but that doesn't mean the movie didn't work its charms on me. Greta Gerwig helms this lovely, sometimes melancholy coming-of-age tale, featuring a phenomenal Saoirse Ronan. Ronan is Christine "Lady Bird" McPherson, a high school senior living in Sacramento in 2002. All Christine wants to do is blow town and end up at an Ivy League school, but that won't be easy with her financially strapped family. Along the way, Christine grows and rebels, and is at constant odds with her mother (a wonderful Laurie Metcalf). The film unfolds the way many other coming-of-age teen dramadies do, but Gerwig finds ways to make most of this seem fresh and, best of all, honest. The moments that really make Lady Bird work are the quiet ones – a scene where Christine catches Dave Matthews' Band "Crash Into Me" on the radio, triggering a revelation somewhere in her mind, is just lovely. As is a moment where Christine's best friend (Beanie Feldstein) almost casually tosses off the line, "Some people aren't built happy, you know?" A line like that might sound clunky and on the nose in another film, but it works here. It works exceptionally well.
For fans of: Frances Ha, Mistress America, 10 Things I Hate About You, weeping.
Now Streaming on FilmStruck
Release Date: 1955Genre: DramaDirector: Elia KazanCast: James Dean, Julie Harris, Raymond Massey, Richard Davalos
All twitchy, nervous Caleb (James Dean) wants is to be loved by his dopey, aw-shucks father (Raymond Massey). But it's clear his pop favors Caleb's much more personable brother Aron (Richard Davalos). What's a lonely early 1900s boy to do but become a war profiteer to please his pop? Elia Kazan adapts John Steinbeck's Cain and Able-inspired story into a gorgeous, frenetic drama shot in breathtaking, all-encompassing CinemaScope. Every inch of the frame is filled to the brim, and at the center of it all is Dean, who seems more like he's possessed rather than putting on a performance. Dean's chaotic, force-of-nature work in this film is so captivating, so stunning that it makes almost every other actor around him – even the good ones, like Julie Harris, playing Aron's girlfriend who finds herself suddenly attracted to Caleb – seem stiff and unconvincing in comparison. Everyone else is putting on a show; Dean is living it. If you want to know why Dean is so revered to this day, even though his career was so brief, look no further than East of Eden. Also, if you want to know where Paul Thomas Anderson got a lot of ideas for There Will Be Blood, look no further than this movie as well.
For fans of: The Grapes of Wrath, Rebel Without a Cause, There Will Be Blood, beans.
Now Streaming on Netflix
Release Date: 2017Genre: Comedy (and also a superhero movie, but mostly comedy)Director: Taika WaititiCast: Chris Hemsworth, Tom Hiddleston, Cate Blanchett, Idris Elba, Jeff Goldblum, Tessa Thompson, Karl Urban, Mark Ruffalo, Anthony Hopkins
The Thor series was one of the worst things Marvel had to offer. And then Taika Waititi came along and said, "What if we made it funny?" The result was Thor: Ragnarok, one of the better Marvel films that actually allows its director's vision and personality to come through. Chris Hemsworth's God of Thunder has never been better, as he's thrust into a situation that requires him to get off another planet and also return home to save Asgard. Waititi loads his cast up with very talented, very attractive people: Cate Blanchett is the film's heavy, and she hams it up (but really should've been in the movie more); Jeff Goldblum is Jeff Goldblum (although technically he's playing a character called The Grandmaster, but let's be honest, it's just Jeff Goldblum); and, best of all, Tessa Thompson is hard-drinking, ass-kicking Valkyrie. All of this adds up to one very entertaining flick. Ragnarok converted me from someone who never wanted to see a Thor movie again, to someone who would be happy to see another Thor sequel – as long as Taika Waititi is involved.
For fans of: What We Do In The Shadows, Hunt for the Wilderpeople, Ghostbusters, Jeff Goldblum at his Goldblumiest.
Now Streaming on Hulu
Release Date: 2017Genre: Comedy biopicDirector: Craig GillespieCast: Margot Robbie, Sebastian Stan, Allison Janney, Julianne Nicholson, Bobby CannavaleI, Tonya sets out to tell the "true" story of notorious figure skater Tonya Harding, who went down in flames thanks to her alleged involvement with the attack on her skating rival, Nancy Kerrigan. Director Craig Gillespie and writer Steven Rogers attempt to get beyond the tabloid headlines and tell a more humanized portrait of Harding. They mostly succeed. At the very least, I, Tonya is kinder to Harding than any of the tabloids ever were...while also highlighting she was kind of screwed-up as well. What really makes all this work is Margot Robbie, who gives one hell of a performance as Harding. Cursing, smoking and seemingly in a constant state of rage, Robbie's Harding is a force to be reckoned with. Some of I, Tonya's plot-points might seem a bit too silly to be real, but believe it or not, most of them are. Harding really did surround herself with buffoons – people who would almost be funny, if they hadn't committed terrible deeds. It culminates in a pointed, unsubtle, but effective conclusion that will stick with you even if the rest of the film didn't.For fans of: The Wolf of Wall Street, Talladega Nights: The Ballad of Ricky Bobby, 30 for 30: The Price of Gold, endless needle drops.
7. John Carpenter's Vampires
Now Streaming on Shudder
Release Date: 1998Genre: Horror-WesternDirector: John CarpenterCast: James Woods, Daniel Baldwin, Sheryl Lee Thomas, Ian Griffith, Maximilian Schell, Tim GuineeVampires (based on a book called Vampire$, I shit you not), is one of John Carpenter's later films. Which means it's not one of his best! But boy is it fun. This is junk food cinema – deep-fried, loaded with calories, probably bad for your health – but it's hard not to enjoy a movie about vampire hunters who are sanctioned by the Vatican. James Woods (back before he became a terrible Twitter troll) leads the vamp-hunting gang, who come up against one of the most powerful blood-suckers in history. Carpenter blends a dusty Western atmosphere with gory make-up effects, and it works, god damn it. It works.For fans of: Escape from L.A., The Wild Bunch, Blade, John Carpenter's rock-n-roll jams.
Now Streaming on Hulu
Release Date: 1994Genre: Goofy sci-fiDirector: Roland EmmerichCast: Kurt Russell, James Spader, Jaye Davidson, Viveca Lindfors
Have you ever watched the show Ancient Aliens and thought, "I wish someone would make this into a movie with both Kurt Russell and James Spader"? If so, that's a really weird thought to have! Also, I have good news: that movie exists. And it's called Stargate. This film launched approximately 40 different TV shows, but I only care about this big, dumb, entertaining movie. The story involves some government scientists finding a huge portal that transports a team of soldiers (and nerdy James Spader) to a different planet. The planet just happens to look a lot like Ancient Egypt, but there are also spaceships and lasers. If all this sounds too silly for you, don't worry – there's also a subplot about Kurt Russell wanting to kill himself because his young son accidentally died after shooting himself with Russell's gun. But the real draw here is all the silly action and world-building. This is a perfect watch-in-bed-while-intoxicated movie. Take it from me!
For fans of: Independence Day, The Mummy (the Brendan Fraser one), Soldier, comedic actor French Stewart inexplicably playing a tough military guy.
Streaming On Netflix June 8
Release Date: 2004, 2018Genre: DocumentaryDirector: Jean-Xavier de Lestrade
Influential true crime documentary The Staircase is back, thanks to Netflix. Netflix ordered three new episodes of the 2004 docu-series, completing this long, strange story once and for all. This is the story of Mike Peterson, an author accused of murdering his wife. He says she fell down the stairs and died accidentally; the justice system says he killed her and tried to cover up the crime. So what really happened? The Staircase doesn't really answer that question. Instead, it takes you inside Peterson's life as he goes from free man to man on trial. Director Jean-Xavier de Lestrade acts as a fly-on-the-wall, getting up-close-and-personal moments with Peterson, his family, and his lawyers. This isn't your typical shocking, sensationalized true doc saga. It's more subtle, more low-key, and more effective.
For fans of: The Jinx, Making a Murderer, The Thin Blue Line, meticulous trial prep.
10. The Girl With All The Gifts
Now Streaming on Amazon Prime Video
Release Date: 2017Genre: Horror-dramaDirector: Colm McCarthyCast: Gemma Arterton, Paddy Considine, Glenn Close, Sennia Nanua
The zombie sub-genre has grown incredibly stale, so much so that I sometimes wish someone would deliver a head-shot to it and put it (and us) out of its misery. But then a film like The Girl With All the Gifts comes along, and reminds me there's still some life in this genre yet. This is not your typical zombie film – the zombie at the center of the story isn't a lurching, drooling, mindless ghoul. Instead, the zombie is a young girl named Melanie (Sennia Nanua). Melanie seems like a very pleasant, very normal girl, but if she gets a craving, she can devour a hapless human in a few big bites. The Girl With All The Gifts is a dystopian tale set in a world where an infection has turned most of the world into "zombies" like Melanie. The military keeps the infected children at a base, where they study them. A disaster sends Melanie and a few soldiers and scientists fleeing across the wasteland, with very surprising results. If you've grown weary of the same old, same old when it comes to zombie stories, The Girl With All The Gifts will be a pleasant surprise.
For fans of: 28 Days Later, Maggie, Train to Busan, Glenn Close appearing in a zombie movie.