Luke Perry, Dakota Fanning And Many More Join Tarantino's 'Once Upon A Time In Hollywood' Cast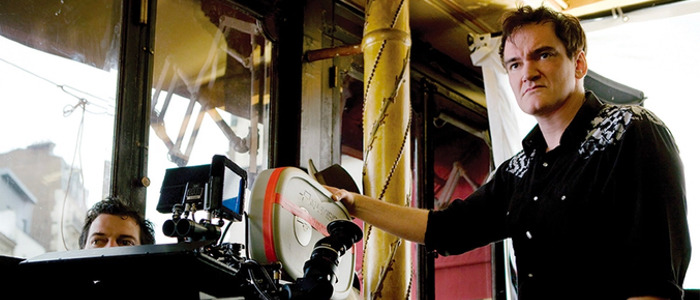 The casting for Quentin Tarantino's Once Upon a Time in Hollywood can't stop, won't stop. Damian Lewis, Luke Perry, Emile Hirsch, Dakota Fanning, Clifton Collins Jr, Keith Jefferson and Nicholas Hammond have all joined the ever-growing cast, which is led by Leonardo DiCaprio and Brad Pitt.
If the casting is any indication, Quentin Tarantino's Once Upon a Time in Hollywood is going to be big. According to Deadline, Tarantino's film, which is set against the backdrop of the Manson Family murders in 1969 Los Angeles, just added a whole slew of people: Band of Brothers and Homeland star Damian Lewis, Riverdale's Luke Perry, Speed Racer's Emile Hirsch, Dakota Fanning (I'm not listing one of her roles, you know who she is, people), Westworld's Clifton Collins Jr, Keith Jefferson (who appeared in Tarantino's The Hateful Eight), and character actor Nicholas Hammond.
Lewis is playing iconic actor Steve McQueen; Fanning will play Manson Family disciple Squeaky Fromme, who later tried to assassinate President Gerald Ford; Hammond is playing actor and director Sam Wanamaker; Hirsch is playing Jay Sebring, a Hollywood hairstylist who was one of the four victims killed in Sharon Tate's home by Manson followers; Perry will play the character Scotty Lancer, who may or may not be based on a television actor of the same name; Collins is playing someone named Ernesto The Mexican Vaquero, and Keith Jefferson is Land Pirate Keith (whoever that is).
This line-up is a bit crazy, folks. Damian Lewis as Steve McQueen is particularly bonkers, and I can't wait to see how that turns out.
These actors join a cast that includes:
Leonardo DiCaprio as Rick Dalton, a washed-up Western TV star struggling to stay relevant in Hollywood.
Brad Pitt as Cliff Booth, Rick's longtime friend and stunt-double.
Margot Robbie as Sharon Tate, the actress who was murdered by members of Charles Manson's cult. She also just happens to be Rick's next door neighbor in the film.
Burt Reynolds as George Spahn, the man who rented his ranch out to Manson. (Learn more about Spahn here.)
Kurt Russell, Tim Roth, and Michael Madsen, all in currently undisclosed supporting roles.
Timothy Olyphant is also in talks for a role.Once Upon a Time In Hollywood is a Pulp Fiction-like film, with several interconnecting narratives. All the storylines are set against the summer of 1969, culminating with the Manson Family murders of actress Sharon Tate and others. The main plot involves DiCaprio's washed-up Western TV star, who just happens to live next door to Sharon Tate.
In describing the film, Tarantino said:
"It takes place during the 1969 Hollywood era at the height of the counterculture explosion, at the time of the hippie revolution...During the summer, little by little, block by block, we'll be transforming Los Angeles in the psychedelic Hollywood of 1969."
Once Upon a Time In Hollywood opens on August 9, 2019.