'Serenity' Trailer: Matthew McConaughey And Anne Hathaway Reunite For A Sexy Thriller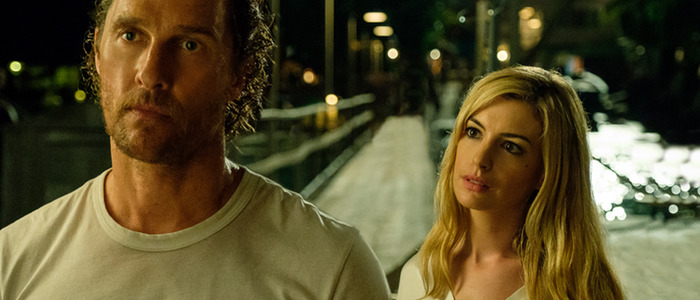 Interstellar's Matthew McConaughey and Anne Hathaway are together again for Serenity, a "sexy, stylized thriller" from Steven Knight (and definitely not a remake of the Joss Whedon movie of the same name). Watch the Serenity trailer below.
Serenity Trailer
Let's just get this out of the way first: this movie called Serenity has nothing to do with the other movie called Serenity. You know the one – the Joss Whedon-directed space adventure spun-off from his cancelled TV series Firefly. It probably would've been wise for someone involved with this film to suggest a name-change, but here we are!
This Serenity is described as a "sexy, stylized thriller" that reunites Interstellar co-stars Matthew McConaughey and Anne Hathaway. McConaughey plays Baker Dill (holy shit, that is a great name), "a fishing boat captain leading tours off a tranquil, tropical enclave called Plymouth Island. His quiet life is shattered, however, when his ex-wife Karen (Anne Hathaway) tracks him down with a desperate plea for help. She begs Dill to save her – and their young son – from her new, violent husband by taking him out to sea on a fishing excursion, only to throw him to the sharks and leave him for dead. Karen's appearance thrusts Dill back into a life he'd tried to forget, and as he struggles between right and wrong, his world is plunged into a new reality that may not be all that it seems."
This sounds like a cross between Body Heat and Inherent Vice, and I like that. Serenity comes from writer and director Steven Knight, who helmed the fantastic Locke, the film where Tom Hardy drives a car and talks on a cell phone for two hours. You would think a movie with that set-up would be boring, but Knight found a way to make it thrilling, which means he's pretty talented. Knight also co-write another thriller due out this year – The Girl In The Spider's Web.
Knight is primarily a screenwriter, but he occasionally feels the urge to direct. "Certain ideas come along and you decide you want to have complete control over it," he told Variety, "so by directing you don't have to compromise so much. I don't love the whole process of directing, as it's so hard and brutal and physically exhausting, and you're dealing with all the deadlines and money pressures. But it is strangely addictive.
I like Matthew McConaughey and Anne Hathaway, I like the set-up of this film, and I love the name "Baker Dill", so I'm kind of excited for Serenity. I just wish they had changed the name to something else. Perhaps Baker Dill's Fishing Boat of Death.
Serenity, which also stars Jason Clarke, Djimon Hounsou, Jeremy Strong, and Diane Lane, opens October 19, 2018.