Apple Orders Sara Bareilles Musical Series 'Little Voice' From J.J. Abrams And Bad Robot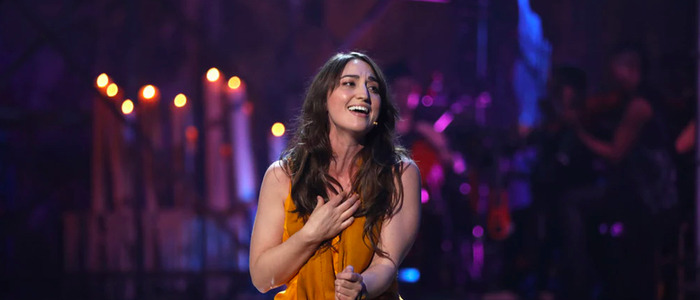 Apple continues to cultivate an impressive list of actors and filmmakers for their upcoming streaming service. J.J. Abrams and Sara Bareilles are the latest names to sign on – the pair will collaborate on a half-hour musical comedy series Little Voice.
Deadline reports that J.J. Abrams and the Waitress duo of Sara Bareilles and Jessie Nelson are joining forces for a show that will debut on Apple's streaming service. The show is called Little Voice, and it's described as "a love letter to the diverse musicality of New York, Little Voice, which shares the title of Bareilles' breakthrough album, explores the universal journey of finding your authentic voice in your early 20s. It is described as a fresh, intensely romantic tale of the search to find your true voice... and then the courage to use it."
Bareilles wrote the music for the Broadway hit Waitress, and was recently seen in Jesus Christ Superstar Live in Concert! Nelson wrote the book for Waitress, and will write and direct the first episode of Little Voice and serve as showrunner. Abrams and his Bad Robot productions will produce the show. Per Deadline, Apple landed Little Voice after attempting to secure another Abrams/Bad Robot series, a sci-fi drama called Demimonde. Apple was unable to lock that show down, however, and it ended up at HBO.
Little Voice sounds like it has potential. The set-up for this series sounds like something different than the standard streaming fare, so it's got that going for it. On top of that, Waitress is a wonderful musical, and Bareilles is one heck of a performer. Giving her a chance to lead her own series is a wise move. Here she is belting-out "I Don't Know How To Love Him" from Jesus Christ Superstar Live in Concert!
Little Voice joins an ever-growing line-up of original content for Apple's streaming platform. Recently, they announced a comedy series about poet Emily Dickinson, starring Hailee Steinfeld. In the past, they've given the go-ahead to a reboot of Steven Spielberg's Amazing Stories, as well as a thriller from M. Night Shyamalan; a space drama from Battlestar Galactica creator Ronald D. Moore;, a series from La La Land director Damien Chazelle; See, a sci-fi series from I Am Legend director Francis Lawrence; Are You Sleeping, starring Octavia Spencer as a podcaster who reopens a cold murder case; a comedy starring Kristen Wiig; and another comedy series co-starring Jennifer Aniston and Reese Witherspoon.
That's a lot of shows, but that's not important to Apple. When it comes to their streaming lineup, Eddie Cue, Apple's Senior Vice President of Internet Software and Services, said: "We're not after quantity, we're after quality."