Exclusive 'Believer' Clip: A Drug Deal Goes Horribly Wrong In This South Korean Crime Thriller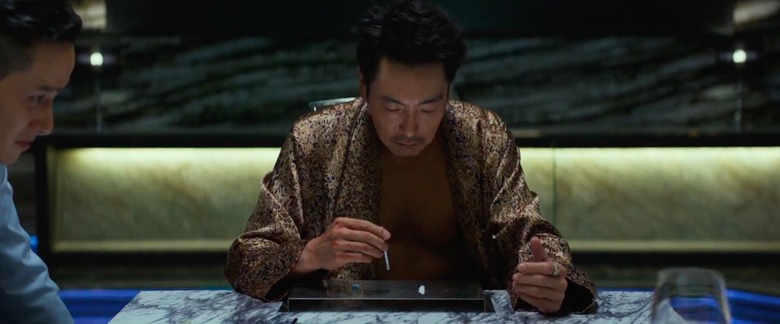 If you could believe it, the No. 1 reigning movie at the South Korean box office right now is not Solo: A Star Wars Story, but a homegrown crime thriller called Believer. That's right, Lee Hae-young's taut and brutal remake of Johnnie To's gritty Hong Kong crime epic Drug War has currently blasted Solo right out of the top spot — and now it's coming to the U.S.
Ahead of Believer's stateside release this weekend, we're debuting an exclusive Believer clip featuring a drug deal gone wrong.
Believer Clip
Cho Jin-woong stars as a tenacious head detective of the narcotics division, Won-ho, hellbent on capturing the enigmatic crime lord at the top of Asia's biggest drug cartel. Known only as Mr. Lee, the crime lord has eluded Won-ho for years — until a well-timed explosion at a Seoul drug lab wipes out most of Lee's higher-ups. One of the few survivors is the low-level gopher Rak (Ryu Jun-yeol), who Won-ho immediately brings into his operation to help find the mysterious Mr. Lee.
What follows are some Mission: Impossible-worthy heists (only missing the iconic masks), with Won-ho's scrappy team setting up a meeting with one of Mr. Lee's most formidable partners, a psychotic Chinese-Korean drug boss named Ha-rim who likes to dress like Scarface (Kim Joo-hyuk).
This scene shows Won-ho impersonating Ha-rim in a meeting with one of Mr. Lee's minions, Sun-chang (Park Hae-jun). But despite the team's immaculate set-up, Won-ho doesn't foresee the hot-headed Sun-chang bringing his own special brand of meth for Ha-rim to try, forcing Won-ho to ingest a buttload of drugs to keep up the masquerade. Whether Won-ho's subsequent freakout, in which he stuffs his gun down Sun-chang's mouth, is also for show is uncertain. However, it's no question that things don't look good for the detective, who immediately has a violent reaction to the drugs.
Believer opens in U.S. theaters on June 8, 2018.
A low-level drug dealer joins forces with an ambitious cop to bring down a psychotic cartel kingpin.