'Sacred Games' Trailer: Netflix's First Indian Original Series Is Here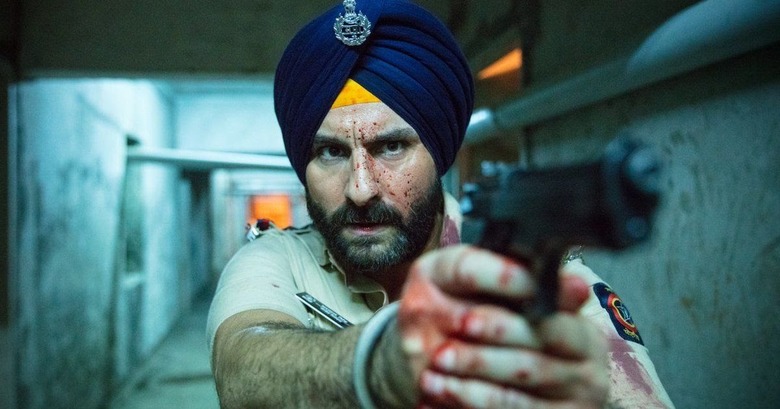 It's easy to balk at reports that Netflix is bringing thousands of new original series, movies, and more to its subscription service, but let's not forget that a big portion of those Netflix originals will be foreign titles.
Netflix has been expanding its foreign footprint exponentially, playing host to slews of new animes, Korean dramas, German thrillers, and Dutch dramas. But one market they haven't quite tapped into yet is India. While Netflix features hundreds of (good and bad) Bollywood movies, they only recently premiered their first Indian original movie, Love Per Square Foot, earlier this year. Now, Netflix is premiering its first Indian original series: Sacred Games.
Sacred Games Trailer
Saif Ali Khan stars as stalwart police officer Sartaj Singh who receives a mysterious message about criminal overlord Ganesh Gaitonde, which sets off a chain of events that could put the entirety of Mumbai in danger. On a race to uncover the trappings of the criminal underworld, Sartaj Singh must save Mumbai from the wrath of the brutal and bloodthirsty Gaitonde, who calls himself "God."
Based off of Vikram Chandra's 2006 novel of the same name, Sacred Games looks like a taut, tense thriller that dives into the seedy underbelly of Mumbai. It's very different than the glamorous view most people have of Indian cinema through Bollywood, unafraid to shy away from blood and gore. And it's only the first of Netflix's planned slate of India originals, which include Selection Day, Bard of Blood, Leila, Ghoul, and Crocodile.
Sacred Games is produced in partnership with Phantom Films. Phantom Films co-founders Anurag Kashyap and Vikramaditya Motwane are set to direct each of the show's eight hour-long episodes.Sacred Games also stars Nawazuddin Siddiqui, Radhika Apte, Rajshri Deshpande, and Surveen Chawla.
Here is the official synopsis for Sacred Games:
Sacred Games is a story of betrayal, glamour and grit that's set against the ever changing backdrop of Mumbai featuring Saif Ali Khan, Nawazuddin Siddiqui and Radhika Apte.
Sacred Games premieres on Netflix on July 6, 2018.