'Hellboy' Creator Says The New Movie Won't Be Like A Superhero Film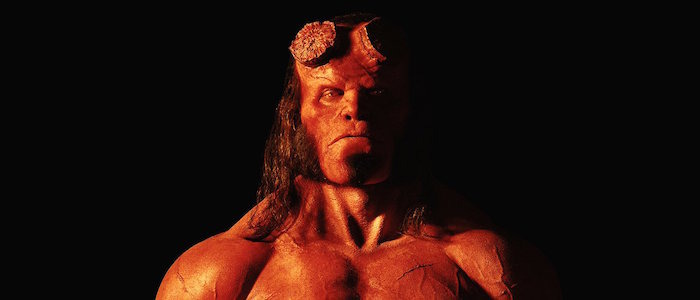 Mike Mignola, the creator of Hellboy, is far more involved with the upcoming Lionsgate reboot than he was in Guillermo del Toro's previous Hellboy movies. Mignola is co-writing this script with Andrew Cosby and Christopher Golden, and in a new interview, he doubles down on the idea of the movie leaning more into the horror genre than ever before and says that the reboot won't be like the superhero movies that are currently dominating the pop culture landscape.
Mignola recently chatted with the folks at io9 in a wide-ranging conversation about all things Hellboy, and the discussion eventually turned to the upcoming movie from Lionsgate. We already knew the movie would be rated R, be darker than previous entries, and be "close to a horror film," and in the new interview, Mignola indicates that the movie will have a much smaller focus than your typical superhero movie:
"Well, I mean, if anything, we're trying to do something very different. Basically, there's no part of Hellboy that was ever going to be like other superhero movies. And the more Marvel stuff there is, the more DC stuff there is, Hellboy never really feels like—even in the del Toro things—a superhero movie. It's so much 'big teams of guys, in costumes, running around and saving the world from big cosmic menace stuff...' I believe the new movie will feel even less like a regular superhero thing. The idea with this one was to make it play much less like a superhero film, to downplay the superhero elements even more than del Toro did. This one is much more folklore/mythology/horror, and not 'big team rushing into to do battle with whatever kind of stuff.'"
While the concept of Hellboy and the Bureau for Paranormal Research and Defense does inherently sound like it involves a team saving the world from cosmic menaces, Mignola's point is well taken: there's a big difference in scale and tone between Hellboy and something like Avengers: Infinity War, and that gulf is only going to widen as superhero films continue to raise the stakes.
If you're a Hellboy fan, you should definitely head to io9 to read the complete interview. Among many other things, Mignola talks about having a long phone call with new Hellboy star David Harbour, who picked his brain about his early ideas about the character. It's a fun chat.
Hellboy hits theaters on January 11, 2019.