'A Star Is Born' Trailer: Bradley Cooper Gets Outshined By Lady Gaga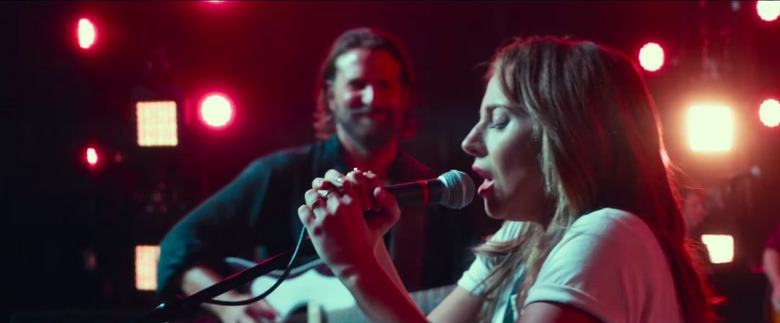 Hollywood is no stranger to remakes, and having A Star is Born remade every 30-or-so years feels like a comforting constant. The latest version offers a new spin to a classic story that has been told and re-told since the 1937 original. The 1954 musical remake starring Judy Garland and the 1976 rock-tinged retelling starring Barbra Streisand have both carved out their own corner in our pop culture memories. And with Oscar-nominated actor Bradley Cooper and pop diva Lady Gaga headlining the newest version, we could have another classic on our hands.
Let's take a look at the first trailer, shall we?
A Star is Born Trailer
Bradley Cooper makes his directorial debut with A Star is Born, which follows Cooper's washed out country music star Jackson Maine as he discovers an unknown starlet named Ally (Gaga). Swept away by her talent and beauty, Jackson falls in love with Ally and helps support her burgeoning career. But as Ally's star quickly rises, Jackson finds that his star has already long faded.
A Star is Born is a familiar story about stardom and fame, nestled within a star-crossed love story. It's no wonder the film has been remade three times — first in 1954 starring Judy Garland and James Mason, then in 1976 with Barbra Streisand and Kris Kristofferson, and now in 2018. The original 1937 film was conceived by David O. Selznick (Gone with the Wind), who wanted to make a serious film about the trappings of Hollywood. The story has since transcended Hollywood, moving to the rock music scene with Streisand and Kristofferson's retelling and now country music with this version.
It's been a long road for the new A Star is Born. Back in 2011, it was going to be helmed by Clint Eastwood, with Beyonce set to play the titular starlet. Leonardo DiCaprio, Will Smith, Christian Bale, Johnny Depp, and Tom Cruise were considered for the lead, until Cooper stepped in as both director and star in 2015.
A Star is Born also stars Sam Elliott, Andrew Dice Clay, and Dave Chappelle.
Here is the official synopsis for A Star is Born:
Country music star Jackson Maine discovers an unknown but talented singer named Ally. As her career quickly takes off, Jackson starts to realize that his best days may be behind him.
A Star is Born opens in theaters on October 5, 2018.