Con Of Thrones Brought Westeros To Dallas For A Weekend Fans Won't Soon Forget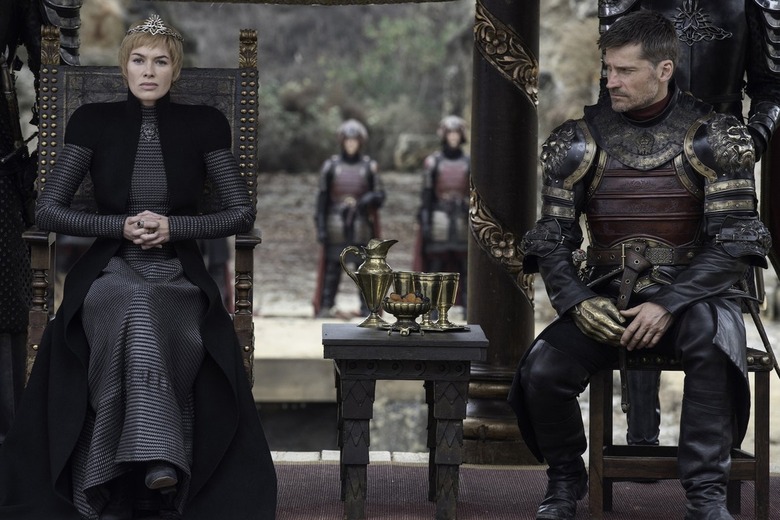 Winter is here for Game of Thrones fans, who are in the midst of a great content drought; the show isn't back until next year, and George R.R. Martin may never finish his A Song of Ice and Fire book series. But for three short days in May, those things didn't matter, as a contingency of fans gathered in Dallas for the second annual Con of Thrones, a convention dedicated to celebrating Martin's rich, fantastical world.
And judging from the passion radiating off of the walls of the Hyatt Regency, this is a group that could survive the longest of winters – so long as they're in each other's company.
There's something special about Con of Thrones. I've attended both years, and left both times with the heaviest of hearts. It's a scrappy con, which is no mark against its quality; the smaller size, the creative panels – about everything from memes to arguing over the best lover in Westeros to sorting Thrones characters into Harry Potter houses – and the in-the-know cosplay – one man came as Martin's unfinished manuscript for The Winds of Winter – gives Con of Thrones a festive, familial energy. By the end of the weekend, you leave with lifelong friends; re-emerging into daily life is foreign and empty.
That's what anyone should want from a fan convention, and the good folks at Watchers on the Wall and Mischief Management made good on their second year, which felt bolder in vision and more welcoming in spirit. A lot of that was thanks to the excellent venue, the Hyatt Regency in Dallas, which – unprompted – themed the entire hotel in Game of Thrones decor. The lobby entryway was marked with a giant map of Westeros, and the desks lit up with Stark and Lannister house banners. Convention guests staying at the hotel received a welcome email from concierge Julie Eenigenburg in full character (it opened with the line "I hope my ravens find you well" and was signed ), and were greeted by Julie and her dragon pup on the Thursday afternoon before the event got underway. Throughout the weekend, you could order Night's Watch mocha drinks at the hotel Starbucks or a White Walkers blue cocktail at the restaurant bar. Right away, you knew you were in good hands at the Hyatt.
Greetings, honored #ConofThrones guests. Your queen welcomes you. pic.twitter.com/iIeRYeMk6r

— Hyatt Regency Dallas (@HyattDallas) May 24, 2018
The convention kicked into gear on Friday, May 25 with an opening ceremony that involved a game of charades with select Thrones talent, like Sam Coleman (Young Hodor) and sound designer Paula Fairfield, both of whom are Con of Thrones fixtures who found their way into other panels and audiences unannounced throughout the 3-day event. The panels went into full effect right after the ceremony and never let up until Sunday evening. Perhaps the biggest disappointment of the con is that there are so many brilliant conversations that go unheard as you dot around between rooms, anxious to hear everything. I found myself wishing I had Hermione's Time Turner from Harry Potter so that I might go back and see every last panel.
Fortunately, what I did manage to see was across-the-board fantastic. Highlights include the returning Great Debates series put on by Joanna Robinson of Vanity Fair, Neil Miller of Film School Rejects, and writer/producer Dave Gonzales, who host the popular Thrones podcast A Storm of Spoilers. The Debates choose a topic and let the audience fight for a winner; subjects included the aforementioned "best lover in Westeros," as well as "most consequential death" and "most mistreated character," among others. The answers weren't always taken too seriously – " George R.R. Martin's will to finish the books" won most consequential death, for instance – but were a load of fun, and even provided one of the weekend's biggest shock moments: a proposal during the "best lover in Westeros" panel. (She said yes.)
It is incredible that someone proposed to his girlfriend at #ConOfThrones, and thankfully Sam was on hand to react for the masses. pic.twitter.com/MSpUiL8JJI

— David Rosenblatt (@SirSquinty) May 27, 2018
The Debates also led to one of the con's weekend-long inside jokes, where they named the man who would become the Night King – as seen in a Season 6 flashback getting glass shoved into his heart – "Todrick Stark." By the end of the weekend, Tod Stark conjured a passionate fanbase; some fans even created homemade Tod Stark t-shirts, and Tod Stark merch is now available for purchase on Redbubble. The fan-sourced creation of Todrick Stark is Con of Thrones in a nutshell really: a lot of laughs, a lot of heart.
Todrick Stark: he's a shirt now. #ConOfThrones pic.twitter.com/Psb8UXpFTJ

— Dave & Neil's Pop Culture Adventure (@Da7eAndNeil) May 27, 2018
The three-day weekend was a bit of a whirlwind, thanks to the stacked daily events and the blur of nighttime bustle. I not only reported on the event, but hosted several panels, including one titled "The Sisterhood of Sansa and Arya Stark," where myself and three other women dissected the fascinating relationship between the two very different Stark girls, with rousing audience participation. On Friday and Saturday night, I co-hosted the Burlington Bar episode commentaries with my buddies from Chicago, whose YouTube reaction videos go viral during Thrones season. As the evening entertainment, we watched two Season 7 episodes – "The Spoils of Water" and "The Dragon and the Wolf" – with some special guests on stage: Paula Fairfield, weapons master Tommy Dunne, Sam Coleman, Aimee Richardson (the first Myrcella Baratheon), Kerry Ingram (Shireen Baratheon), and Miltos Yerolemou (Syrio Forel). With drinks in hand, we watched and laughed about the episodes, gleaning insight from those involved, and having a ton of fun as the audience cheered and laughed along.
Repost from @jennylectric of #houseburlington live commentary last night at #conofthrones // scroll to pic 3 for @grandmafartparty & @kindacoolsometimes clawing at a giant Kit butt ?? Join us again tonight if you're at the con!
A post shared by Amillion Chameleon (@ameliamillion) on
Other spotlight guests included Joe Dempsie (Gendry), Hannah Murray (Gilly), Esme Bianco (Ros), and Sibel Kekilli (Shae), who did individual interview panels, signed autographs, and took photos with fans. There was also an epic cosplay contest on Saturday evening, along with karaoke and a Miltos Yerolemou-hosted "water dancing" course. Attendees could purchase merchandise at the marketplace, which was far larger and better stocked than last year, with booths ranging from homemade lotions with Thrones-themed names to doggie dragon costumes to official con apparel.
The weekend went by quickly, and re-entering the Dallas heat after three days in the air-conditioned Northern halls of the Hyatt was a brutal reality check. But as with last year, I left with a checklist for next year already in motion, with a handful of new friends and cherished memories, and with even more love for this show and this community that have brought so much to my personal and professional life. I know I'm not alone in this, as the evening chatter at the Hyatt bar was full of similar stories. Con of Thrones is a special event that I can't wait to watch grow even as the series comes to a close. Where else can you see the Night King casually strolling down the escalator as you head to the bathroom, or share a table with a cadre of Daeneryses?
Oh sh*t. I'm about to get javalined. #ConOfThrones pic.twitter.com/6ausFglW6W

— K Kippins (@kippinsk) May 27, 2018
Winter may be here, but Con of Thrones feels like a dream of spring.