'Incredibles 2' Early Buzz: A Superb Sequel That Lives Up To The Original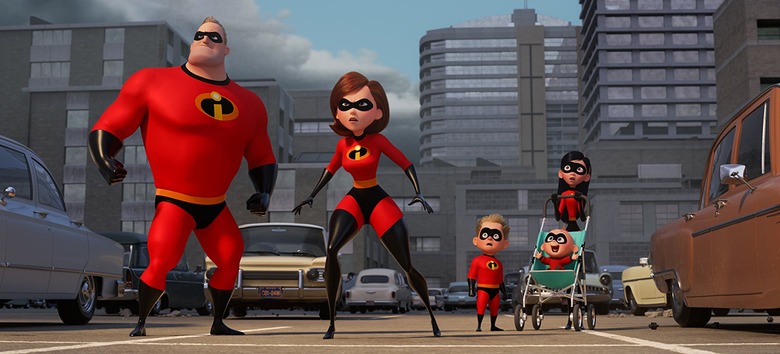 Fans of the original The Incredibles have been waiting 14 long years for its sequel. Could Incredibles 2 possibly live up to the hype? Yes it does and more, according to the early buzz.
Critics and fans have caught early screenings of the highly anticipated Pixar film, and are calling it one of the best Pixar sequels yet and superb follow-up to the whip-smart and funny first film.
Here's what people are saying about Incredibles 2.
Oddly, I'm going to start us off with the only tepid reaction to Incredibles 2, from /Film's own Peter Sciretta.
#incredibles2⁠ ⁠is a serviceable sequel, a fun adventure but not on the same level of the original. Jack Jack & Edna steal the show, (please tell me they are making a short film with Edna babysitting Jack Jack). Fantastic production design, another great score by @m_giacchino.

— /Film (@slashfilm) June 6, 2018
The rest of the social media reactions to Incredibles 2 were almost universally positive, with critics and fans praising the film's more complex action set pieces and bigger story, while maintaining the heart of the original film. Michael Giacchino's score received effusive praise as well.
Incredibles 2 is excellent. Super funny, super smart, & the action is bigger and better than before. It shares some narrative DNA with the first film but it works nonetheless. Another Pixar winner. pic.twitter.com/RnB1DIIPsv

— Germain Lussier (@GermainLussier) June 6, 2018
So happy to report @BradBirdA113 delivered a fantastic sequel to 'The Incredibles'. Absolutely loved #Incredibles2. And @m_giacchino score is, as always, awesome. Can't wait to see it again. pic.twitter.com/bPrU6HHicM

— Steven Weintraub (@colliderfrosty) June 6, 2018
#Incredibles2 is such a friggin delight! Family dynamic is brilliant yet again but WOW is Jack Jack a scene stealer. And that score! More A+ work from Michael Giacchino that I'm gonna need to own.

— Perri Nemiroff (@PNemiroff) June 6, 2018
A few critics were already declaring it their early favorite for the summer. Take that, Summer Movie Wager.
Wow!! #Incredibles2 is a blast. It does a great job building on the characters and the world, and it's super funny and action packed throughout. I had my doubts, but was thoroughly impressed. Will go down as one of the best titles of the summer. pic.twitter.com/jxR3U4SNoo

— Eric Eisenberg (@eeisenberg) June 6, 2018
Time for some good news! Pixar's #Incredibles2 is fantastic! Sweet, hilarious, and terrific pacing w/ a breezy story packed w/ action & heart. Adored it and the short #Bao before it. My favorite summer movie so far this season pic.twitter.com/WrCSN4J948

— Erik Davis (@ErikDavis) June 6, 2018
Many critics and fans are calling it one of the best Pixar sequels yet, topping films like Finding Dory, Cars 2 and 3, and even...the Toy Story sequels?! It sounds like blasphemy, but the praise didn't stop there. Some even called Incredibles 2 even better than the original film.
Man #Incredibles2 was fantastic! It was fast paced, full of laughs, action, emotion and a kick ass story. I really liked the first one, I LOVED this one.

— Kristian Harloff (@KristianHarloff) June 6, 2018
#Incredibles2 was fantastic. I liked it more than the first one. Jack-Jack is the real MVP!! It is the perfect superhero movie! pic.twitter.com/qrJNMEDrwC

— Dorian Parks (@DorianParksnRec) June 6, 2018
I spent 14 years arguing that the world didn't need an #Incredibles2 . After tonight, I would welcome an INCREDIBLES 3 with open arms.

— Scott Mendelson (@ScottMendelson) June 6, 2018
INCREDIBLES 2 is easily Pixar's best sequel since TOY STORY 3.

Pixar did a fantastic job taking the qualities of the Parr family from the first film and building upon that in this film.

Heads up, Jack Jack steals this whole movie. #Incredibles2

— Skyler Shuler (@SkylerShuler) June 6, 2018
Incredibles 2 seems like another winner for Pixar, who continues their hot streak of critically acclaimed, nearly universally beloved films after last year's Coco. And it seems like the animation studio is finally dragging itself out of its brief slump of modestly-reviewed sequels like Cars 2, Monsters University, and Finding Dory.Brad Bird returns to direct Incredibles 2, which stars Craig T. Nelson, Holly Hunter, Sarah Vowell, Samuel L. Jackson, John Ratzenberger, Bob Odenkirk, Catherine Keener, Sophia Bush, and Isabella Rossellini.Incredibles 2 opens in theaters on June 15, 2018. 
In "Incredibles 2," Helen (voice of Holly Hunter) is called on to lead a campaign to bring Supers back, while Bob (voice of Craig T. Nelson) navigates the day-to-day heroics of "normal" life at home with Violet (voice of Sarah Vowell), Dash (voice of Huck Milner) and baby Jack-Jack—whose super powers are about to be discovered. Their mission is derailed, however, when a new villain emerges with a brilliant and dangerous plot that threatens everything. But the Parrs don't shy away from a challenge, especially with Frozone (voice of Samuel L. Jackson) by their side. That's what makes this family so Incredible.