Michael Myers Lives In New 'Halloween' Reboot Photos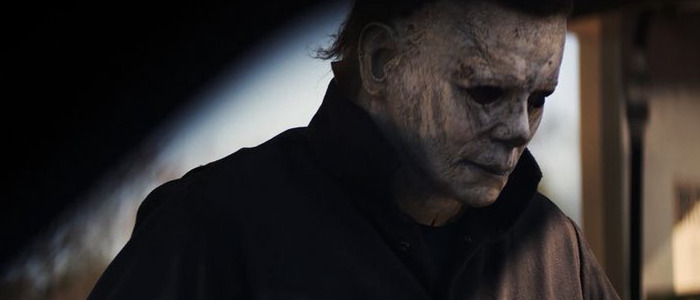 The first official photos from David Gordon Green's Halloween reboot have arrived, and they don't disappoint. The images include Jamie Lee Curtis as a very upset Laurie Strode, and the Shape himself – Michael Myers. See the Halloween reboot photos below.
The Halloween trailer will arrive before the week is out, but if you can't wait that long, here are some treats (and no tricks). USA Today has our first glimpse at official Halloween photos.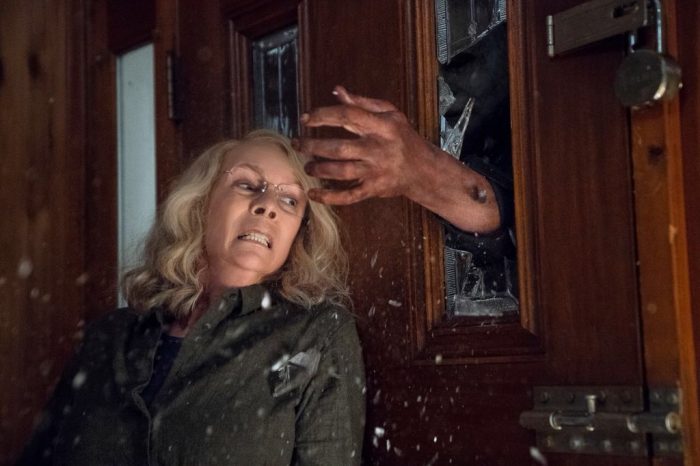 First up, here's Laurie Strode herself, the original Halloween final girl. Laure is once again played by Jamie Lee Curtis, who returns for the franchise for the first time since 2002's Halloween: Resurrection. While Laurie Strode appeared in several sequels – like Halloween II and Halloween H20 – this will be a different Laurie than we're used to. Co-writers David Gordon Green and Danny McBride have retooled the franchise, essentially ignoring almost every film that came after John Carpenter's original. In this image, we see Laurie getting a nasty surprise as Michael Myers' huge, very dirty hand smashes through her front door. Wash your hands, Michael.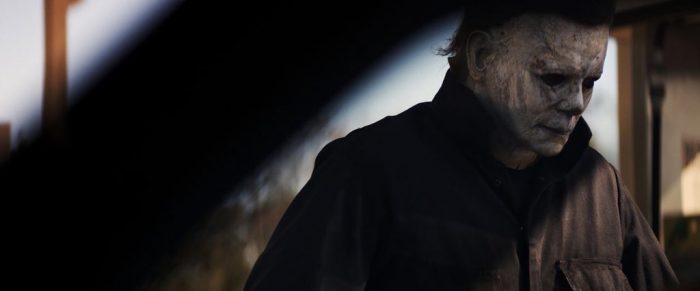 Speaking of Michael Myers, here he is in all his glory. I love how the filmmakers have aged the classic mask, making it look as if it's Michaels wrinkled skin. I also love that this is heavier, more imposing Michael. The Michael Myers in the original Halloween was a young man. Now, he's much older. As an added bonus, Nick Castle, who played Michael in the original film, returned to play the character again in a few scenes. (James Jude Courtney plays the character when Castle isn't playing him).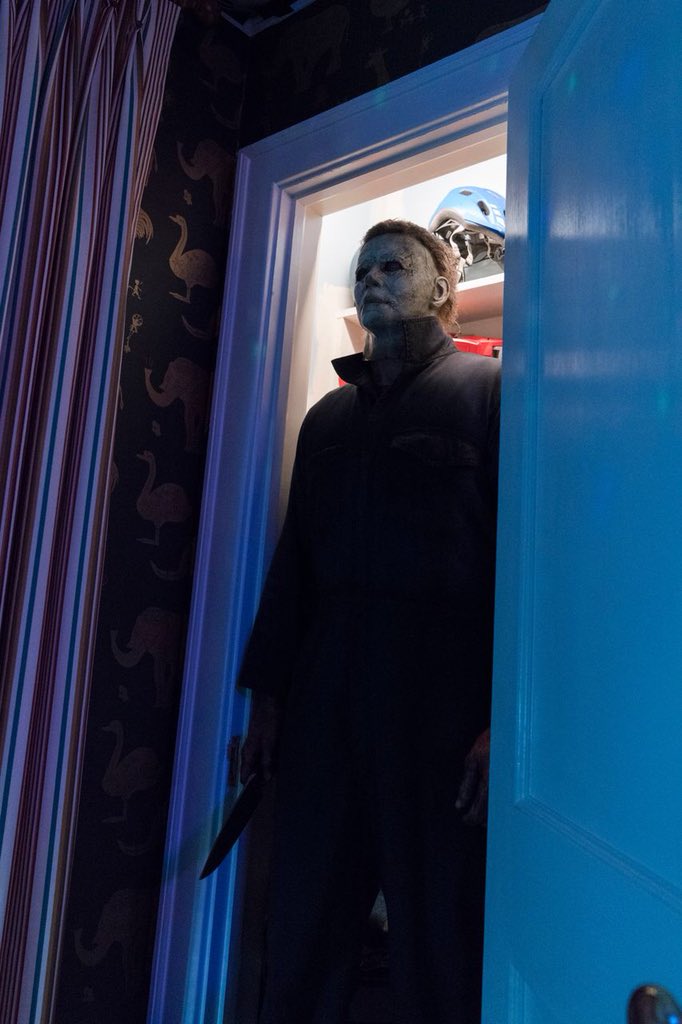 Here's one last look at Michael, standing in the doorway of a closet, knife at the ready. I'm digging the John Wick lighting here – I wasn't expecting that. In the USA Today article, director David Gordon Green says that Michael's new mask is part of the character's evolution over 40 years.
The USA Today story also provides us with a more-detailed plot synopsis:
"A British documentary crew comes to the States to visit Michael in prison for a retrospective of the maniac's night of terror — but their project becomes way more interesting when Myers escapes custody, retrieves his signature mask and seeks revenge on Laurie, with others naturally being part of his impressive career body count along the way.
In the decades following the fateful Halloween night that forever altered the former babysitter's life, Laurie has armed and prepped herself for Michael's inevitable return — to the detriment of her family, including daughter Karen (Judy Greer) and granddaughter Allyson (Andi Matichak)."
The documentary crew angle is a bit strange, and I hope that doesn't imply we're getting some sort of found-footage element here. Because that would be...bad. But we'll see!
I love the Halloween franchise – even the bad movies! – but I will be the first to admit the series needs a boost. I'm hopeful Green and McBride will give it that boost, and deliver a genuinely great Halloween movie for a whole new generation.
In addition to Curtis, Halloween stars Judy Greer, Andi Matichak, Will Patton, and Virginia Gardner. Original Halloween director John Carpenter is back to executive produce and handle the soundtrack.
Halloween opens October 19, 2018.
Laurie Strode comes to her final confrontation with Michael Myers, who has haunted her since she narrowly escaped his killing spree on Halloween night four decades ago.