Amazon Studios Wants More Jordan Peele; Jordan Peele Obliges With New First Look Deal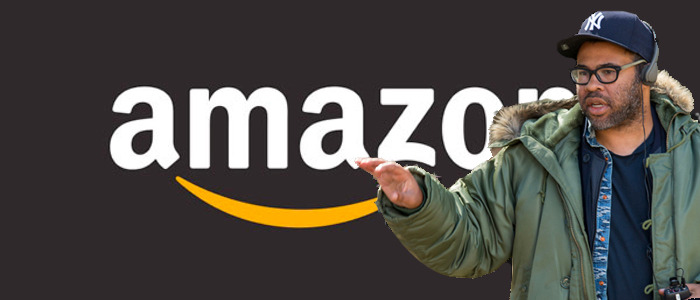 Academy Award-winner Jordan Peele is in high-demand now – everyone wants to work with him, including Amazon. Peele was already working with Amazon on a Lorena Bobbitt docuseries. Now, Amazon Studios has signed a first look television deal with Peele and his production company Monkeypaw Productions.
Busy man Jordan Peele is gearing up to direct his next horror movie, Us. He's also producing the upcoming HBO series Lovecraft Country. We also already knew that Peele and his production company would be producing a docu-series about Lorena Bobbit for Amazon. Now it looks like Amazon wants even more work from Peele, and have therefore inked a first-look deal with Peele.
In addition to the Lorena Bobbit doc, Peele's Monkeypaw Productions is working with Amazon on The Hunt, a "vengeance-driven Nazi hunting series." This deal will ensure even more Amazon Prime Video material from Peele and company. Eat your heart out, Netflix.
"Jordan, Win Rosenfeld, and the Monkeypaw team represent the ideal creative collaboration as we continue to ramp up original, culturally relevant and riveting television," said Jennifer Salke, Head of Amazon Studios. "Our Lorena Bobbitt documentary and series order for The Hunt represent just the start of what will be a prolific and exciting relationship with Monkeypaw."
Peele added:
"I couldn't be more excited about this new relationship with Amazon. They've been a fantastic partner to Monkeypaw over the last year because they're committed to the same kind of fun and culturally-relevant television we are."
Peele founded Monkeypaw in 2012 with the intention of cultivating "artistic, thought-provoking projects across film, television and digital platforms. The company is committed to groundbreaking storytelling, visionary world-building and the unpacking of contemporary social issues. Monkeypaw Productions champions highly specific perspectives and artistic collaborations with unique and traditionally underrepresented voices. The company's work challenges the conventional architecture of genre storytelling from horror to science fiction to social satire, while balancing avant-garde visual language with undeniably contagious fun."
While Monkeypaw has been around for a few years, it's safe to say Peele's Oscar win for Get Out has made the company even more in-demand. In addition to the projects mentioned above, Peele and Monkeypaw also produced Spike Lee's BlacKkKlansman, due out this summer. Peele and Monkeypaw will also have a hand in the CBS All Access reboot of The Twilight Zone. In other words, it's great to be Jordan Peele right now, and it's also great to be a Jordan Peele fan.