New 'Incredibles 2' Clip Enters Another Dimension (And Features Cookies)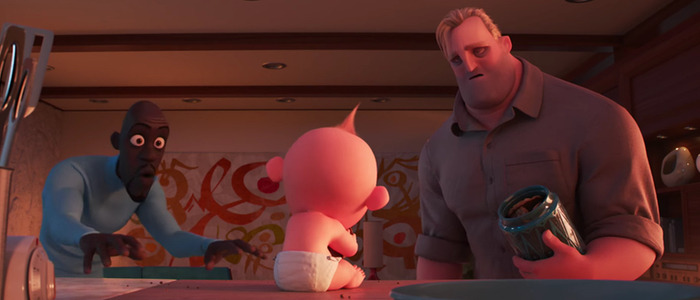 Incredibles 2! It's definitely a film that's coming out this summer! The marketing machine for the latest Pixar sequel has been sightly muted, possibly in the interest of protecting spoilers. But a newly debuted Incredibles 2 clip sheds some light on the film.
Incredibles 2 Clip
Are you excited for Incredibles 2? Fans have been hungry for a sequel ever since Brad Bird's superhero comedy hit theaters in 2004. Now that the sequel is almost here, the response seems...underwhelming. Marketing for the sequel will likely improve the closer we get, but as of now, the trailers for this long-awaited flick have left me cold – and I know I'm not alone in that opinion.
And yet, I appreciate that Bird and company are doing their best to avoid giving away spoilers. The trailers and TV spots for Incredibles 2 are tailor-made to downplay plot points as much as possible. The less we know, the more rewarding the film will ultimately be. In theory, at least.
This new Incredibles 2 clip gives us some more insight into the flick. We see an exhausted Bob Parr, AKA Mr. Incredible, dealing with the burden of trying to care for infant son Jack-Jack while Helen Parr, AKA Elastigirl, is out saving the day. Samuel L. Jackson's Frozone is also on hand, to offer moral support. During the course of the clip, Jack-Jack – whose superpowers are still a bit of a mystery – ends up teleporting into another dimension. You know, typical baby stuff.
Overall, this is an amusing clip. But I'm still on the fence about this sequel overall. I'll be there opening day either way, though, because Brad Bird almost always delivers (let's just ignore Tomorrowland, shall we?). And hey, maybe if this film is a hit, Pixar and Bird will move forward on a sequel I'd love to see: Ratatouille 2.
Incredibles 2 opens on June 15, 2018.
In "Incredibles 2," Helen (voice of Holly Hunter) is called on to lead a campaign to bring Supers back, while Bob (voice of Craig T. Nelson) navigates the day-to-day heroics of "normal" life at home with Violet (voice of Sarah Vowell), Dash (voice of Huck Milner) and baby Jack-Jack—whose superpowers are about to be discovered. Their mission is derailed, however, when a new villain emerges with a brilliant and dangerous plot that threatens everything. But the Parrs don't shy away from a challenge, especially with Frozone (voice of Samuel L. Jackson) by their side. That's what makes this family so Incredible.