Kevin Smith Offers An Update On Horror Film 'Moose Jaws'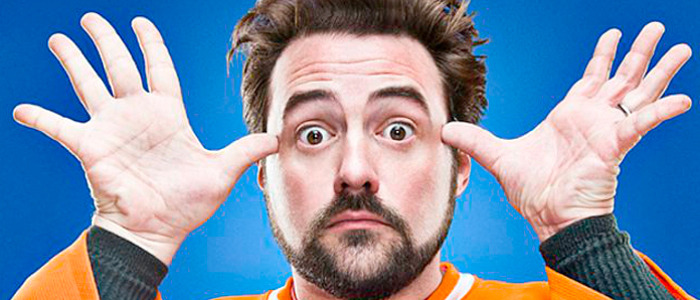 Remember Moose Jaws? Kevin Smith's never-made third entry in his True North trilogy? The project seemed to be dead, but Smith has offered a new update that indicates Moose Jaws might become a reality.
Kevin Smith started his True North trilogy back in 2014 with the horror-comedy Tusk. I didn't care for it, but some people seemed to dig it. Smith followed Tusk with 2016's Yoga Hosers, which I'm pretty sure no one liked. The True North trilogy was supposed to conclude with Moose Jaws, which, as you can probably guess from the title, was described as "Jaws with a moose." Smith originally stated that he would begin filming Moose Jaws in 2016...but that never happened. Now, the filmmaker has offered an update on the project.
During a Q&A on the Fatman on Batman podcast, Smith said, "Moose Jaws, we have money for it. Isn't that crazy? That just happened in the last two weeks and stuff...More when I know, and I'll know very soon."
That indicates that Moose Jaws will finally see the light of day, but as Smith says, he'll let us know when he knows more. Moose Jaws would bring back Harley Quinn Smith, Johnny Depp and his daughter Lily-Rose Depp, who all appeared in the previous two True North films. The film would also bring back Justin Long's walrus-monster from Tusk, and feature a scene where the killer moose fights the the walrus. Jay and Silent Bob also have a part in the film. Sure, why not!
But does anyone want to see this? I'm not going to launch into a Kevin Smith bash-fest here, because I think he's a nice guy who made some interesting films in the past. That said, the two previous True North films weren't my cup of tea and I have a hard time getting too enthusiastic about this.
During the Q&A, Smith also offered an update on another long-lost project: his hockey movie Hit Somebody. To hear Smith tell it, Hit Somebody isn't going to be a movie anytime soon. But it is being turned into a graphic novel. On top of that, Smith is going to record a reading of the script. "So either way you're seeing it and you're gonna hear it as well," the director said. "And I'm kinda hoping between those two that somebody goes, 'Oh, this should be a film thing,' and then it'll eventually wind up as a mini-series. That's my hope."
Meanwhile, Smith is gearing up to shoot his Jay and Silent Bob reboot, appropriately titled Jay and Silent Bob Reboot. The movie will follow Jay and Silent Bob across country as they try to stop Hollywood from making a reboot of Jay And Silent Bob Strike Back. "It's literally the same fucking movie all over again," Smith said. "It's a movie that makes fun of sequels and remakes and reboots while being all three at the same time."