A 'Roseanne' Spinoff Without Roseanne Is Very Likely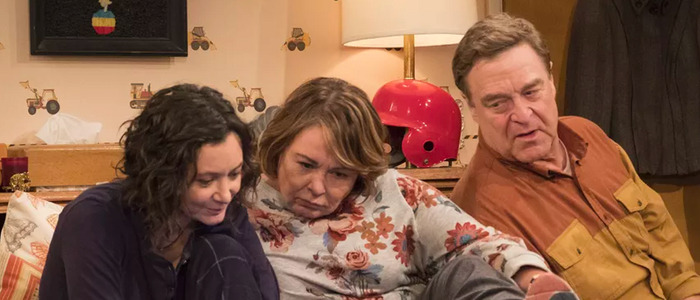 A Roseanne spinoff that wisely omits Roseanne is all but a done deal at this point. Multiple sources report that execs and creatives are working on a way to bring the show back with almost the entire cast and crew, while omitting Roseanne Barr herself. That's fine.
A little over a week ago, ABC pulled the plug on their popular Roseanne revival after star Roseanne Barr posted a racist comment on her already-toxic Twitter account. Since then, there have been rumblings of a possible way to save the show without Roseanne being involved. Now, it seems like that's all but a done deal. Earlier this week, TMZ reported that ABC was considering rebranding the show to make Sara Gilbert's Darlene, Roseanne's daughter on the show, the new main character. Gilbert allegedly reached out to see if they would be interested in taking part in such a show, and co-star John Goodman apparently said he was "very interested."
The Roseanne revival was really Gilbert's project – she spearheaded the revival, and it was clear bringing the show back meant a lot to her. Unfortunately, that meant hitching the series to Roseanne Barr, a figure who has used her Twitter account to push conspiracy theories and racist views. Now, however, Gilbert might have a chance to bring the show back without all that toxic baggage.
Less than 24 hours ago, both Deadline and THR have both offered updates on what's going on with all of this. Deadline says "there is no big news to report but there has been some progress", adding that executive producers Tom Werner and Gilbert are both spearheading efforts to keep the show going with the original writers and crew. Deadline also says that while chances of a Roseanne-less Rosanne revival are getting better every day, there are also hurdles to overcome, such as "legal and rights issues that need to be settled as Barr was executive producer on the series and has ownership/backend."
THR, meanwhile, says a "formal announcement could come this week" to make the new reboot official. Like Deadline, they also report that virtually everyone in the cast (except Roseanne Barr, of course) will be back, as well as the original crew, creative team and showrunner Bruce Helford. Multiple deals are being discussed – they just have to zero in on one.
This is for the best. The cast of the show – especially Goodman and Laurie Metcalf, who plays Roseanne's sister – all deserve better than being tethered to Barr's toxic orbit. Giving these actors a chance to step out of the shadow of the previous show and forge something potentially better is a winning scenario. We just need to see when and if it will happen.