Noah Hawley's 'Doctor Doom' Movie Has A Script But Won't Be Happening Anytime Soon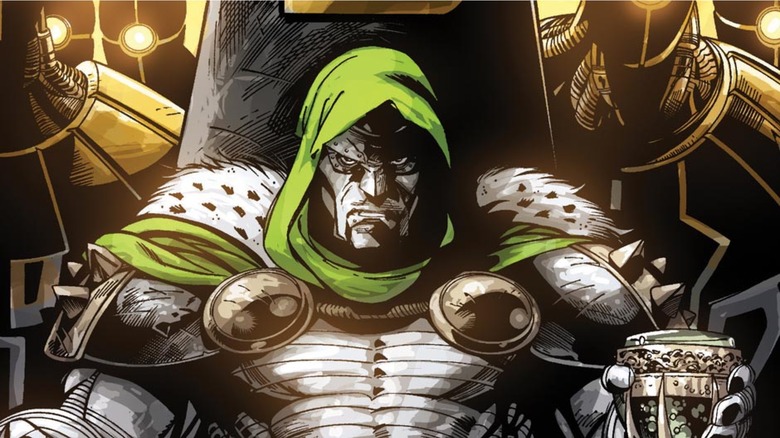 When Noah Hawley announced that he was working on a Doctor Doom movie at
, it stirred up plenty of excitement among geeks who are fans of his surreal, radical take on the X-Men antihero in Legion. Hawley's work is the perfect marriage between high-brow and high-key weird, which would deliver a fresh twist on a character who has so often been stuck as a supervillain to the Fantastic Four.
Now Hawley has a new update on his Doctor Doom movie, which he confirms already has a script. But with that good news comes the caveat: the movie probably won't be coming to the big screen any time soon.
Hawley has been steadily
for his Doctor Doom movie,
that the film would be a "political thriller" that would examine the character's nature as a hero or villain. It would be a dramatic departure from the usual depictions of Victor von Doom, who was introduced in the comics as a monarch of the fictional Eastern European country of Latveria. Doctor Doom has also gone through several cinematic revamps of the character, as well, first introduced in the 2005 Fantastic Four film as Reed Richard's former MIT classmate and the CEO of Von Doom Industries, then reworked as a computer science protégé and hacker in the 2015 reboot.
And now, he tells
that his Doctor Doom script has already been finished:
"I wrote a script that I really like and the studio really likes. It needs a little work."
But unfortunately, the project faces some major roadblocks. Hawley is in the midst of preparing to shoot 
, an astronaut drama starring Natalie Portman and Jon Hamm that has faced its own share of
. "It's hard for me, at this exact moment — because I start shooting another movie in five weeks — to do that work," Hawley told Vulture. "So, I mean, my hope is to go back to [the Doom movie] after [Pale Blue Dot]."
But the biggest roadblock may be out of Hawley's — and even Fox's — hands. With the impending deal between Disney and Fox, the movie rights to The Fantastic Four are up in the air — especially with
in to potentially derail the deal. Hawley doesn't know where that leaves his Doctor Doom movie, which would set the film apart from the Fantastic Four team that he's always been inextricably tied to.
"I know there's also a little uncertainty, given the potential for a Disney merger and the fact that Marvel may regain control of X-Men and Fantastic Four. They may have a plan of their own in a desk drawer. I just don't know. So, I think there's sort of a sense of uncertainty."
But Hawley remains optimistic. "I think the studio would like to make it," he told Vulture. "I think we're all just trying to figure out how and when we're gonna do that."