Cool Stuff: Get 'Incredibles 2' Prints From Cyclops Print Works Right Now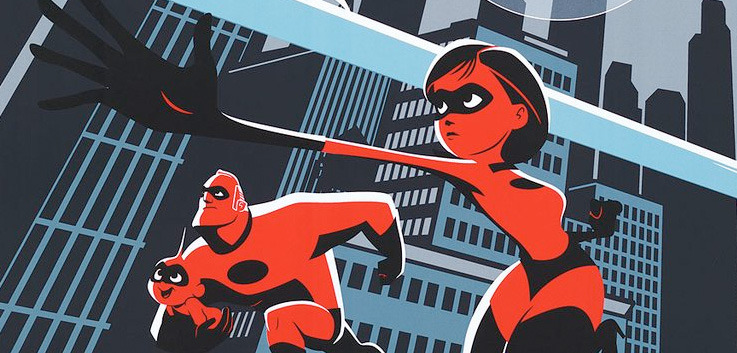 Not too long ago, we hyped up a new art show coming to Gallery Nucleus in conjunction with Cyclops Print Works featuring some fantastic new artwork inspired by the forthcoming Pixar Animation sequel Incredibles 2. Now even more pieces from the show have been unveiled from artists like Eric Tan, Bryan Mon, Stéphane Kardos and Craig Drake. And the good news is you can pick them up for display in your own home right now.
Check out the Incredibles 2 artwork from Cyclops Print Works below.
Craig Drake's Incredibles Family Line-Up
Craig Drake has come through with a set of smaller prints featuring each member of The Incredibles. Using his signature style, he's put Mr. Incredible, Elastigirl, Dash, Violent and Jack-Jack on their own hand-number 12x16 prints, each with an edition of 125. The only downside is you'll have to pay $40 for each print. However, you can use the promo code "SUPER" to buy four and get one free. That's still $160, but if you're a big Incredibles fan, it might be worth it.
Bryan Mon's Supers in Action
Bryan Mon also delivered a couple new prints. One features the entire family of supers and their pal Frozone running into action in Municiberg. That one measures 18x24 with an edition of 75 and will cost you $60. Meanwhile, the other print featuring only Mr. Incredible is an 8x8 print with an edition of 60 that will cost you $45.
Stephanie Kardos' Jack-Jack vs the Raccoon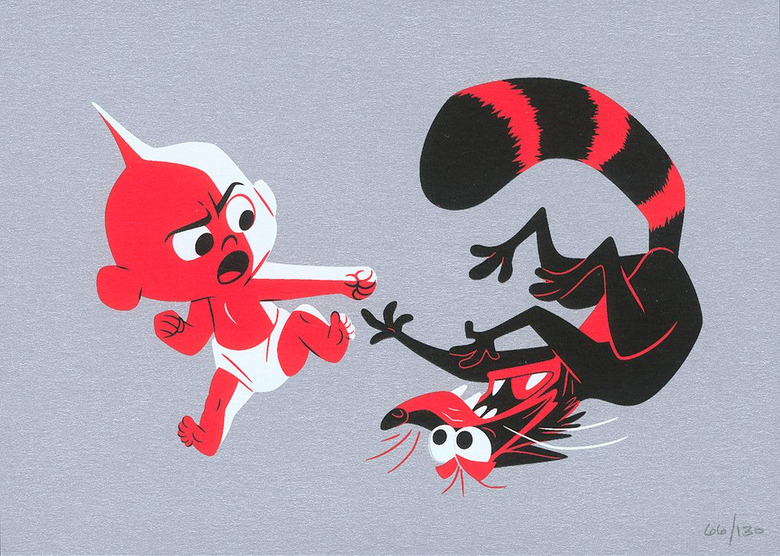 Finally, Stephanie Kardos' has created a little print featuring Jack-Jack taking on the pesky pest that is a neighborhood raccoon. There's a whole sequence where Jack-Jack shows off his many powers as he tries to stop a raccoon from stealing trash outside, and it's fantastic. This print measures 7x5, has an edition of 130 and will cost you $35.
There are a few other prints that we previously features that are also on sale, and you can see the whole line-up of prints available for purchase over here at the Cyclops Print Works website.