David Fincher Shot 75 Takes For One 'Mindhunter' Scene, Because Of Course He Did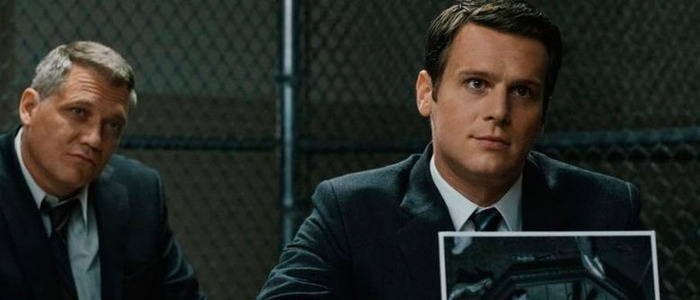 David Fincher's love of shooting many, many takes of one scene until he gets what he wants is well-documented. While discussing his Netflix serial killer series Mindhunter, Fincher revealed he shot one nine-minute scene a whopping 75 times.
Filmmaker David Fincher knows what he wants, and he'll shoot as many takes as it takes to make his vision a reality. "[David] Fincher is meticulous," John Carroll Lynch, who co-starred in Zodiac, once revealed. "He's after something. And it takes him 50 takes to get it." A producer on Gone Girl also stated that Fincher was shooting up to 50 takes per scene for that film as well. And now it looks like Fincher has out-done his 50-take-streak. During a FYC event for the Netflix series Mindhunter, Fincher revealed (via IndieWire) that he shot 75 takes of one nine-minute scene.
The scene in question involves actor Happy Anderson playing serial killer Jerry Brudos, and Fincher explained how he constructed the scene, using three cameras running at once:
"The scene with Happy [Anderson] was 11 pages. We had three cameras outside the cage, and we'd do a nine-and-a-half-minute take. Then I'd walk in with a yellow pad [filled] with single-spaced notes: [to Mindhunter star Jonathan Groff] 'OK, that's a joke, you can't toss that off. And this? This is a statement. Make sure that's a statement.' And Jonathan would be there going, 'OK, OK.' [nodding] Then we'd do another nine-minute take and he'd do all that stuff [I asked], and I'd go to Holt and go over four pages of notes with him. And Happy was like, 'What? We're really going to do this [every time]?'...We didn't have a break, well we broke for lunch — I would say we did it 75 times in the day."
During the course of the conversation, Fincher also revealed that he deliberately isolated actor Cameron Britton, who turns in one of the show's best performances as serial killer Ed Kemper. "One of the things that was critical [came to me] when we did a read-through of the first three episodes," the director said. "It became really obvious coming out of the first read-through that: 'Make sure Cameron doesn't talk to anyone. He can't fraternize [with anyone]. I don't want this to be a social thing. He has to literally come from Pluto and be in the show.' He can't be indoctrinated into what anyone else is up to. It has to be that this guy shows up, he's got all the time in the world — 13 life sentences — and he's going to tell you what you want to know. During the read-through, it was [clear] that if we can get that on film, we're going to be fine."
This may all sound a bit extreme, but Fincher continuously turns in work that gets people's attention. In other words, he knows what he's doing, even if he seems a bit nuts when doing it.
Mindhunter season 2 is currently in production.