Watch Misty Knight And Colleen Wing Beat Up Some Fools In This 'Luke Cage' Season 2 Clip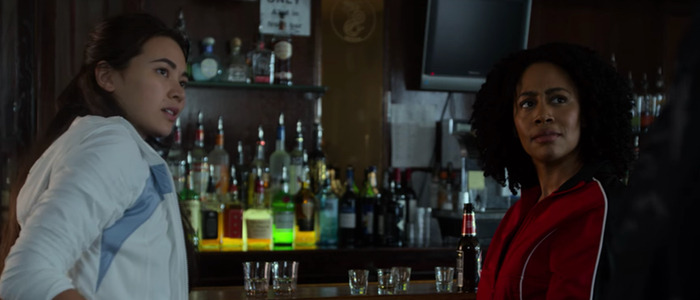 Luke Cage season 2 drops on Netflix later this month, and if you're not hyped yet, this clip might do the trick. In this Luke Cage season 2 clip, Misty Knight  and Colleen Wing have a friendly conversation with some gentleman at a bar. And by "conversation", I mean they kick the crap out of these guys.
Luke Cage Season 2 Clip
In Marvel comics, Colleen Wing and Misty Knight team up to form Daughters of the Dragon. Netflix and Marvel haven't greenlit a Daughters of the Dragon spin-off yet, but based on this clip, maybe they should. This clip from Luke Cage season 2 shows Misty (Simone Missick) and Colleen (Jessica Henwick) teaming up in a bar to take on a whole group of fools. It's an entertaining clip, and shows actual chemistry between Missick and Henwick. Get these two their own show, stat. Collen Wing in particular deserves better than Iron Fist, that's for damn sure.
In the clip, "Misty Knight grapples with the loss of her arm. She feels powerless and alone, but she's not. She finds solace in friend, Colleen Wing, who (with some tough love) inspires Misty to reclaim her power."
Luke Cage season 2 finds Mike Colter's Luke Cage elevated to superstar status. Everyone in his Harlem neighborhood is awe-struck when they see him out on the street. But that's all about to change when Cage goes up against a new foe who appears just as strong and bulletproof as he does. Luke Cage season 1 was mostly successful, although like all Marvel Netflix shows, it just went on a little too long. There's no reason these shows can be whittled down from 10 episodes to 8, folks.
Still, I'm looking forward to Luke Cage season 2. This series has a ton of potential, and I'm curious to see where the new season goes. "I treat Luke Cage as if it's a concept album," series creator Cheo Hodari Coker said in a recent interview. "Luke Cage is a bulletproof version of [Beyonce's] Lemonade. It's a visual concept album with dialogue. That's the way I make all musical decisions. [The show] is about how it feels in addition to the themes and the visuals. It's all one package."
Luke Cage season 2 arrives on June 22, 2018.
After a sabotaged experiment leaves him with super strength and unbreakable skin, Luke Cage (Mike Colter) becomes a fugitive trying to rebuild his life in modern day Harlem, New York City. But he is soon pulled out of the shadows and must fight a battle for the heart of his city – forcing him to confront a past he had tried to bury.