'John Wick: Chapter 3' Image Reveals Halle Berry And A Pair Of Adorable Doggos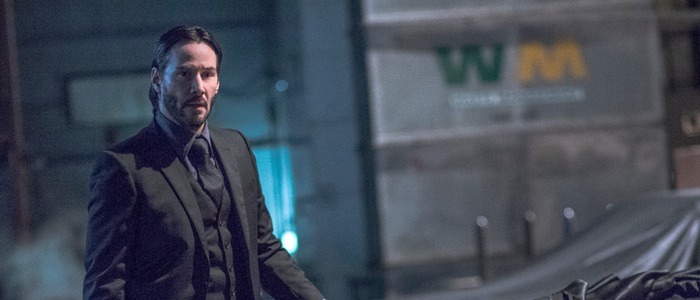 While the gun-fu and shootouts of the John Wick franchise are brilliantly staged and executed, there has always been something more important than all of the broken bones and exit wounds: dogs! Today, a new John Wick: Chapter 3 photo has arrived, and it shows new cast member Halle Berry flanked by two new canine additions to the franchise. Lionsgate really knows how to give the people what they want.
John Wick 3 Image
A woman on a mission. @HalleBerry is Sofia in #JohnWick3. pic.twitter.com/uMjCaB43Lg

— John Wick: Chapter 4 (@JohnWickMovie) June 4, 2018
Berry, with those huge stilettos, black leather pants, and jacket flung across her shoulders, looks like a total badass in this photo. We don't know much about her character yet, but we know she's not playing the movie's villain. She posted a message about joining the movie using The Continental letterhead: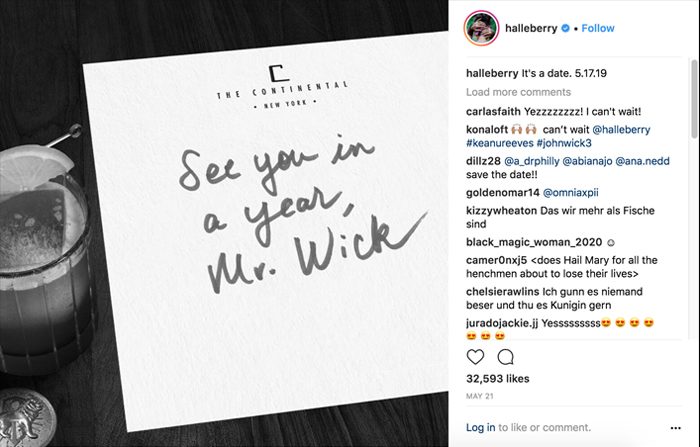 Her character, Sofia, is walking through an extremely classy-looking room in that photo, and I wouldn't be surprised to find out that she's striding through a branch of the high end hotel that caters specifically to the secret society of assassins. And we already know they allow dogs inside, since we briefly saw John Wick (Keanu Reeves) with his new dog in the lobby in Chapter 2. Does Berry's character work for The Continental? Her outfit suggests that she's an assassin, so maybe she gives Wick some much-needed help in the wake of the ending of Chapter 2, when our hero found himself excommunicado and on the run through New York City as an open contract is out on his life? At the very least, maybe she'll let him pet those dogs as a healing measure. They look like very good dogs.
Berry joined the cast a couple of weeks ago, alongside Angelica Huston, Asia Kate Dillon, Jason Mantzoukas, Mark Decascos, Yayan Ruhian and Cecep Arif Rahman from The Raid, and Tiger Hu Chen from Man of Tai Chi. Mantzoukas – and this is not a joke – plays a character named the Tick Tock Man, so you KNOW I'm going to be first in line to see this baby as soon as it hits theaters.
Chad Stahelski returns to direct John Wick: Chapter 3. Chapter 2 began only a few days after the first film, but Chapter 3 will likely feature a much longer gap between entries. Writer Derek Kolstad previously said:
"One of the things I would love John to do in the third one is to be excommunicado, broke, begging, in Tokyo or some corner of the Earth that's sexy and cool and he stumbles upon something that has nothing to do with his journey and he does the right thing."
The film will blast its way into theaters on May 17, 2019.