'The LEGO Movie 2' Trailer: 'The Second Part' Brings Back The Old Gang For A New Block Party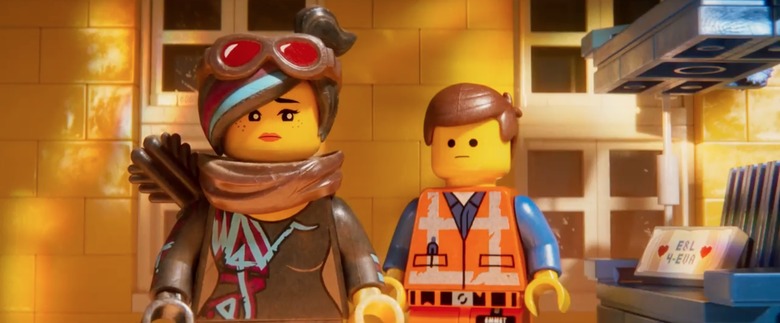 Warner Bros. Animation has debuted the first trailer for The LEGO Movie 2: The Second Part, showcasing the continuing adventures of LEGO minifigures Emmett (Chris Pratt) and Wyldstyle (Elizabeth Banks). Will this movie be able to hold a candle to the hilarious and inventive 2014 original? Check out the trailer below to get your best look yet at the latest return to the LEGO universe.
The LEGO Movie 2 Trailer
The LEGO Movie 2 is technically the fourth entry in this franchise, following last year's The LEGO Batman Movie and The LEGO Ninjago Movie. I haven't seen Ninjago, but The LEGO Batman Movie was one of the best Batman movies ever made because it explored the idea of Will Arnett's sad and lonely Dark Knight as the de facto leader of an unorthodox family unit. It was very funny, but a bit more manic than the first LEGO Movie, which is one of the best animated features of the past decade. So, you know...no pressure or anything.
The first film sounded like a blatant cash grab, a terrible idea that couldn't possibly result in anything compelling or interesting. But writer/directors Phil Lord and Chris Miller managed to do the unthinkable and make a movie that was thematically linked to the blocks on which the film was based by focusing on the idea of creativity as a driving force in the story. Mike Mitchell (Trolls) has stepped into the director's chair this time, but Lord and Miller wrote the first draft of The LEGO Movie 2's script. BoJack Horseman creator Raphael Bob-Waksberg came on board for a re-write, and Matt Fogel finished things off by writing the latest draft of the movie. (Update: After this article was originally published, Warner Bros. reached out to clarify that the final writing credits cannot be determined yet, which is typical at this point.)
The LEGO Movie 2: The Second Part arrives in theaters on February 9, 2019 – the same weekend the first film came out back in 2014 and caught everyone off guard. Hopefully we'll be equally pleased this time around.