'Bumblebee' Trailer: Hailee Steinfeld Makes A New Friend In The First 'Transformers' Spin-Off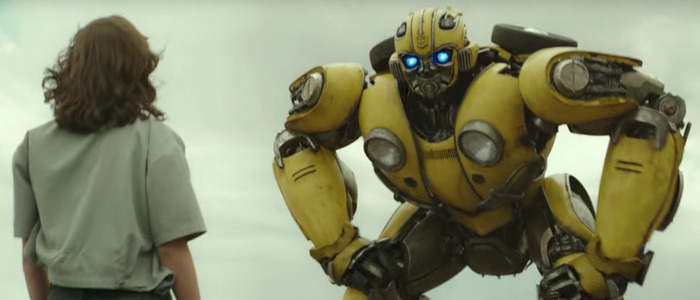 Before Bumblebee cruised around as a souped-up Chevrolet Camaro, the loyal Autobot hero took the form of a classic Volkswagen Beetle. And before he befriended Sam Witwicky, he was tight with a girl named Charlie Watson.
Paramount Pictures has unveiled a Bumblebee trailer that gives us a look at the studio's first live-action Transformers spin-off movie, which is a prequel set in a Californian beach town in the 1980s. It's also the first movie in this franchise that hasn't been directed by Michael Bay. Check it out below.
Bumblebee Trailer
Bumblebee is directed by Travis Knight, the filmmaker best known for his work on stop-motion animated movies at Laika. He was the lead animator on films like Coraline, ParaNorman, and The Boxtrolls, and he made his directorial debut with Laika's best movie yet, 2016's spectacular Kubo and the Two Strings. Bumblebee marks Knight's live-action directorial debut, so it should be interesting to see if he's able to make that jump successfully.
Knight previously explained that one of his goals with this movie was to capture the spirit of the first generation of Transformers toys, which were released between 1984 and 1992.
"So, what I was kind of trying to do with this film because it's set in the '80s, was harken back to the great, original, G1 vibe and feeling and tone. So, there are definitely Easter eggs for fans who are down with that sort of thing. There's a lot of continuity between this and the films that Michael [Bay] has done. But the film does stand on its own."
It's kind of nice to see a Transformers movie that doesn't appear to be super reliant on the previous entries, all of which were directed by Michael Bay. 2007's Transformers featured plenty of Bay-tastic explosions and bombast, but at its core, it was the story of a boy and his car. This movie looks to get back to that stripped-down storytelling, forgetting all about ancient knights and alien dinosaurs and getting back to a connection between a girl and a unique talking car.
Here's the official synopsis:
On the run in the year 1987, Bumblebee finds refuge in a junkyard in a small Californian beach town. Charlie (Hailee Steinfeld), on the cusp of turning 18 and trying to find her place in the world, discovers Bumblebee, battle-scarred and broken. When Charlie revives him, she quickly learns this is no ordinary, yellow VW bug.
Bumblebee arrives in theaters on December 21, 2018.